In the early days of tech, A/V remote controls were bare bones, and the duty of changing the channel was largely left to the youngest sibling.
As A/V equipment began to take a stronger foothold in the residential space, the era of individual remotes for every piece of equipment took over. A/V equipment at that time was largely used to play VHS tapes, cassette tapes and the like, and the products of that era were quite capable of doing the job.
Families had the often-unenviable task of keeping track of each remote as well as making sure each one was clearly identifiable and remained with the gear. On top of that, maintaining an ample supply of batteries was also part of the task.
A/V Control Systems Take Over
As technology advanced and interconnectivity improved, the desire and, to a certain extent, the need to have a more comprehensive approach to A/V remote control led to the design of A/V control systems, which are common in today's homes.
Finding better ways to address a challenge is what spurs innovation, and in an industry that thrives on pushing the boundaries of technology, the environment is ripe with examples of A/V remote control innovations.
Combine this mindset with the explosion in the use of tablets and smartphones across multiple platforms and the desire to adapt these technologies to the A/V environment — and now A/V remote control enters an entirely new era.
The Future (and Present) is in Mobile AV Control
In addition to the obvious convenience that tablets and smartphones provide, their use has also helped non-technical users to become more comfortable with using A/V technologies.
The ability to create highly configurable and customizable control surfaces that are intuitive to use can also bring a certain level of comfort to the residential environment.
A/V remote control on the tablet and smartphone platforms, however, comes with some costs or at the very least, important considerations. Security is undoubtedly the number one concern.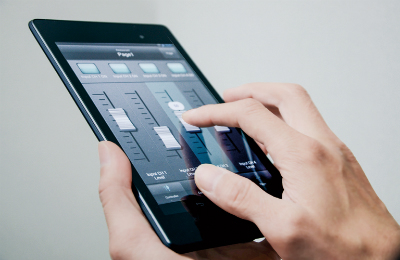 From user rights management and password configurations to software updates (for both the apps and operating systems) that can render devices inoperative, to a backup plan in the event of a connection dropout or physical loss of a device, maintaining control of remote control devices has become more challenging to say the least.
In spite of these challenges, the benefits of highly customizable remote-control options outweigh the downsides, and this flexibility will continue to expand as technology continues to transform.
Like any A/V system which is detailed and "built on paper" before any equipment is installed, the inclusion of tablets and smartphones for remote control in the A/V environment must also be afforded the same level of design consideration before implementation.
Understanding the customer's true needs and guiding them through integration and remote control best practices will ultimately help provide customized tablet and smartphone remote control solutions that meet client needs while ensuring the integrator delivers a complete solution beyond the remote-control interface.
Learn more about A/V remote control in the commerical industry from our sister site, Commercial Integrator!
Phil Sanchez is Market Development Specialist for Yamaha Commercial Installation Solutions and a professional audio manufacturing veteran with experience in product development, sales and marketing communications. An avid drummer, Phil has performed for audiences large and small and has written and recorded music jingles for radio and television.
If you enjoyed this article and want to receive more valuable industry content like this, click here to sign up for our digital newsletters!