Definitive Technology Demand Series Gets New Models
New Demand Series models from Definitive Technology feature advanced drivers and new design concepts.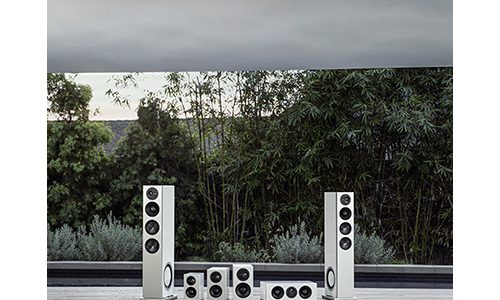 The newly augmented Definitive Technology Demand Series of products can be seen in room 29-105 in the Venetian Hotel during CES 2020.
Definitive Technology says that its new Demand D15 and Demand D17 floor standing loudspeakers, and D5 center-channel speaker utilize advanced drivers such as carbon-fiber woofers and annealed aluminum tweeters.
"Definitive Technology introduced the Demand Series in 2017 with three bookshelf speakers, which were warmly received in the market for their graceful design and highly accurate reproduction. Since then, we've been busy designing two new tower speakers and a center channel built on the principles of the original Demand Series bookshelf speakers," says Michael Greco, category director, loudspeakers, Sound United.
"We maintained the same level of craftsmanship and material quality in designing and developing the line. Listeners will see familiar technologies, including the 20/20 Wave Alignment lens, BDSS and Linear Response Waveguide.
"However, we also added newly designed dual-carbon fiber bass drivers and dual side-firing passive radiators to the towers, which deliver some of the smoothest, most accurate and rich reproduction of any tower on the market in its price range. The center channel is the perfect addition to the line for home theater aficionados," says Greco.
Definitive Technology Demand Series Engineered to Deliver Precise Imaging
According to the Vista, Calif.-based company, the Demand Series D15 and D17 tower speakers feature its annealed 1-inch aluminum dome tweeter in combination with its 20/20 Wave Alignment Lens.
Through the implementation of these technologies, Definitive Technology continues, the products deliver precise imaging by eliminating symmetric diffraction from the corners of the baffle.
The company also says that its Balanced Double Surround System (BDSS), which the speakers also employ, helps the speakers' midrange and low-frequency drivers increase their excursion for improved midrange detail and "punchier bass."
Definitive Technology adds the Demand Series products also include its linear response waveguide that helps to extend on- and off-axis frequency response, while also improving the speakers' dispersion characteristics.
Pricing for the new Definitive Technology Demand Series products are as follows:
D15 floorstanding speaker cost is $1,699 each
D17 floorstanding speaker cost is $2,299 each
D5C center-channel speaker cost is $799 each