Unlike a lot of manufacturers that populate the consumer electronics landscape, the impact of COVID-19 hasn't been as dramatic for AudioControl as it has been for companies that utilize offshore factories.
With its made-in-the-U.S.A. product line AudioControl has been able to weather the effect of the coronavirus to introduce a number of new products this year that are highlighted by new theater components, new subwoofer amps and Dante-enabled amplifiers.
"Home theater has been one of the extraordinary success for us in the last two or three years … so we are once again going through the launch and training of our totally new home theater receiver and processor platform, along with Dirac bass management control as well, states Alex Camara, president and CEO, AudioControl.
"So, hopefully it is really important to us. Our new subwoofer amplifiers are doing so well in the marketplace. We will be launching those, including the new RS-1000 [subwoofer amp], which is a totally new model for us, alongside that we're also going to be promoting our new Avalon, Savoy and Pantages G4 power amplifiers, which are really designed for the CI market. [They] are really cool pieces of technology [that] sound incredible. And, alongside all of that, we're also really showcasing our new CM 70-volt amplifiers, which are going to be a totally new state-of-the-art amplifier for the 70-volt market also complemented with Dante that we're also announcing formally for the show."
Chris Kane, vice president of sales and marketing for AudioControl, notes the company will also be holding virtual training sessions on the Dirac room correction technology, and it will showcase its Director 2.0 dealer software platform.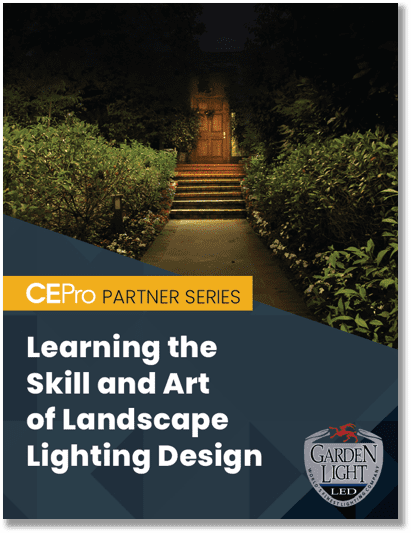 Experts recommend landscape lighting design as an entry point for integrators into the revenue opportunity of home lighting. Check out our new resource for tips and best practices. Download "
Learning the Skill and Art of Landscape Lighting Design
" today!.
Focusing on the innovation AudioControl is bringing to the residential market, Kane points out the company's new 70-volt products include Dante-enabled digital audio technologies that draw on elements from the commercial AV marketplace.
"Dante is a protocol that was developed in the professional standards [community] initially to be able to connect mixing consoles, keyboards and things like that over a single cat cable over a standard network," explains Kane.
"So, you take that level of technology—and we see Dante as an application where we have a control system or something at a head point feeding signals to amplification, which would normally require multiple RCA cables or HDMI or whatnot. Dante is a single cat cable that can then go through a network switch router on to the next component, which in our case would be the amplifiers, so dealers that are doing large projects, you know, 5-, 10- or 15,000-square feet or yachts, or things like that. They're trying to get signals from point 'A' to point 'B' without a wire bundle. Dante is an awesome solution for high-performance audio.
"Like I said, it's mainly been used in commercial up to this point. Most of the large companies have implemented it, and we're one of the first companies in the residential space. So, we are offering products that do that."