C Seed Introduces Foldable 4K 165-inch M1 MicroLED TV
Featuring an industrial design influenced by Porsche Design Studio, the new M1 foldable 165-inch MicroLED TV offers 4K and HDR compatibility.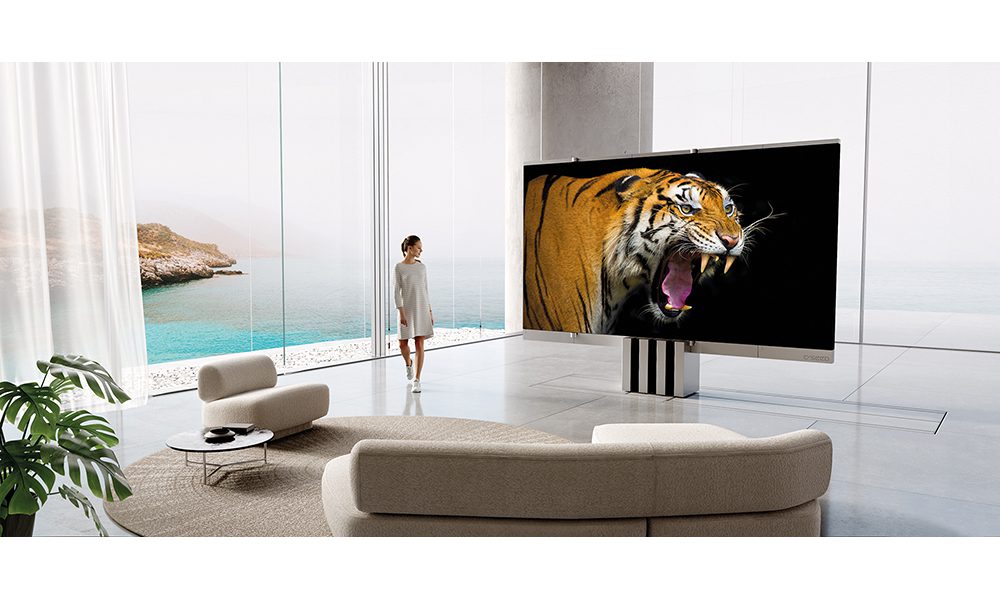 C Seed is a Vienna, Austria-based manufacturer that's been developing luxury AV products since 2009, and its newest product is the M1 MicroLED television.
The European AV company describes its latest product as an art package of TV technology and design that includes a "sculpture-like" column that silently rises from the floor to allow the TV to unfold.
C Seed says its new 165-inch MicroLED television delivers a 4K UltraHD resolution and HDR compatibility.
According to the company, the M1 MicroLED television also incorporates its Adaptive Gap Calibration (AGC) technology that is said to eliminate the borders between the display's wings.
"The M1 provides unique entertainment in brilliant quality without compromising the character of the room—the one ideal solution for integrating large TV systems into spacious contemporary interior design," states Alexander Swatek, managing partner, C Seed.
M1 MicroLED TV Industrial Design Influenced by Porsche
Influencing the aesthetics of its latest television solution, C Seed points out that it built upon its 201 TV by Porsche Design Studio with designer Stefan Pani developing a design for the M1 MicroLED TV that features a frame that invisibly hides an integrated speaker system.
The M1's minimalist industrial design also includes offers a choice of four colors, and a choice of casings to allow professional integrators to install the TV in a range of environments.
"Trendsetting contemporary, uncluttered, free from all visual ballast. In these environments, big wall-mount TV screens are an anachronism in modern interior design," adds Swatek.
"Therefore, C Seed took a totally different path and came up with a revolutionary design."