Unwanted noise such as rattles and vibrations can ruin the enjoyment of music in home environments.
Norman Varney, owner of AV Room Service, which is an acoustics engineering and system design company, not long ago introduced the company's Equipment Vibration Protectors (EVPs) line of anti-vibration/decoupling products that can be used in a number of ways.
Some of the ways that integrators can use these products, which are available in several versions include as decoupling units for loudspeakers such as bookshelf and center speakers and as means of eliminating the vibrations that negatively affect turntables.
The products can also be used for more esoteric audiophile applications if someone chooses. Some of those audiophile applications include usages with amplifiers and disc players.
In professional audio environments, AV Room Service states that integrators can employ EVPs as a means to isolating recording equipment, professional musical gear such as guitar, bass and keyboard cabinets (speaker enclosures), microphone stands and nearfield monitors.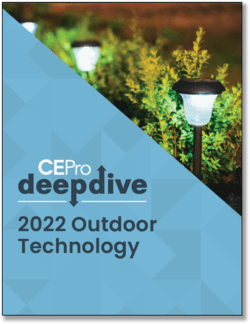 The 2023 CE Pro Outdoor Technology Deep Dive reveals unique set of impediments, including explaining pricing and interacting with outdoor-centric trades.
Get your copy now to take a "deep dive" into the trends and challenges of outdoor technology.
Download the report now!
AV Room Service EVPs Reduce Vibrations
Explaining the theory behind the development of the EVP line of products, AV Room Service says the devices decouple products from the transmission of vibrations and they turn that mechanical energy into heat energy.
According to AV Room Service, in its testing, the company found EVPs to eliminate vibrations to and from equipment from 5Hz on up. The products are available in a choice of two sizes and three densities to provide integrators several options to properly treat their specific usage scenario.
Trying the products in a guitar rig, which is more of an extreme test for an anti-vibration, decoupling product, I inserted the EVPs between my Marshall Silver Jubilee Mini reissue 20-watt head; my Marshall 1912 1×12 cabinet and Orange PPC112 1×12 cabinet.
Listening to different guitars that included a Gibson Les Paul, a Gibson SG Junior and a Charvel Pro-Mod Sam Dimas Style 2, as well as pedals such as a Catalinbread Talisman plate reverb and Belle Epoch tape echo, and a Wampler Tumnus Deluxe overdrive, I was able to create volume levels that caused rattles in my 1912 cabinet and the room.
Once I put the EVPs between the 1912 and the Silver Jubilee the rattles had disappeared. I also felt the overall sound of my guitars, which I play with a fair amount of distortion, smoothened out.
One specific point of isolation I noticed with the Les Paul involved hitting a "C" note on the eighth fret low E string. For whatever reason this frequency, which I believe is about 130Hz, made my cabinet vibrate. After putting the EVPs between the cabinet and head it made those rattles disappear.
Musical equipment may be an extreme example of the effectiveness of the EVP product line due to the volume levels of a musical instrument system (a guitar rig) in this case can develop. Switching the amp to its high-power mode, I was easily pushing 100dB while noodling around to induce the rattles even with the master volume set at a reasonable "10 o'clock."
If used in electronics systems, I believe integrators can expect similar results when using more home-friendly products such as speakers or turntables.
I'd like to add the products feel well made, and when comparing them to fu-fu audiophile solutions they are a much better bargain than equipment racks or fancy hockey pucks that cost way too much money.
To learn more, visit the AV Room Service website to see the entire product line, and AV Room Services' complete list of acoustical services.