What to Expect at CES 2017: Home Technologists on IoT and A/V Trends
Get in the know, before you go. Download CEPro's CES Preview 1 Hour Webcast originally recorded live on December 7th where home technology integrators provide insights on the latest IoT trends and A/V technologies, and preview interesting products expected at CES 2017.
Webcast Details:
Moderator
Julie Jacobson, CE Pro Co-Founder and Editor-at-Large
Date/Time
December 6, 2016 - 2:00PM
Runlength
1 Hour
Panelist
Avi Rosenthal, Principal, IoT Consulting, LLC and Joe Whitaker, Principal, The Thoughtful Home
Archive Link
https://vimeo.com/196639400/6d9...
Sponsored by
Napco URL
http://www.napcosecurity.com/
Record Date/Time: December 6, 2016 at 2:00PM
Webcast Length: 1 Hour
View archive!
Once again, CE Pro is helping home-technology integrators navigate the expansive show that is CES 2017. CE Pro founding editor Julie Jacobson will moderate a discussion on technology trends and emerging markets that will affect the smart-home business in 2017 and over the next couple of years.
Smart-home specialists in the thick of the industry for more than 20 years will cover many of the following topics, with references to new products on the CES show floor.
Progress with smart-home "standards" and protocols
The shape of TVs to come
Latest developments in wireless audio
Channels to market: Retail, custom install, on-demand …
Recurring revenue models in remote network monitoring
Voice control and other modern-day UIs
'Panel Picks' – five most interesting discoveries at CES
Register Today!
Webinar: Tuesday, Dec. 6, 2:00 ET
---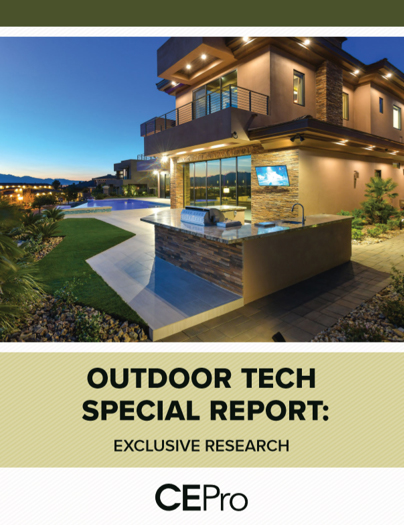 Find Out Why 63% of Integrators Expect Outdoor Business to Grow - CE Pro Download
The outdoor technology market is growing – both the demand from customers and the array of products available. According to our recent CE Pro survey, integrators are taking advantage of this opportunity to grow their businesses. Get your copy of the survey today.
---
Events
CEDIA Global HQ Opens: Take a Video Tour
'Disruptive' Keynote at CEDIA Expo 2019: Adios Tech-Talking Futurists
CEDIA Expo 2019 Registration Now Open
Sony's Dazzling Booth at CEDIA Helps Earn Quest for Quality Award
ISC West 2019: Security Show Made Me Go Hmmm
View more on Events
Take Our Latest Quiz
How Well Do You Understand Ethernet Cables and Connectors?
Bose