The Best Sales Pitch Ever for Structured Wiring
At ISC West 2015, Channel Vision's Darrel Hauk shows how a Wi-Fi analyzer can help dealers sell more cable.
More about Channel Vision
Founded in 1993 and ranked among the top companies in the custom electronics industry, Channel Vision Technology is a leading manufacturer of innovative technology products in...

Channel Vision Company Info
Julie Jacobson
·
April 21, 2015
"We don't need wiring. Everything's going wireless."
That's a bunch of bull. In fact, the more the world goes wireless, the more we need structured wiring. All that RF interference just keeps getting worser and worser.
That's the message of Darrel Hauk, owner of Channel Vision, a leading manufacturer of cabling systems, intercoms, cameras, IR distribution products, audio and more.
At ISC West 2015, Hauk explained how he sells structured-wiring as standard into new residential communities. He pulls out his smart phone, runs an RF analyzer and scares builders into recognizing the perils of wireless.
Here's his pitch:
Meanwhile, Channel Vision continues to invest in its structured wiring line. Recently, the company introduced a "framed door" for wiring cabinets so that customers see a cleanly finished can when they open the door.
It sounds trivial, but a dealer who installs hundreds of cans for home builders says his clients were demanding the cleaner finish.
Also new from Channel Vision at ISC: a cell phone forwarding module (P-0922) for front-door intercoms and the SI Elite Series Intercom with IP Camera and no keypad.
Hauk tells us dealers were asking for a smaller camera intercom that didn't require the real estate for a keypad.
Finally, Hauk says Channel Vision continues to sell a whole lot of A-Bus Cat 5 audio systems, and the company just released a local Bluetooth input module that requires a security key "so you don't get your neighbors' Bluetooth," Hauk says, explaining that the product has found success in MDUs.
- - - - - - - - - - - - - - - -
JULIE JACOBSON

---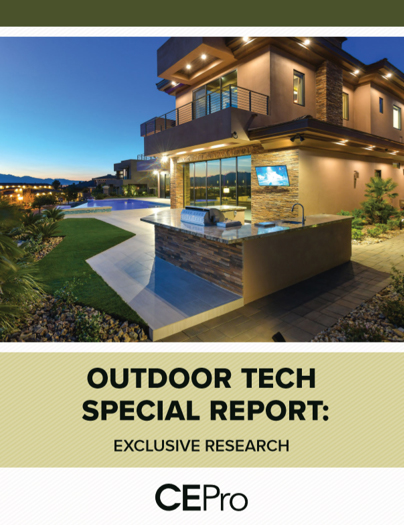 Find Out Why 63% of Integrators Expect Outdoor Business to Grow - CE Pro Download
The outdoor technology market is growing – both the demand from customers and the array of products available. According to our recent CE Pro survey, integrators are taking advantage of this opportunity to grow their businesses. Get your copy of the survey today.
---
About the Author
---
Julie Jacobson is founding editor of CE Pro, the leading media brand for the home-technology channel. She has covered the smart-home industry since 1994, long before there was much of an Internet, let alone an Internet of things. Currently she studies, speaks, writes and rabble-rouses in the areas of home automation, security, networked A/V, wellness-related technology, biophilic design, and the business of home technology. Julie majored in Economics at the University of Michigan, spent a year abroad at Cambridge University, and earned an MBA from the University of Texas at Austin. She is a recipient of the annual CTA TechHome Leadership Award, and a CEDIA Fellows honoree. A washed-up Ultimate Frisbee player, Julie currently resides in San Antonio, Texas and sometimes St. Paul, Minn. Follow on Twitter: @juliejacobson Email Julie at julie.jacobson@emeraldexpo.com
Follow Julie on social media:
Twitter · LinkedIn · Google+
Julie also participates in these groups:
LinkedIn · Google+