Integrators Can See More of SeeLess Solutions at CEDIA 2018
SeeLess Solutions' product line, from integrator Shalom Illouz of Powerfull Systems in L.A., aims to conceal keypads, thermostats, smoke detectors and other products in a design-friendly solution.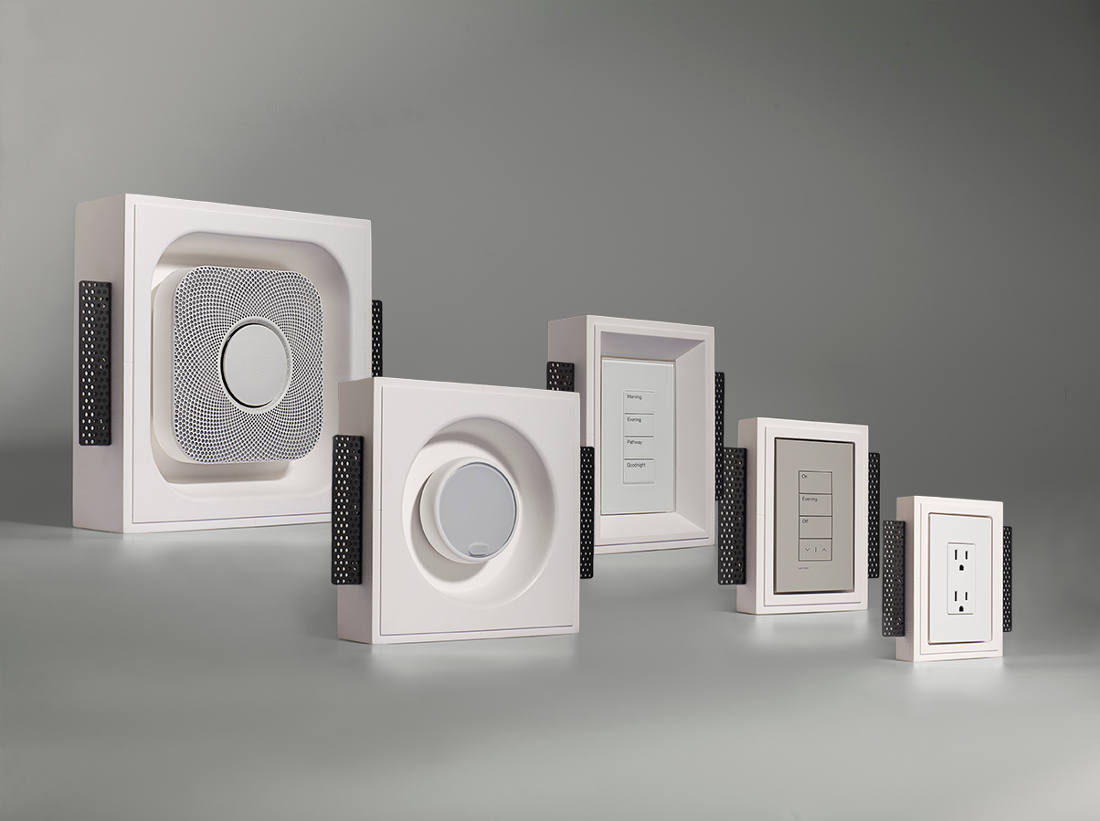 Jason Knott
·
September 7, 2018
Integrators passing through Innovation Alley in the San Diego Convention Center at CEDIA Expo 2018 will be excused if they somehow miss seeing the products in the SeeLess Solutions booth — in fact, that's the idea.
The SeeLess product line is meant to hide keypads, thermostats, smoke detectors, and other products in a design-friendly solution.
"Our innovative plaster flush-mounting platforms crafted with intention to enhance the visual appeal of in-wall wired devices and improve the overall aesthetics of residential or commercial environments," says Shalom Illouz, CEO.
"Our aim is to preserve the simplicity and uninterrupted clean finishing transitions."
— Shalom Illouz, SeeLess Solutions
"We manufacture functional, design solutions that address the challenges around the conventionally visually obtrusive placement of typically surface-mounted utilitarian electronic devices.
"Our aim is to preserve the simplicity and uninterrupted clean finishing transitions, by offering a solution that complements the minimalistic appearance of your in-wall wired devices, while optimizing their performance," he says.
The company currently has solutions for keypads, thermostats, wireless access points, smoke detectors, iPads/touchscreens, lighting modules, and one specifically designed for the Josh.ai voice control processor.
Offerings Can Help You Be 'Aesthetics Expert' on Project
"Becoming a SeeLess dealer can now elevate your offerings and allow you to get involved in the early design stages of the project, not just as an integrator, but also as an aesthetics expert that pays attention to details and helps to enhance the overall look of the project," adds Illouz, who can relate to integrators because he is one.
Illouz runs Powerfull Systems, a well-established custom installation firm in Los Angeles.
Related: L.A. Integrator SeeLess Flush-Mount Solutions
"Everyone would benefit from incorporating our versatile, minimalist and cutting-edge flush mounting solutions, so that no one has to compromise the safety and still revel in elegance of uninterrupted interior décor," he says. Illouz knows well how much that home interior plays a part in working with today's customers.
CE Pro profiled Illouz's business model back in 2014 as the company was making its mark focusing on the niche of lighting and shade controls, and working closely with interior designers on projects.
At CEDIA Expo, the company will have a Dealer Marketing Sales Kit for new dealers who sign up. Also, all dealer orders placed at CEDIA Expo will receive an additional 15 percent off.
Look for SeeLess in booth 2639 of the San Diego Convention Center.
---
2019 State of the Industry Special Report - CE Pro Download
The custom electronics industry saw a healthy 8 percent growth rate in 2018, down slightly from the blazing 11 percent growth in 2017 but still admiringly strong. Our 2019 State of the Industry indicates that readers expect to see even more growth in 2019. Get your copy today.
---
About the Author
---
Jason has covered low-voltage electronics as an editor since 1990. He joined EH Publishing in 2000, and before that served as publisher and editor of Security Sales, a leading magazine for the security industry. He served as chairman of the Security Industry Association's Education Committee from 2000-2004 and sat on the board of that association from 1998-2002. He is also a former board member of the Alarm Industry Research and Educational Foundation. He is currently a member of the CEDIA Education Action Team for Electronic Systems Business. Jason graduated from the University of Southern California. Have a suggestion or a topic you want to read more about? Email Jason at jknott@ehpub.com
Follow Jason on social media:

Jason also participates in these groups:
LinkedIn · Google+
Control & Automation
Here's Savant's Real Two-Way IP Control of Apple TV via Siri
Product Briefs: Josh.ai Integrates with Savant;Dow Electronics; Elite Anniversary; Crestron Security
Crestron's For-Real Two-Way IP Control of Apple TV: TSR-310 as Siri Remote
Savant Shows Home Automation OSD through Apple TV
Metra Home Theater IR Kit Extends Control Signals
View more on Control & Automation
Take Our Latest Quiz
How Well Do You Understand Ethernet Cables and Connectors?
Bose