Channel Vision Launches 'Elite Dealer' Program, Adds Control4 SDDP, Solves U-verse IR Issues
At CEDIA 2014 Channel Vision launched a dealer program and 'Elite Series' line including an HD modulator, IR repeater that works with pesky U-verse, IP cameras and DVRs with Control4 SDDP.
Julie Jacobson
·
September 22, 2014
I'd only be exaggerating just a tiny bit if I said everyone in the custom electronics does purchase or has purchased from Channel Vision, maker of so many handy devices for A/V distribution, surveillance, networking, wiring and communications.
The thing is … most do-it-yourselfers buy the stuff, too.
For the first time, Channel Vision is "changing the way we're approaching the market," says founder and CEO Daryl Hauk.
That approach is the new Elite Dealer Program, which promises dealer-only product lines and zero online sales.
"Hey, if I'm a dealer, I would look for a manufacturer that's really supporting us," Hauk says. "You don't want to sell a camera and then get shopped. It puts a question mark on the whole project."
Heading CV's aggressive push into the channel is Bill Muster, who comes to the company from Omnimount, NuVision, Denon and Koss.
Right now, says Hauk, Muster is "going around the country and setting up manufacturers' reps … again."
The company has used reps in the past, but is reinvigorating that channel, Hauk explains.
CV also has enlisted six distributors for the Elite line, and qualified dealers can purchase direct from the manufacturer.
Besides protected lines, Elite Dealers get double the warranty, hassle-free exchanges and dedicated support.
New Channel Vision Products
For the new Elite Series product line , Channel Vision is "going through our product line piece by piece," Hauk says. "Some products we'll discontinue on the other side of the business, like faceplates with premium finishes."
In a major channel-friendly move, CV is adding Control4 SDDP to IP cameras and a new line of HD DVRs, enabling seamless discovery and integration with Control4 home automation systems.
CV's surveillance products have long integrated with Control4 just not as elegantly as SDDP allows.
Upon working with the Control4 protocol, Hauk found, "It's a lot cooler than I thought. It makes integration really simple."
CV's SDDP-enabled products will be available for sale in Control4's online store.
Despite his enthusiasm for the new cameras, DVRs and integration functionality, Hauk's favorite new product seems to be the forthcoming HD modulator that he "can't wait to put into hotels."
While modulators aren't the rage they once were in the residential market, they are hugely popular for video distribution in commercial venues such as hotels, condos and sports bars.
In MDUs the new HD product would be ideal for distributing video from a front-gate camera to all residents. And In bars that have multiple displays, modulators are "still the most efficient way to get video around," Hauk says.
Today, Contemporary Research and ZeeVee dominate the HD modulation market. Hauk says CV, which has been long-time leader in video modulation, hasn't delivered an HD product before because, frankly, it's very complicated to build.
Hauk says there's a "seven-layer PC board stuffed with components." A new Broadcom chip, he says, has simplified development to some degree.
The HD modulator features a QAM tuner, HDMI and composite inputs and dual tuners.
As far as cameras go, Channel Vision showed nine new IP models including flush-mount, pin-hole, bullet-proof domed and Wi-Fi versions, all of which integrate with popular home automation systems.
A new app enables remote access to cameras – up to 16 at a time – and includes audio as well. Hauk describes the new camera line in the CEDIA 2014 video below.
Seems Channel Vision has always been on a quest to create the perfect IR repeater, and by gosh they've really done it this time.
The new IR-6001 solves those pesky IR issues with AT&T U-verse and DirecTV boxes, which employ different IR code structures than most IR-controlled devices.
A single IR blast to those troublesome boxes might comprise up to 10 pulses, Hauk says. Typically, integrators must work to decipher those pulses, but the new IR-6001 makes an IR blast "look like one pulse," Hauk says.
The result, according to Hauk: "flawless execution" of IR commands.
In the category of: everything old is new again, Channel Vision keeps on innovating with A-Bus, structuring wiring and intercoms.
The new A-Bus multiroom audio systems feature digital amplifiers that are cleaner, more powerful and more energy-efficient than prior versions, thanks to a new chipset from A-Bus maker Leisure Tech.
Channel Vision keeps expanding its structured-wiring solutions, which already may be one of the most comprehensive lines from any vendor. Channel Vision has launched a new service for Elite Dealers, in which the factory will lay out a structuring wiring cabinet in CAD and provide the drawings to integrators.
Finally, Channel Vision introduced two new SIP-enabled door intercom/camera stations with their own apps for remote communications.
Hauk provides the complete lineup of new CEDIA 2104 products in the CE Pro video below.
—————————————————————
JULIE JACOBSON bio/articles: cepro.com/jj



Follow us on Twitter!
@juliejacobson
@ce_pro
---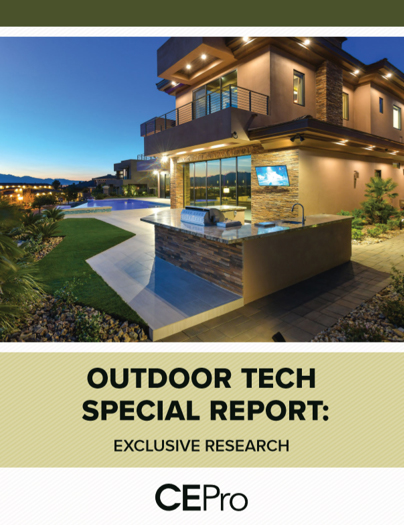 Find Out Why 63% of Integrators Expect Outdoor Business to Grow - CE Pro Download
The outdoor technology market is growing – both the demand from customers and the array of products available. According to our recent CE Pro survey, integrators are taking advantage of this opportunity to grow their businesses. Get your copy of the survey today.
---
About the Author
---
Julie Jacobson is founding editor of CE Pro, the leading media brand for the home-technology channel. She has covered the smart-home industry since 1994, long before there was much of an Internet, let alone an Internet of things. Currently she studies, speaks, writes and rabble-rouses in the areas of home automation, security, networked A/V, wellness-related technology, biophilic design, and the business of home technology. Julie majored in Economics at the University of Michigan, spent a year abroad at Cambridge University, and earned an MBA from the University of Texas at Austin. She is a recipient of the annual CTA TechHome Leadership Award, and a CEDIA Fellows honoree. A washed-up Ultimate Frisbee player, Julie currently resides in San Antonio, Texas and sometimes St. Paul, Minn. Follow on Twitter: @juliejacobson Email Julie at julie.jacobson@emeraldexpo.com
Follow Julie on social media:
Twitter · LinkedIn · Google+
Julie also participates in these groups:
LinkedIn · Google+
News
Alarm.com's New 'Sensor Walk Test' Eliminates Laborious Security Verification Calls
Sony Announces 2019 MASTER Series TV Pricing and Availability
How LG Aims to Broaden Integrators' World
RTI Touchpanel Remotes Mount in Walls, Reside on Tables
CEDIA Global HQ Opens: Take a Video Tour
View more News
Take Our Latest Quiz
How Well Do You Understand Ethernet Cables and Connectors?
Bose