AudioControl's New Avalon G4 Amplifier Configurable up to 4 Audio Channels
Versatile amplifier from AudioControl provides a solution for multi-zone, 2-channel and 2.1 channel installations.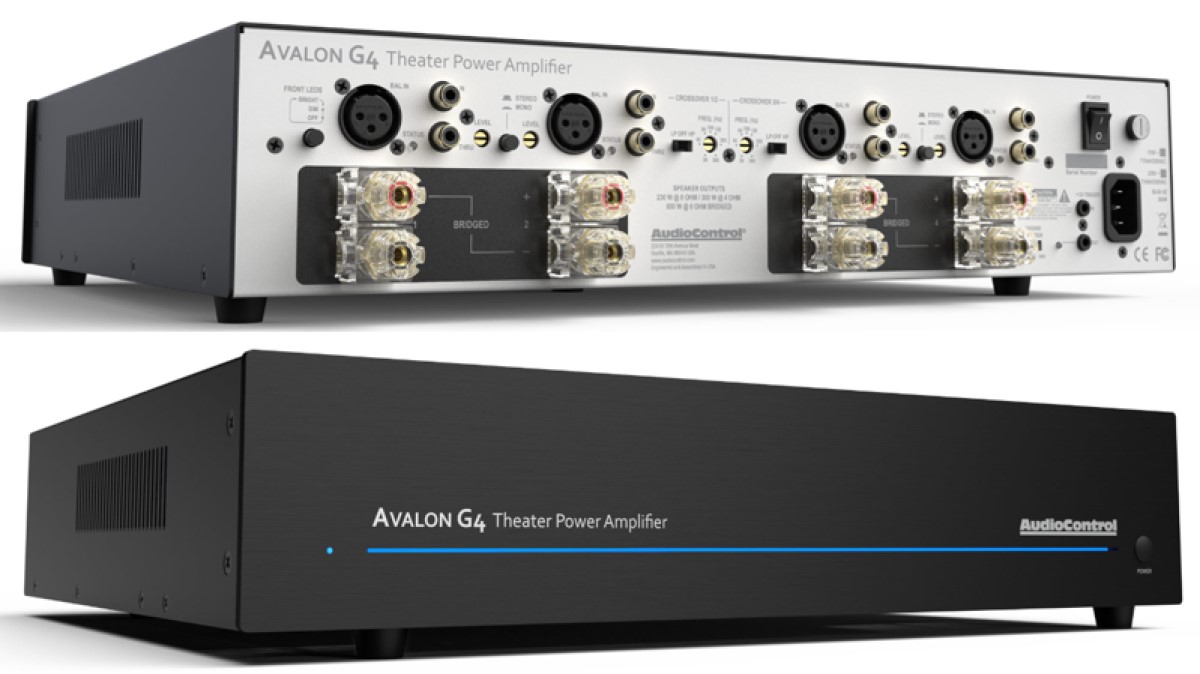 More about AudioControl
With factories and offices located in the Pacific Northwest, AudioControl has logged over three decades as a U.S. based designer and manufacturer of highest quality home...

AudioControl Company Info
Lisa Montgomery
·
May 6, 2019
As the heart of a home entertainment system, an amplifier's ability to conform and adapt to a changing entertainment environment is useful features. AudioControl is providing integrators with myriad options with the release of its Avalon G4 high-performance amplifier.
The 2U rack amp can operate as a 4-channel, 3-channel or 2-channel amplifier configurable instantly via rear panel controls. It can support immersive surround-sound applications or provide a 2-channel listening experience.
Class H Design, Dolby Atmos Support
Class H Design for Heat Dissipation
The Avalon G4 boasts a Class H design that achieves 230 watts/8-ohms or 300 watts/4-ohms into four channels all channels driven. The Class H design topology provides superb audio quality, according to the manufacturer, while reducing heat dissipation from a compact form factor.
Circuitry and Controls
The Avalon G4 also features AudioControl's LightDrive anti-clipping protection circuit, which protects loudspeakers from clipping and distortion even in extreme conditions such as a highly dynamic action movie soundtrack.
Each pair of channels features hi/lo/bypass crossover controls, balanced (XLR) and unbalanced (RCA) inputs as well as RCA throughputs to achieve multiple configuration options.
The amp also features independent channel level controls, remote power control, triggers, audiophile-grade 5-way binding posts and can be ordered for either 110 or 220-volt operation.
A Good Partner with AudioControl Maestro Processors, Does Dolby Atmos
AudioControl designed the G4 to pair up nicely with the company's Maestro M9 and M5 cinema processors, making it ideally suited for immersive surround formats such as Dolby Atmos or as a premium standalone power amplifier for a multi-zone entertainment system.
The product can be configured as a powerful 2-channel amplifier (600 watts into 8 ohm loudspeakers) or as a 2.1 solution for residential or commercial A/V systems.
Availability and Price
The Avalon G4 has a suggested retail price of $1,960 and is available now.
Avalon G4 Features
Award winning theater amplifier technologies
Four channel home theater amplifier
Multi-mode operation: 4 channel, 2.1 channel, and high-power 2 channel
230 watts per channel at 8 ohms; 300 watts per channel at 4 ohms
600 watts at 8 ohms bridged
Stable into low impedances
Stereo/mono operation
Unparalleled Energy Efficiency
High Definition BiMOS Outputs
Cool Running Class H Operation
LightDrive Anti-Clipping Protection Circuitry
5-way Binding Posts
Unbalanced RCA inputs with pass through
Balanced XLR Inputs
Bullet-Proof Reliability
Remote 12 volt Trigger
Perfect paired with AudioControl's Maestro M9 or M5 Preamplifiers
Avalon G4 Specs
Inputs
Inputs: 4 RCA Unbalanced, 4 XLR Balanced
Input Sensitivity: 1.42 Vrms for full output
Maximum Input Voltage: 2.7 Vrms
Input Impedance: 100 kΩ
Outputs
Amplifier Channels: 4
Power Output (8Ω): 230 watts per channel
Power Output (4Ω): 300 watts per channel
Power Ouput (8Ω Bridged Mono): 600 watts
Minimum Speaker Load: 4Ω
Performance
Damping Factor: >450
Total Harmonic Distortion: 0.04% (230 watts @ 8 ohms 20 Hz-20 kHz)
Signal to Noise: >102dB, A-wtd ref Full Output
Frequency Response: 10 Hz -20 kHz ±1dB
Control
Remote Power Trigger: +12 VDC or Dry Contact Closure
General
Peak AC Power Draw (full output 8Ω): 1200 watts
Typical AC Power Draw (all channels driven): 400 watts
Protection: clipping, short circuit, thermal, DC offset
---
Secure Your Free Pass to CEDIA EXPO 2019
Register before Sept. 2 to gain free access to the opening keynote, product training & education series as well as the show floor including Innovation Alley and much more. Don't miss your chance. Sign up today.
---
About the Author
---
Lisa Montgomery has been a member of the CE Pro and Electronic House editorial teams for nearly 20 years; most of that time as the Editor of Electronic House. With a knack for explaining complex high-tech topics in terms that average consumers can understand, her style of writing resonates with people who are interested in adding electronic systems to their homes, but are unsure of the steps involved and the solutions available. From basic lighting control systems to full-blown automation systems, Lisa understands the home electronics market well, and is able to point consumers in the right direction on their quest for a smarter, more convenient, efficient and enjoyable home. Over the years, she has developed close relationships with key manufacturers and seasoned custom electronics professionals, giving her a keen sense of what home technologies are hot now and what is on the horizon. She shares this wisdom regularly through feature stories, product roundups, case studies technology spotlights and comprehensive guides and books. Have a suggestion or a topic you want to read more about? Email Lisa at lisa.montgomery@emeraldexpo.com
Follow Lisa on social media:

Lisa also participates in these groups:
LinkedIn · Google+