$399 MOON Phono Preamplifier Designed to Improve Vinyl Performance
Updating its 110LP phono preamp, the new MOON by Simaudio 110LP v2 phono preamplifier is 'handcrafted in Canada' and is designed to provide new levels of detail to vinyl recordings.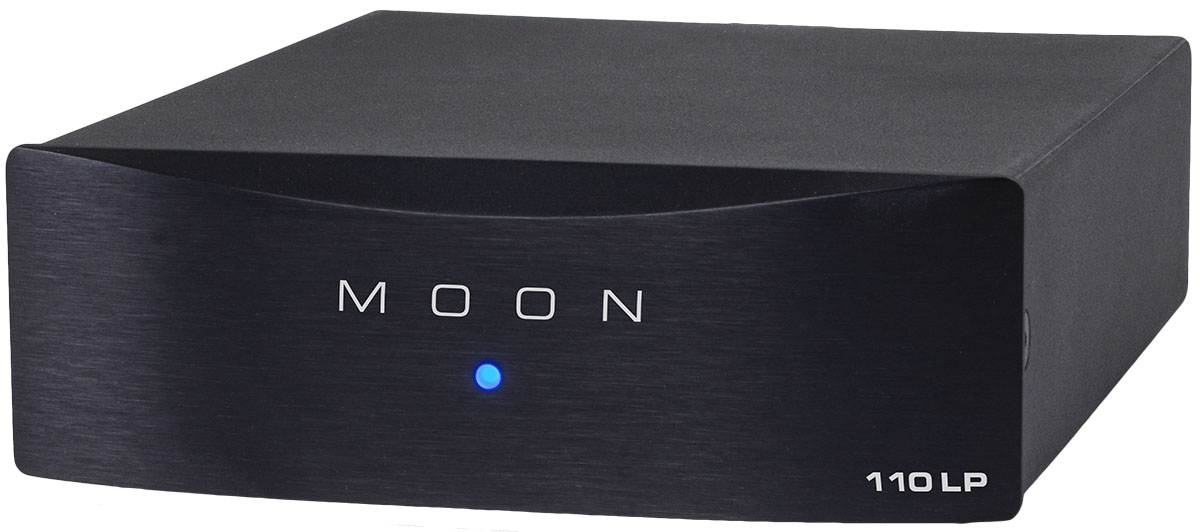 Robert Archer
·
December 14, 2018
Updating its popular 110LP phono preamplifier, the new MOON 110LP v2 phono preamplifier is a "handcrafted in Canada" component carrying an MSRP of $399.
MOON by Simaudio says that its latest phono preamplifier "sits between [a] turntable and amplifier to bring a dramatically improved performance from vinyl."
"This little black box of outstanding technology tricks will ensure that records sound better than ever before," says the company in a press statement.
The product is designed for use with turntables that do not come with built-in phono stages, or it can be used by integrators to improve the sound of turntables that incorporate basic, entry-level phono stages.
Related: CE Pro Millennial Blind Music Challenge: CD vs. Vinyl
According to MOON by Simaudio, integrators can match the 110LP v2 to a turntable's cartridge by using three pairs of DIP switches that are located on the phono preamp's underside, allowing integrators to match the gain and impedance levels of the phono cartridge.
To power its new phono preamplifier, the Canadian company employs a 24-volt power supply and says between the combination of the new power supply and the gain and impedance adjustments the 110LP v2 offers the phono preamp produces "new levels of detail and musicality from any vinyl recording."
The company adds the "sleekly compact" 110LP v2 phono amplifier comes in a black finish and is backed by a 10-year warranty.
MOON 110LP v2 Phono Preamplifier Features
Integrator/end user adjustable impedance loading: 47k ohms, 475 ohm, 100 ohms and 10 ohms
Integrator/end user adjustable capacitance loading: 0pF, 100pF, 330pF and 430pF
Integrator/end user adjustable gain settings for moving magnet (MM) and moving coil (MC) phono cartridges: 40dB, 50dB, 54dB, 60dB, 66dB
Integrator/end user adjustable EQ curve: IEC or RIAA
The 110LP v2 employs four-layer PCB tracings that use pure copper for low-impedance characteristics.
The phono preamp uses inductive DC filtering to lower its noise floor.
All-aluminum chassis with gold-plated RCA connectors
---
2019 State of the Industry Special Report - CE Pro Download
The custom electronics industry saw a healthy 8 percent growth rate in 2018, down slightly from the blazing 11 percent growth in 2017 but still admiringly strong. Our 2019 State of the Industry indicates that readers expect to see even more growth in 2019. Get your copy today.
---
About the Author
---
Bob is an audio enthusiast who has written about consumer electronics for various publications within Massachusetts before joining the staff of CE Pro in 2000. Bob is THX Level I certified, and he's also taken classes from the Imaging Science Foundation (ISF) and Home Acoustics Alliance (HAA). Bob also serves as the technology editor for CE Pro's sister publication Commercial Integrator. In addition, he's studied guitar and music theory at Sarrin Music Studios in Wakefield, Mass., and he also studies Kyokushin karate at 5 Dragons in Haverhill, Mass. Have a suggestion or a topic you want to read more about? Email Robert at rarcher@ehpub.com
Follow Robert on social media:
Twitter
Robert also participates in these groups:
LinkedIn · Google+
Speakers
Product Briefs: NSC Expands; sonnen Joins Azione; ProSource adds Future Ready; Josh.ai
OneButton: Bridging Tech and Design
3 More Show-Stoppers from ISE 2019: 'Quite Revolutionary'
16-Channel Acurus Muse Processor Delivers Dolby Atmos, DTS:X
15-Zone Wireless Audio System Too Much for DIY
View more on Speakers
Take Our Latest Quiz
How Well Do You Understand Ethernet Cables and Connectors?
Bose