CE Pro 100: Revenues Grow 8% in 2017
CE Pro's 19th annual ranking of the highest revenue custom installation companies reports $3.5 billion in custom revenues; 13% growth predicted for 2018.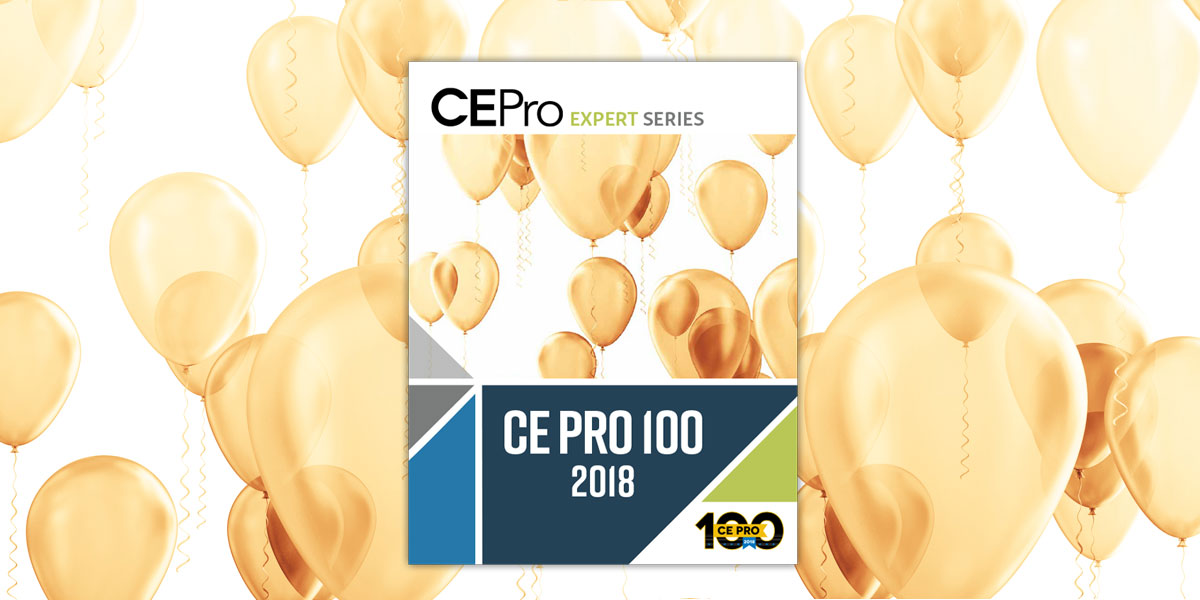 "Happy days are here again" is an old song, but that refrain is definitely apropos for CE Pro 100 integrators following a strong 2017.
How happy are they? Well, our list shows the highest revenue custom installation companies in the U.S. reported a healthy $3.5 billion in revenues in 2017.
There's even more good news:
Consumer confidence is just below the 17-year high it hit in November of 2017.
New home contruction has continued to rise, with the National Association of Home Builders predicting 1.33 million starts in 2018 (a 9 percent increase), with single-family home starts predicted to rise 4 percent.
Home remodeling spending is expected to rise 7.5 percent this year, according to Harvard's Joint Center for Housing Studies. Homeowners are expected to spend $340 billion on home upgrades, the strongest figure in more than a decade.
The stock market is showing volatility, but still sits at 23,600 (at press time), about 13 percent higher than it was one year ago. The new Tax Cuts and Jobs Act of 2017 appears to have freed up even more expendable income in consumers' pockets, along with massive potential tax breaks for businesses.
And in some unexpectedly good news, Millennials are starting to buy homes. NAHB reports strong increase in home purchases by the massive Millennials generation. A recent report cited the Millennials generation as the fastest-growing group of new home buyers.
The result of this strong economy is a healthy 8 percent increase in median custom revenues among CE Pro 100 integration companies in 2017.
Check out the CE Pro 100 list of 2018 to see the highest revenue custom installation companies of the year.
---
7 Clever Ways to Hide Home Technology - CE Pro Download
Most technology products are not that visually appealing. Black boxes and tangled wires do not add to the character of a high-end smart home project. Luckily, our integrator readers have a number of clever solutions so these components don't have to be visible in your next project.
---
Business
Are Integrators Ready to be 'Energy Automation Contractors'?
AV Job Finder Facebook Group Makes Posting & Finding Jobs Easier Than Ever
People & Places: Seura Names Vintzel; CTA Hall of Fame; New DSA Members; WiSA adds Members
ProjX360 Releases QuickBooks Integration, Previews Inventory Management Software
7 Evolving Trends for Upscale Brands in 2019: Luxury Institute Report
View more on Business
Take Our Latest Quizzes
How Well Do You Understand Ethernet Cables and Connectors?
Quiz: Is Your Company Performance Above or Below Average?
How Much Do You Know About Cell Phone Signal Boosters?
How Efficient Is Your Service Department? Take the Quiz
5G and the Need for Cellphone Signal Boosters—Do You Know Enough?