ADT (NYSE: ADT) on Wednesday reported a first-quarter net loss of $48 million, a marked improvement over the prior year's net loss of $300 million. The company attributed the decrease largely to lower interest expense related to swap valuation, a significant reduction in debt extinguishment costs, and lower merger and integration costs.
Gross revenue declined 5% year-over-year to $1.31 billion, driven primarily by an $82 million decrease in installation and other revenue. Monitoring and related services revenue rose $17 million or 2%, driven by an increase in recurring monthly revenue (RMR) and improved customer retention.
The company increased its RMR base by approximately $6 million compared to the fourth quarter, and $10 million compared to the prior year.
Adjusted EBITDA was $542 million, relatively flat to the prior year, driven primarily by improved commercial segment performance, partially offset by a lower volume of outright sales to residential customers.
New gross subscriber additions increased by more than 30% compared to the prior year period. A large majority (86%) of ADT's internally generated new customers opted for interactive services, an uptick of 4 percentage points from the start of last year. Concurrently, the company's total customer attrition held sequentially at just over 13%.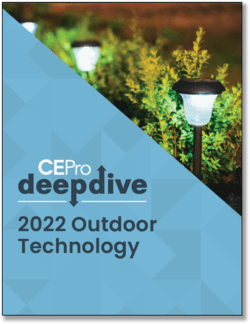 The 2023 CE Pro Outdoor Technology Deep Dive reveals unique set of impediments, including explaining pricing and interacting with outdoor-centric trades.
Get your copy now to take a "deep dive" into the trends and challenges of outdoor technology.
Download the report now!
During an earnings call with investors, President and CEO Jim DeVries said net subscriber growth combined with rising average revenue per unit (ARPU) and internally-generated new customers drove 25% growth in overall RMR additions or 14% excluding this year's initial Ackerman account purchases and the smaller bulk account purchase ADT reported in its Q1 2020 results.
"With the strong start to the year, we are firmly on track to achieve our full year target of mid-teens RMR growth," DeVries said. "To get there, we still plan to spend $150 million to $250 million in incremental investment in subscriber acquisition. The majority of that incremental investment is expected to hit in the first half of the year, including $116 million in the first quarter."
Another priority for the company, he continued, is to improve the performance of the commercial business after a challenging 2020 largely as a result of the COVID-19 pandemic. Commercial business returned to year-over-year revenue growth and margin expansion during the first quarter and generated a $20 million increase in EBITDA.
"We still have work to do both on revenue growth and margin rate, which remains below 2019 levels and we'll continue to invest in the commercial business throughout the year," he said.
DeVries said backlog in the commercial part of the business remains at record levels. He cited an expanded commercial footprint with the acquisition of SAFE Electronics and through an exclusive partnership with WG Security Products, a technology-driven provider of shoplifting prevention solutions.
"This acquisition and partnership combined with the premium service and premium services our team provides and the gradual reopening of customer premises post-COVID are producing great momentum in our commercial business," he said.
ADT expects full-year revenue in the range of $5.05 billion to $5.25 billion.
New Business Segment Reporting
Effective in the first quarter, ADT adjusted its operating structure and reporting to segregate the Consumer and Small Business (CSB) operations from the Commercial operations.
The Commercial segment, which comprised approximately 20% of first quarter revenue is composed of large commercial customers with expansion facilities and multisite operations, which often require sophisticated integrated solutions.
The CSB segment is made up of all other customers, including residential homeowners, small business operators and other individual consumers. The CSB segment includes core premise-based security and smart home solutions, along with other offerings such as health and mobile security.
Interactive customers now make up more than 50% of ADT's total CSB subscriber count. The resulting mix shift is helping produce a modest increase in ARPU for this segment, according to the company.
During the earnings call, CFO Jeff Likosar said the company "made solid progress" on 3G radio conversions during Q1, having upgraded more than 500,000 radios. "We continue to estimate a range of $225 million to $300 million of total net cost for the program, which is excluded from our adjusted free cash flow measure. We have incurred a net of approximately $136 million on this program to-date including $59 million in the first quarter," he added.
---
This article originally appeared on our sister publication Security Sales & Integration's website.