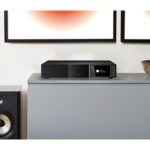 November 5, 2019 · Naim Adds Apple AirPlay 2
The British audio Naim Audio has announced that Apple AirPlay 2 will be added to its ND 555, NDX 2 and ND5 XS 2 network streamers via a free over-the-air update.
Apple AirPlay 2 enables advanced multiroom functionality and Siri voice control. This news follows similar updates to Naim Audio's Mu-so and Uniti ranges, which will now be available across the company's entire family of music-streaming products, including its flagship reference network player.
AirPlay 2 is a proprietary Apple technology that allows music to be streamed from an iPhone, iPad, iPod Touch, Mac computer and Apple TV to a compatible Naim device. Audio can be sourced from Apple Music, Spotify, Tidal, YouTube, internet radio and podcasts, and controlled via Apple's Home app, Control Center or Siri voice commands.
Apple AirPlay 2 also supports multiroom playback for owners of multiple streaming products that support the Apple standard, including a 10 different Naim systems. Users can ask Siri to play a particular album, song or playlist in sync across all compatible products in every room or a single room, as well as different music in each room.
Additionally, AirPlay 2 features enhanced buffering to improve audio streaming performance across the network.
Once the update becomes available, the Naim app will prompt customers to perform an over-the-air update. Apple AirPlay 2 system requirements: iPhone, iPad, iPod Touch, Apple TV, Mac computer and Home Pod must have iOS software version 11.4 or later.
Related: Naim Audio NAIT and SUPERNAIT Integrated Amps are Now Turntable Friendly