LG Electronics
2021 Line of Soundbars with Meridian Horizon Technology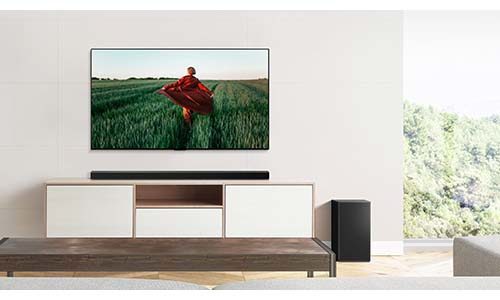 Continuing its partnership with the British high-performance audio company Meridian, LG has announced its 2021 line of soundbars with Meridian Horizon technology.
LG says that its newest soundbars feature industrial designs that complement its selection of televisions. LG also says that it worked closely with Meridian's team of engineers to ensure that Meridian's technologies integrate within the product line.
The new 2021 line of LG soundbars with Meridian Horizon technology include a choice of five products: the SP11RA, SP9YA, SP8YA, SP7Y and the SPD7Y models. LG explains these new soundbars utilize Meridian's upmixing technologies to enable the speakers to produce an immersive audio experience from two-channel content regardless of where the soundbars are placed within a home space.
LG emphasizes the Meridian Horizon technology also increases the "sweet spot" of the soundbars to help create a quality listening experience for everyone in the room.
The global electronics manufacturer adds that through Meridian's expertise with digital signal processing (DSPs), it is able to continually evolve its soundbars to deliver higher levels of performance.
More news from LG: LG Sets 2021 OLED TV Pricing, Availability
Product Info:
Product Name:
SP11RA, SP9YA, SP8YA, SP7Y and SPD7Y Soundbars
Manufacturer:
LG Electronics