CE Pro Podcast #60: Building & Fostering Brand Loyalty with Custom Integrators
CE Pro Brand Analysis leaders Sony, Yale Smart Residential, WaterCop & DoorBird highlight why their solutions resonate with CE Pro 100 and other dealers.
Listen to this podcast using the embedded player below, or use the link to download (right-click to save) or to listen using your system's media player. On mobile devices simply click the Download this Audio File link below and your devices player will automatically play the file.
Listen to this podcast right now.
Format: mp3 • Length: 39:42 • Filesize: 76235096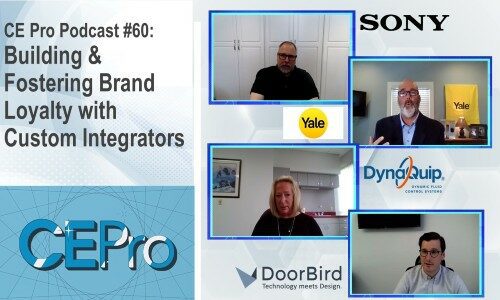 Have you checked out CE Pro's annual Brand Analysis coverage yet? It's in our June issue and online, and features nearly 70 categories from data taken among our CE Pro 100 companies.
Last week on the CE Pro Podcast, Jason Knott spoke with a trio of executives from SnapAV, which dominated the annual category leaderboards. This week, the Brand Analysis coverage continues on the Podcast as Arlen Schweiger conducted interviews with three brand leaders – Sony, Yale Smart Residential and WaterCop – plus "Bullet Brand" DoorBird.
Suppliers Show Their Support for Custom Integration Channel
Sony is a perennial powerhouse in the AV categories among the Brand Analysis and this year was no different – the manufacturer led in AV Receivers, Blu-ray/UHD Players, Headphones, 4K TVs/Displays and Projectors.
Jeff Goldstein, head of sales for the company's Consumer Integrated Systems division, highlighted some of Sony's latest projector and display products, as well as its robust dealer program that continues to solidify its channel brand loyalty.
Yale Smart Residential, an ASSA Abloy brand, has a rich history in the security space and has been prominent as the leader in the Brand Analysis Smart Locks/Deadbolts sector. National sales manager Patrick Bleser discusses why the solutions and the category presents strong opportunities for custom integrators, and why Yale's offerings have resonated with the CE Pro 100 and other dealers.
Pam Johnston, director of sales for WaterCop and parent company DynaQuip Controls, provides her insights into the burgeoning Water Leak Detection category. WaterCop brings savvy products and experience to the CEDIA channel for this segment, and the CE Pro 100 is catching on – the whole category improved its ranks by a lot year-over-year. Johnston details why WaterCop is highly equipped to help educate integration customers.
Lastly, but certainly not least, Peter Olsen, sales manager for DoorBird, outlines various reasons why that company continues to gain traction in the Brand Analysis. This year, it earned "Bullet Brand" status as a fast-riser in the Phone/Intercom Systems category, and also maintained its top five position within the Video Doorbell segment. The company brings lots of dealer support and other good reasons for CE pros to integrate its door station products as Olsen highlights.
Hear the conversation with all of the leaders by watching or listening to the CE Pro Podcast above. Find past episodes of the CE Pro Podcast by subscribing to the CE Pro YouTube channel or our Apple and Spotify podcast feeds.