Avnet IoT Starter Kit Offers Smart Device Manufacturers a Turnkey Solution
Avnet's Visible Things Industrial IoT Starter Kit helps manufacturers securely connect smart devices to cloud services and enterprise software.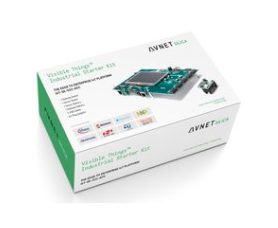 Avnet's products and technologies are helping smart-home manufacturers deliver reliable solutions in some of the biggest markets in the industry.
Avnet's new Visible Things Industrial IoT Starter Kit (part number VT-SK-002-A01) is designed as a turnkey solution to facilitate Internet of Things (IoT) communication between smart devices, cloud services, and enterprise-grade software products.
With technology becoming more dependent on security, Avnet says it is more important than ever for integrators to have an IoT solution that can easily and securely connect smart devices to a growing array of networks.
The starter kit supports sensors, connectivity methods, gateways, and security platforms with cloud-based services and software seamlessly.
Avnet's IoT Starter Kit Streamlines Deployment
According to Avnet, the IoT offers an almost unlimited potential in value for future technology projects, including automation, productivity and more. Its Visible Things Industry IoT Starter Kit can be used by manufacturers to eliminate challenges such as deployment and system compatibility for more reliable hardware and software integration.
The kit provides 32MB of SDRAM memory, BLE Wi-Fi and it complies with PMOD interface standards.
Related: 9 Interesting IoT Finds at ISC — Blingy Smart Lock, Awesome Fire Alarm
Additionally, manufacturers can benefit from the starter kit's flexibility, as well as its optimized power consumption, cloud options, and verified communications from edge to enterprise.
Avnet says it works with manufacturers to create devices and infrastructure that easily connect to cloud services and software to transfer data reliably.
The company also offers a range of services including advisory, design, cloud, digital, and lifecycle services among others to help ensure proper implementation of its products.