Expert Insights into LED Lighting Fixtures
Integrators are increasingly becoming involved in low-voltage LED lighting projects.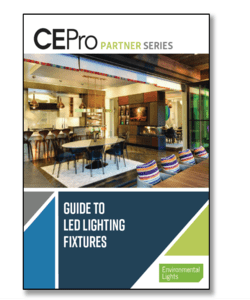 Low-voltage LED lighting means that integrators can now become involved in lighting solutions without an electrical license. As a result, CE pros can now work on lighting in new construction projects which brings the integrator into the project much earlier than ever before.
Our new resource "Guide to LED Lighting Fixtures" provides important tips and insights into successfully installing lighting projects, including:
Case studies of integrators who have entered low voltage lighting arena
Low-voltage downlighting solutions
The wellness/biophilia impact on lighting fixtures
Exterior lighting tips
And much more
Download this new guide for expert advice on how you can bring LED lighting into your integration business.
Sponsored by: