CE Pro's 2017 Ultimate Product Guide
353 must-see products released in 2017 that help integrators achieve more revenue and profits.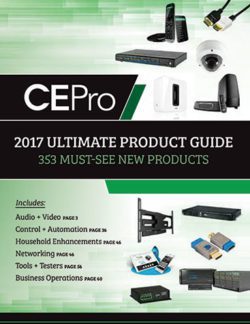 2017 has been a banner year for many custom integrators. Business is good… very good. One side-effect of all the work is less time to investigate new products and services that can further enhance your revenue and your bottom line profit. No worries… CE Pro has compiled this FREE comprehensive 2017 Ultimate Product Guide with "353 Must-See Products of 2017."
The guide itself is organized by product category. So, for example, if you want to see the list of loudspeakers released this year, you can simply go to the Audio + Video section, then the Loudspeaker section. For integrators with audiophile clients, for example, there are so many quality loudspeaker products available these days it is almost too difficult to choose one based purely on performance. Indeed, the days of space-consuming, awkwardly designed speakers may be numbered as you peruse the array of new speakers from the past year.
Overall, when the market is strong for integrators, it means it is also strong for manufacturers. That's why CE Pro was able to compile so many quality products for the Ultimate Guide. The market continues to move in the right direction for the overall growth of consumer electronics in general through the combination of improved performance, sleek looks and competitive pricing. That's a win-win for the manufacturers that are delivering the goods in more form factors, able to appease to a wider consumer audience.
Following is just a sample of products including freestanding speakers, architectural products, soundbars, wireless speakers, home theater, multiroom a/v, displays, projection, automation, lighting, shading, security enhancements, networking and tools and software for the CE Pro. The guide also includes "DIY" consumer-oriented products that integrators can use to get their foot in the door to sell more custom offerings.
This download covers the following product categories
Audio + Video
Loudspeakers
Control + Automation
Household Enhancements
Networking
Tools & Testers
Business Operations