2020 Resimercial Deep Dive Special Report
95% of residential custom integration companies now report they do some level of commercial
projects. Our editors wanted to learn more about this business opportunity as well as the impact from COVID-19 and the shift to remote work.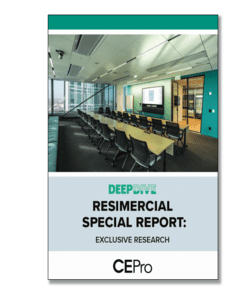 Last year, our editors identified resimercial or light commercial projects as a growing opportunity for CE Pros. The pandemic has impacted traditional resimercial revenue from small retail, hospitality and office environments but brought an increase in commercial technology to support remote workers.
Check out our 2020 Resimercial Deep Dive Special Report for insights into:
Number of years of experience CE Pros have with commercial projects
Integrators' growth expectations for the resimercial space
Top ten most installed pieces of resimercial equipment
Average price points for resimercial projects
And much more
Download your copy today to gain critical insights into the resimercial opportunity for custom integrators.