The recently relaunched brand KLH has announced its first custom install products.
The custom install product lines include the Maxwell and Faraday series of in-wall, in-ceiling and all-weather outdoor speakers, and an Alexa voice-enabled amplified keypad.
The launch is concurrent with KLH's arrangement with the PowerHouse Alliance as exclusive nationwide distributor of its products to the CI channel. As part of an alliance between the companies, KLH's custom install products are available from the PowerHouse Alliance network of distributors.
Named after physicists James Clerk Maxwell and Michael Faraday, whose names appear on buildings at the Massachusetts Institute of Technology (MIT) where original KLH co-founder Henry Kloss went to school, the architectural models consist of four in-ceiling, three in-wall speakers and an outdoor model.
The Maxwell 2-way and 3-way In-Wall speakers incorporate 6.5-inch Kevlar-coated fiberglass drivers, 1-inch silk dome tweeters, tapered array crossovers, tuned and sealed ¾-inch MDF enclosures and gold-plated 5-way spring-loaded binding posts. The Maxwell 2-way (M-8600) and 3-way (M-8650) MSRP for $499 and $649 per speaker.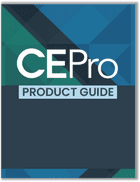 CE Pro's 2022 Product Guide showcases some of the latest and innovative solutions from manufacturers serving the custom electronics industry in a cross-section of categories.
Download the guide now!
Designed to make every location in the room a sweet spot, the Maxwell 2-Way In-Ceiling speaker incorporates a 1-inch silk dome tweeter mounted directly into the voice coil of a 6.5-inch Kevlar-coated fiberglass driver. An extra-large voice coil and sealed tuned enclosure with integrated back cans contribute to clean, high output. The Maxwell in-ceiling loudspeaker carries an MSRP of $349 each.
The Faraday 2-Way In-Wall, In-Ceiling and All-Weather Series
All Faraday speakers feature Injection Molded Graphite woofers, soft dome tweeters, magnetic bezel-less paintable microperf grilles and gold plated, spring-loaded binding posts which make for a quick and secure connection.
MSRP for the 6.5-inch driver equipped Faraday F-6600-W In-Wall is $149 each. For in-ceiling applications, KLH offers the 6.5-driver equipped Faraday F-6600-C at $149 MSRP each and 8-inch driver F-6800-C, which costs $175 each. The $299 per speaker Faraday F-6600-DVC features an 8-inch woofer, along with two 1-inch tweeters and dual-voice coil.
The $449 per pair, 2-Way 6.5-inch driver Faraday F-6600-AW All-Weather outdoor speakers utilize a 6.5-inch polypropylene woofer and 1-inch titanium tweeter in a sealed enclosure.
VX-1 Alexa Voice-Enabled Amplified Keypad
KLH's VX-1 Amplified Keypad with built-in Alexa-voice control and (MUZO-app enabled), is a simple solution to transform a single-source home audio system to a wireless multi-zone streaming music system. Outfitted with WiFi, Bluetooth with aptX, HiRES audio circuitry, and amplification, it replaces the existing in-wall passive volume control while utilizing the existing speaker wires. MSRP for the keypad is $199.
KLH Custom Install Products Available Nationally
As part of the relationship between KLH and the PowerHouse Alliance, the distributor network will serve as the exclusive source for the custom products. Powerhouse Alliance features 11 distributor members with 39 locations nationwide. KLH will soon deliver training for its products, and this training will be available at PowerHouse Alliance locations across the country.
"KLH is a great partner for the PowerHouse Alliance, having quickly established itself in the industry for providing speakers backed by high-quality engineering and components," notes Dennis Holzer, executive director, PowerHouse Alliance.
"Taking on KLH was a simple decision to give our dealers access to even more speakers in the audio category, for the right product for every project. With solid construction, easy installation, and distributed audio and home cinema applications, plus innovation with new products, KLH is a great addition to the PowerHouse Alliance vendor lineup. We invite dealers at CEDIA to check them out at their nearest PowerHouse Alliance member location."