Z-Wave to Conduct Live Demo from Tibet Mountain at CEDIA Expo
During CEDIA Expo 2013, an amateur mountain climber will open locks and adjust thermostats using a Z-Wave home automation smartphone app from the top of Himalayan Mountain in Tibet.
CE Pro Editors ·
September 18, 2013
Mariusz Malkowski, an amateur mountain climber, will conduct a live demo of the home automation capabilities of Z-Wave by controlling devices in the Z-Wave booth (#512) at CEDIA Expo 2013 from a 26,906-foot-tall mountaintop in Tibet, not far from Mount Everest.
By virtue of the remote location, rugged environmental condition and lack of technical support capabilities, it is being dubbed the "most remote home automation demonstration ever recorded."
The climb of Mount Cho Oyu and the subsequent demonstration is officially titled the Z-Wave Himalayan Expedition by Kwikset. Malkowski, a 40-year-old technical services manager at Sigma Designs and member of the Z-Wave Alliance, has climbed major peaks on four continents, many of them by himself. Using no supplemental oxygen, Malkowski began his ascent on September 10 and will conclude his descent on or around October 6.
Using only his smartphone, Malkowski will control various home automation scenes set up in the Z-Wave booth at CEDIA Expo, including locking and unlocking a Kwikset Smart-Code Deadbolt Lock with Home Connect Technology and adjusting the temperature on his Remotec Thermostat.
The exact date and time of the demonstration are to be determined, depending on the pace of Malkowski's ascent. Weather permitting, Malkowski plans to broadcast a live video remote from the mountain summit to the show location so that Expo attendees can watch the demonstration.
Cho Oyu, which means 'Turquoise Goddess' in Tibetan, is the westernmost major peak of the Khumbu sub-section of the Mahalangur Himalaya, 20 kilometers west of Mount Everest. The mountain stands on the Tibet- Nepal border.
---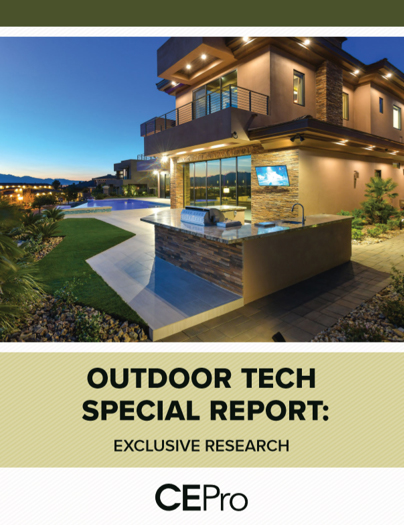 Find Out Why 63% of Integrators Expect Outdoor Business to Grow - CE Pro Download
The outdoor technology market is growing – both the demand from customers and the array of products available. According to our recent CE Pro survey, integrators are taking advantage of this opportunity to grow their businesses. Get your copy of the survey today.
---
News
Luxul Announces Commercial-Grade AV Over IP Networking Lineup
What Integrators Can Learn From Best Buy
McIntosh Unveils $5,000 Digital-Ready, Future-Proof Preamplifier
Hands On: CasaTunes Deftly Integrates Sonos
Marantz, Denon Each Roll Out Pair of New A/V Receivers
View more News
Take Our Latest Quiz
How Well Do You Understand Ethernet Cables and Connectors?
Bose