ZigBee Alliance Announces New ZigBee 3.0 Unified Wireless Standard
ZigBee Alliance announces it is testing a new unified ZigBee 3.0 wireless standard that combines it home automation, lighting, building automation, retail services, health care and telecom standards into one for Internet of Things applications. Demos are planned for 2015 International CES.
Jason Knott
·
November 20, 2014
The non-profit ZigBee Alliance has announced it is testing a new unified wireless standard called ZigBee 3.0. The standard will combine the ZigBee Home Automation, Light Link, Building Automation, Retail Services, Health Care, and Telecommunication standards aimed at permitting smart devices to interoperate seamlessly under new Internet of Things (IoT) solutions. All device types, commands, and functionality defined in current ZigBee PRO-based standards are available to developers in the new standard.
"Happy consumers are the core driving force of all Philips hue activities. Consumers expect their smart devices to just work and be simple, and we continue to deliver new and rich lighting centric experiences that are easy to control and create," says Filip Jan Depauw, head of marketing & partnerships at Philips Connected Lighting. "The ZigBee protocols are a key enabler to achieve this, and the broader ZigBee 3.0 standard further enables seamless communication across different domains and will therefore allow us to offer even greater functionality to our users. Interoperability made simple empowers new use cases and happy consumers."
ZigBee 3.0 defines a wide range of device types including home automation, lighting, energy management, smart appliance, security, sensors, and health care monitoring products. It supports both DIY installations as well as professionally installed systems.
Based on IEEE 802.15.4, which operates at 2.4GHz, ZigBee 3.0 uses ZigBee PRO networking to enable reliable communication in the smallest, lowest-power devices, according to the Alliance. Current ZigBee Certified products based on ZigBee Home Automation and ZigBee Light Link are interoperable with ZigBee 3.0.
"The ZigBee Alliance is addressing the critical need for application level standardization," says Mareca Hatler, director of research with ON World. "This announcement will build on the Alliance's leadership across the Internet of Things, while continuing to provide the foundation for innovative products and services for smart homes, connected lighting, and other high growth markets."
ZigBee 3.0 is currently undergoing testing. Many Alliance members, including The Kroger Co., Legrand, NXP, Philips, Schneider Electric, Silicon Labs, Texas Instruments, Wincor Nixdorf and V-Mark have been actively involved in the development and testing process. The draft standard is available to members of the ZigBee Alliance and is expected to be ratified in Q4 2015. ZigBee 3.0 demonstrations are planned for the Consumer Electronics Show (CES) in January 2015.
"The ZigBee Alliance has always believed that true interoperability comes from standardization at all levels of the network, especially the application level which most closely touches the user," said Tobin J. M. Richardson, President and CEO of the ZigBee Alliance. "Lessons learned by Alliance members when taking products to market around the world have allowed us to unify our application standards into a single standard. ZigBee 3.0 will allow product developers to take advantage of ZigBee's unique features such as mesh networking and Green Power to deliver highly reliable, secure, low-power, low-cost solutions to any market."
---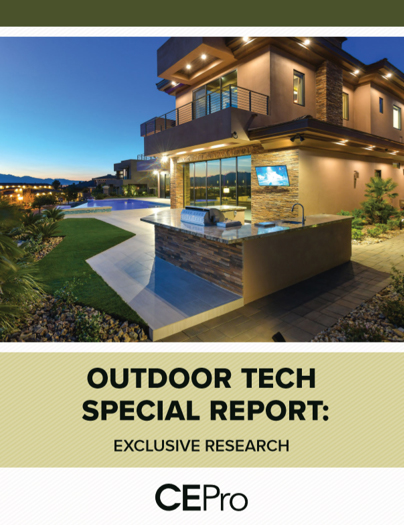 Find Out Why 63% of Integrators Expect Outdoor Business to Grow - CE Pro Download
The outdoor technology market is growing – both the demand from customers and the array of products available. According to our recent CE Pro survey, integrators are taking advantage of this opportunity to grow their businesses. Get your copy of the survey today.
---
About the Author
---
Jason Knott is Chief Content Officer for Emerald Expositions Connected Brands. Jason has covered low-voltage electronics as an editor since 1990, serving as editor and publisher of Security Sales & Integration. He joined CE Pro in 2000 and serves as Editor-in-Chief of that brand. He served as chairman of the Security Industry Association's Education Committee from 2000-2004 and sat on the board of that association from 1998-2002. He is also a former board member of the Alarm Industry Research and Educational Foundation. He has been a member of the CEDIA Business Working Group since 2010. Jason graduated from the University of Southern California. Have a suggestion or a topic you want to read more about? Email Jason at jason.knott@emeraldexpo.com
Follow Jason on social media:

Jason also participates in these groups:
LinkedIn · Google+