Yamaha Surround: AI Processing—Hearing is Believing
The proprietary Surround: AI processing technology from Yamaha is engineered to work with any home theater format to help it sound more natural to listeners.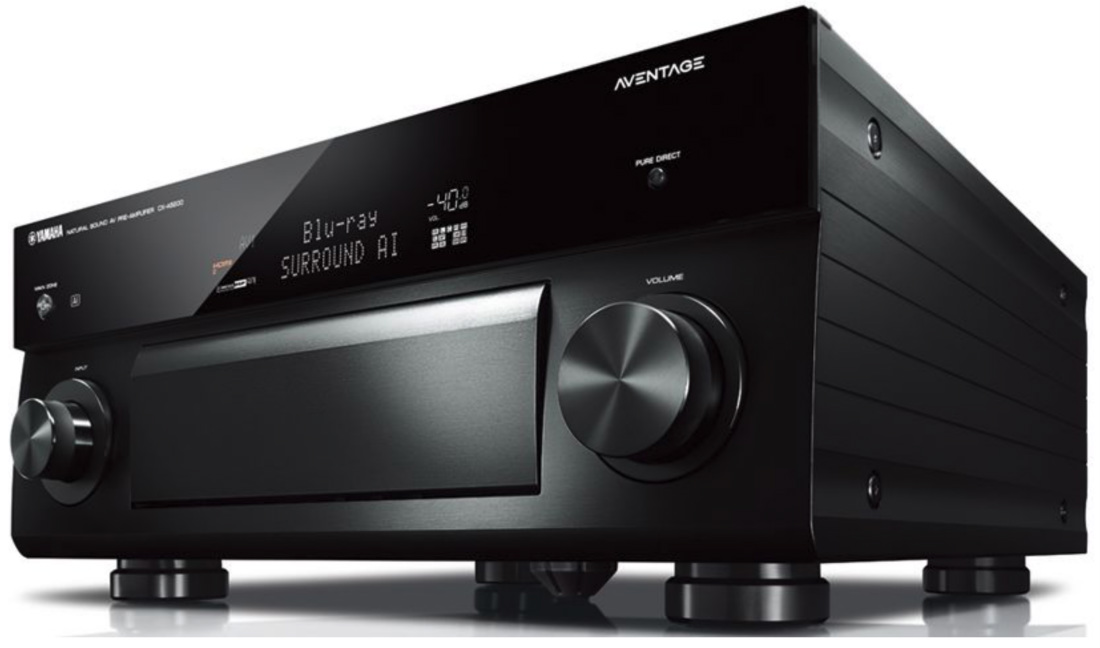 Robert Archer
·
January 30, 2019
Over the past couple of years, a trio of immersive audio, object-based audio formats have reignited the public's interest in home theater.
With home theater's popularity surging again through technologies like object-based sound and 4K video, the audio/video company Yamaha has upped the performance ante of surround sound.
Not long ago, Yamaha, whose heritage includes the professional audio market and advanced products such as mixing consoles and arrays, applied its knowledge of digital sound-field processing (DSP), and applied that knowledge to a new generation of home theater products.
Using its knowledge of DSP technologies, Yamaha developed its Surround:AI technology, which is a format option that can be applied to any surround sound format to dynamically optimize each scene within a movie, show or game.
A Deep Dive into Yamaha Surround:AI
Explained simply, Surround:AI optimizes the DSP settings for each scene in a movie five times per second and instantaneously adjusts that content to deliver a more natural listening experience.
"In the past integrators have gone with straight decoding because they don't want to risk anything—it's the safe way out. With Surround:AI they can let it go and not have to worry about sound quality and sound clarity issues."
— Phil Shea, Yamaha
For comparison purposes, Surround:AI treats audio the same way the dynamic HDR (high dynamic range) video format Dolby Vision treats content when compared to a static HDR format such as HDR10. These dynamic adjustments are more demanding on the processing engines of video products, but the dynamic adjustments produce a better image.
Surround:AI does the same thing for content in the audio domain.
More specifically, Surround:AI analyzes each scene in real time. The technology focuses on distinct elements within a scene such as spoken dialog, background effects and ambient music to tailor that content to make it more immersive without disrupting the mood of the scene.
Phil Shea, content development manager, Yamaha, points out that Yamaha has been a leader in the field of DSP technologies for more than 30 years, and Surround:AI brings DSP capabilities to a new level.
"We've always had DSP modes for music and five or six different modes for movies. The problem with movies is that scene changes so quickly … you get lost in a single DSP. You may have an action scene then a dialog scene. Left in a single mode the dialog may be big, even though the director intended it to be tight. That's where Surround:AI comes in," says Shea. "It helps you experience true sound as it was meant to be heard."
"Our receivers do the decoding of the content, regardless of what type of content it is—that is the directional cues. The processing just needs to be done accurately. What Surround:AI does is an overlay, and the whole idea is to transport you outside of your listening room.
"At home you don't have the spaciousness of a commercial theater because you are confined in a small room. The Cinema DSP brings you outside of your room to provide a more natural environment, but the directional integrity of the content is still there."
Related: Yamaha Quad-Streaming MusicCast Amplifier is Alexa Enabled, Streams Spotify
Shea emphasizes the processing to handle the demands of Surround:AI is high. To ensure the integrity of the content the company has added a third processor to the top of the line Yamaha AVENTAGE AV receivers to incorporate the Surround:AI option.
From a consumer perspective, the addition of the third processor also helps deal with issues that take the enjoyment away from activities as basic as watching TV by alleviating the need to think about and selecting the perfect listening mode.
"In the past integrators have gone with straight decoding because they don't want to risk anything—it's the safe way out. With Surround:AI they can let it go and not have to worry about sound quality and sound clarity issues," he notes.
Yamaha Surround:AI Leaves Nothing to Chance
Found in flagship products such as the $2,700 AVENTAGE CX-A5200 AV processor, Yamaha points out the experience that Surround:AI produces is done through a combination of processing, system planning and calibration.
Dealers that employ the company's proprietary Yamaha Parametric Room Acoustic Optimizer (YPAO) calibration suite can fine tune their home theater installations to help systems adapt to the unique conditions within a home space, and in turn feed the Surround:AI processing valuable room information.
"When we do the room calibration not only do we calibrate the speakers, we also take the additional step to measure the room acoustics, and we feed that information into the Surround:AI algorithms to tailor the DSP," explains Shea.
"If it's a live room, hardly any DSP is added, but in a dead room you need more DSP signal processing. The microphone calibration takes all that into account. Surround:AI is active and computing all the time. It's analyzing the soundtrack, speaker placement, the room—so we know with say Dolby Atmos—we know a bird chirp comes from the right at 45 degrees. We can map the sounds where the sound engineer intended."
Surround:AI Needs to be Heard
Shea and his colleague Joel Kennedy, marketing communications manager, AV, admit that it is one thing to talk about Surround:AI and another thing to experience the technology.
"The simplest way I can say this is it's a more intelligent way to think about your entertainment experience, rather than constantly playing with a remote."
— Phil Shea, Yamaha
Kennedy says that it is easy to turn Surround:AI on and off, but simply turning the technology on and off doesn't fully show off the capabilities of the Surround:AI affect on multichannel audio.
To fully demonstrate how dramatically Surround:AI affects the sound quality of existing surround sound formats Shea recommends that dealers can follow a few simple steps.
"For the integrator to show off to the client in a time crunch situation, all they need to do is turn it on and off with the remote by pressing the Surround:AI button," comments Shea. "With more time, they can pull up an option through the on-screen interface that shows the sound being analyzed in the scene and how the sound is being dispersed in the scene."
Without getting into the technical elements of what makes Surround:AI a technology that complements today's consumer lifestyles, Shea adds that Surround:AI eliminates the urge to constantly tweak AV system settings.
"The simplest way I can say this is it's a more intelligent way to think about your entertainment experience, rather than constantly playing with a remote," Shea stresses.
"It takes you from being a hobbyist to simply enjoying a movie. You sit down for a couple of hours to enjoy a movie, and you lose yourself in the movie. The Surround:AI makes it the most natural experience possible. The room evaporates and you are absorbed into the soundtrack. You escape the world. You want to touch as many senses as possible, the more immersive, the more lost you get into the experience."
Professional integrators interested in demonstrating Surround:AI to their clients should check out these demo clips that Yamaha recommends.
---
2019 State of the Industry Special Report - CE Pro Download
The custom electronics industry saw a healthy 8 percent growth rate in 2018, down slightly from the blazing 11 percent growth in 2017 but still admiringly strong. Our 2019 State of the Industry indicates that readers expect to see even more growth in 2019. Get your copy today.
---
About the Author
---
Bob is an audio enthusiast who has written about consumer electronics for various publications within Massachusetts before joining the staff of CE Pro in 2000. Bob is THX Level I certified, and he's also taken classes from the Imaging Science Foundation (ISF) and Home Acoustics Alliance (HAA). Bob also serves as the technology editor for CE Pro's sister publication Commercial Integrator. In addition, he's studied guitar and music theory at Sarrin Music Studios in Wakefield, Mass., and he also studies Kyokushin karate at 5 Dragons in Haverhill, Mass. Have a suggestion or a topic you want to read more about? Email Robert at rarcher@ehpub.com
Follow Robert on social media:
Twitter
Robert also participates in these groups:
LinkedIn · Google+
Home Theater
Product Briefs: Fibaro, SmartThingsRutherford Audio, Goldnote; ProSource adds Dish
Dish Enhances Custom Integration Program with RMR Bonuses
Hands On: BenQ HT9060 4K LED Projector is Ideal for Multipurpose Rooms
Dynamic Mounting Launches 12 TV Mounts for Over-the-Fireplace Installs
Josh.ai Integrates With LG Displays for Voice-Controlled Entertainment
View more on Home Theater
Take Our Latest Quiz
How Well Do You Understand Ethernet Cables and Connectors?
Bose