Wilson Electronics Unveils Marine Signal Booster Kit
New cellular signal booster kit from Wilson Electronics allows integrators to improve coverage for yachts and other vessels on inland waterways and near-shore.
CE Pro Editors ·
May 14, 2013
Wilson Electronics announces a new marine initiative with the development of a signal booster kit that improves cellular coverage for boaters on inland waterways and for near-shore mariners.
The Marine Signal Booster Kit (SKU# 841246) pairs Wilson's AG SOHO 60 signal booster with the marine antenna, and includes all cables and components needed to complete and install the system.
"Many boaters who try to use a cellular device while on the water experience dropped connections and no-service zones just as cellular customers occasionally do on dry land," says Laine Matthews, business development director for Wilson Electronics. "Installing a Wilson mobile signal booster provides boaters the same signal boosting benefits that drivers of cars, trucks and RVs have enjoyed for years."
Wilson signal boosters have proven their value for sporting craft, houseboats and even ocean-going vessels. When Hurricane Irene battered the Caribbean and U.S. East Coast in 2011, one vessel equipped with a Wilson cellular signal booster sought refuge off Compass Cay in the Bahamas. The crew aboard that ship were the only mariners in the area able to maintain cell phone contact as the eye of the hurricane passed just 12 miles east of their position.
The cell signal they picked up originated from another island, and was too weak to allow voice calls. But using the Wilson signal booster the crew was able to send and receive text messages even as the hurricane raged. Crew members were able to get weather updates from Florida by text, which they then relayed, via two-way radio, to other ships in the area.
---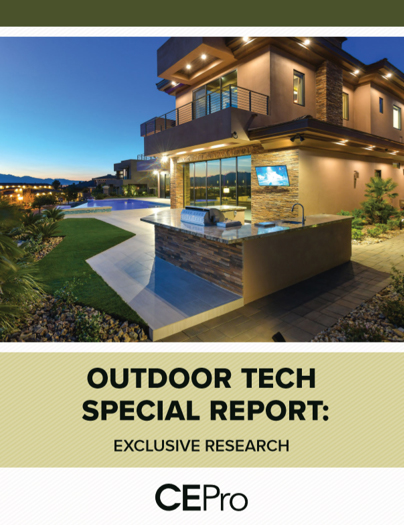 Find Out Why 63% of Integrators Expect Outdoor Business to Grow - CE Pro Download
The outdoor technology market is growing – both the demand from customers and the array of products available. According to our recent CE Pro survey, integrators are taking advantage of this opportunity to grow their businesses. Get your copy of the survey today.
---
News
How LG Aims to Broaden Integrators' World
RTI Touchpanel Remotes Mount in Walls, Reside on Tables
CEDIA Global HQ Opens: Take a Video Tour
Budget-Friendly Pro-Ject T1 Turntable Includes Bluetooth Streaming
People & Places: NSC Promotes Lynch; ProSource Member News; CEDIA Group, DLN Partner
View more News
Take Our Latest Quiz
How Well Do You Understand Ethernet Cables and Connectors?
Bose