Will Verizon Win the Home Automation Wars?
Exclusive details of Verizon's home monitoring system, and how it will compete with Comcast, AT&T, ADT and others; 4G LTE ultimately will give Verizon an edge.
Julie Jacobson
·
January 25, 2011
While Verizon's offering is "certainly a self-installable solution," says Gravel, "we will have an option for professional installation."
The company currently is exploring partnerships with installation organizations that are "appropriately licensed."
Bouhia says, "It would have to be someone that could serve our footprint," but he fails to hint at whether that might be a branded solution like Geek Squad, or perhaps a network of independent dealers such as InstallerNet, Sears ServiceLive, Zip Express, OnForce or NEW.
Verizon vs. the Competition
During CES 2011, Verizon officials told me that other providers could not offer affordable home-control options like Verizon, what with its remote access via smart phones, plus local control via FiOS TV.
Of course, that notion is silly.
Virtually all of the respectable home control systems today (see "Ultimate Guide to Home Automation 2010") offer smart-phone access to their automation systems, including surveillance cameras. Most offer TV-based interfaces for any legacy TV, while Verizon's TV widgets are available only through FiOS.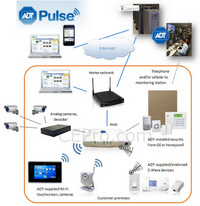 UNDERSTANDING ADT PULSE
For more product details on the ADT Pulse ecosystem, visit www.cepro.com/adtpulsehome
On the mass market, it is true that ADT does not offer a TV on-screen display (OSD) for its security, automation and surveillance system developed by iControl. If Comcast adopts some kind of combination of iControl and its new partner uControl, it may not have it either … despite being a rather substantial cable TV provider.
And if AT&T does not change up the Xanboo platform it just acquired, then it won't have a TV OSD, although this proposition seems unlikely.
We assume AT&T will offer something to its U-verse customers similar to what Verizon offers to FiOS users. In both cases, however, the TV customer base is limited.
It would also be surprising if Comcast – a TV company – does not incorporate some kind of OSD in the near future.
As for pricing, Verizon is not ready to comment on the potential cost of the service, but the company says it is "competitive."
Closely related competitors today, including ADT and Comcast, charge a premium of roughly $20 to $30 above traditional monitored security. Alarm.com, which offers similar solutions for independent security dealers, carries a similar premium.
A key difference in the Verizon case is that they won't be offering traditional monitored security, only basic monitoring and control of security cameras and a few Z-Wave automation devices – more akin to Schlage, whose Link system starts at $8.99 per month (product review here).
Here's where Verizon has the advantage: 4G LTE.
4G will change the whole dynamic of home control and remote access, and Verizon is ahead of the pack. At CES, the company demonstrated home control integrated into its 4G LTE network.
Can Comcast, ADT and other mass-market home-control providers do that?
——————————————————————————



Follow us on Twitter!
@juliejacobson
@ce_pro
---
We're Looking for Your BEST Projects
Don't miss your chance to enter to win a 2019 BEST Projects Award. We'll be announcing winners at a special Gala event at CEDIA EXPO. We can't wait to see what you've been up to this year! Enter your projects now.
---
About the Author
---
Julie Jacobson is founding editor of CE Pro, the leading media brand for the home-technology channel. She has covered the smart-home industry since 1994, long before there was much of an Internet, let alone an Internet of things. Currently she studies, speaks, writes and rabble-rouses in the areas of home automation, security, networked A/V, wellness-related technology, biophilic design, and the business of home technology. Julie majored in Economics at the University of Michigan, spent a year abroad at Cambridge University, and earned an MBA from the University of Texas at Austin. She is a recipient of the annual CTA TechHome Leadership Award, and a CEDIA Fellows honoree. A washed-up Ultimate Frisbee player, Julie currently resides in San Antonio, Texas and sometimes St. Paul, Minn. Follow on Twitter: @juliejacobson Email Julie at julie.jacobson@emeraldexpo.com
Follow Julie on social media:
Twitter · LinkedIn · Google+
Julie also participates in these groups:
LinkedIn · Google+