Why the iPad Won't Make Dedicated Touchpanels Obsolete
AMX says margins on dedicated touchscreens "will not disappear' and already embraces download app model for its own equipment.
Jason Knott
·
April 2, 2010
Count AMX as another home automation manufacturer that sees the iPad as a "complementary alternative" for the industry.

"The introduction of the iPad is good news for the home automation market and we support its use to control AMX systems," says Joe Andrulis, vice president of marketing at AMX.
"Any device that broadens interest in whole-home automation and simplifies users' access to it presents a tremendous opportunity for the industry. We embrace it."
Dedicated Touchpanels Still Important
Andrulis says the iPad will not make dedicated touchpanels obsolete, saying he expects "most customers will still want the functionality and convenience of a dedicated touchpanel."
Andrulis points to AMX's Modero touchpanels. Those units are specifically engineered for control system integration, offering functions like advanced wireless security and various form factors.
AMX already has a home automation app for the iPhone and says "nothing new will be required" for an iPad app.
AMX has already taken on a bit of the Apple business model in the UI Resource Center on its Web site. The company has offered user interface apps for years, including G4 ComputerControl, i!-Weather, PictureFrame, TakeNote and widgets like Analog Clock, Calculator, Messenger, and Notes.
"Our approach remains to give our customers the solutions they want," Andrulis says. "AMX historically has been an advocate of open-standards based platforms allowing for simpler technology integration and greater user choice."
Touchscreen Margins Will 'Not Disappear'
So are the days of high-margin hardware gone? Vantage thinks so, but Andrulis says not necessarily. "High margins are generally associated with new or niche technologies, and margins decline as the technology matures and becomes widely adopted," he says. "It's probably more proper to say high-margins will not disappear, but will move to new, novel products and technologies."
"It's important to understand that touchpanels, and third-party devices, are interfaces, and are only one part of the whole-home automation solution," Andrulis says. "There is much more that determines the quality, value and customer's appreciation of a home automation system, such as the controller, routers, customization, installation, cabling and more."
---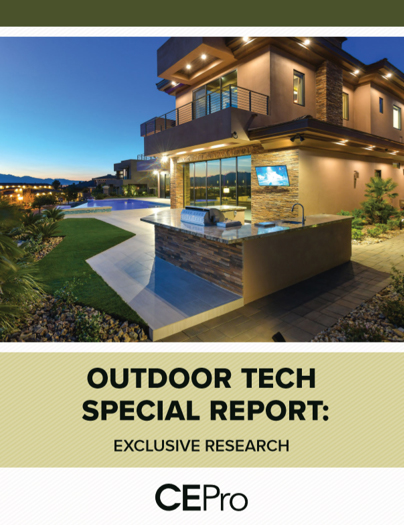 Find Out Why 63% of Integrators Expect Outdoor Business to Grow - CE Pro Download
The outdoor technology market is growing – both the demand from customers and the array of products available. According to our recent CE Pro survey, integrators are taking advantage of this opportunity to grow their businesses. Get your copy of the survey today.
---
About the Author
---
Jason Knott is Chief Content Officer for Emerald Expositions Connected Brands. Jason has covered low-voltage electronics as an editor since 1990, serving as editor and publisher of Security Sales & Integration. He joined CE Pro in 2000 and serves as Editor-in-Chief of that brand. He served as chairman of the Security Industry Association's Education Committee from 2000-2004 and sat on the board of that association from 1998-2002. He is also a former board member of the Alarm Industry Research and Educational Foundation. He has been a member of the CEDIA Business Working Group since 2010. Jason graduated from the University of Southern California. Have a suggestion or a topic you want to read more about? Email Jason at jason.knott@emeraldexpo.com
Follow Jason on social media:

Jason also participates in these groups:
LinkedIn · Google+