Why HDBaseT 2.0 is So Awesome: USB and Multipoint Video Distribution
HDBaseT gets even better with the recently announced 2.0 spec, supporting USB streaming and point-to-multipoint video distribution -- no pricey matrix switch required.
John Nemesh ·
August 23, 2013
I have seen the future! Strangely, it looks like the plain old Cat 5e and Cat 6 cables we already know and love. It supports HDMI with 3D and resolutions up to 4K, and carries Ethernet, IR and RS-232 traffic. I speak, of course, of HDBaseT. But it gets even better with the recently released HDBaseT 2.0 spec.
What's new? USB 2.0 support for one thing. Having an extender with integrated USB 2.0 support means that gamers can hook up their controllers in the TV room, while the console is tucked away in a rack on the other side of the home.
It means that computer users can have their noisy and clunky computers stored in a remote room while keeping their work space quiet and tidy.
It means you can integrate an Xbox 360 with Kinect without having to buy an additional extender, and without an additional run of Cat 5.
More significant than USB support is the support for point-to-multipoint video distribution, and the addition of HDBaseT 2.0 switches.
Currently, HDBaseT is strictly a point-to-point solution. If you want to take your cable box video and send it to multiple screens in the home, you will have to purchase a separate matrix switch.
Now, with HDBaseT 2.0, you will simply need an inexpensive switch that will distribute your video throughout the home, again using that same Cat 5e or Cat 6 wire. This should dramatically lower the cost to implement video distribution, thereby increasing consumer interest in video distribution … and give dealers yet another money-making opportunity.
Keep in mind that it will be some time before we see the HDBaseT 2.0 products for sale, as the specification was just released. It is also unclear as to whether the HDBaseT 2.0 products are backwards compatible with the current 1.0 products on the market, but again, we are probably at least a year or two from seeing 2.0 gear hit the market. In any case, the cost savings that should exist with this system should compensate somewhat if they happen to require new equipment.
The Beauty of HDBaseT

So that's the new and exciting stuff. If you still are not in the HDBaseT game, here's what you need to know.
Many integrators still haven't recovered from the unholy mess that was HDMI in the early days … and messier still when you consider the uncertainties of the forthcoming HDMI Rev. 2.0. (Will HDBaseT 2.0 be compatible with the new HDMI rev? Find out at CE Pro's HDMI 2.0 Webinar on Aug. 28.)
Incompatibilities between different pieces of equipment were bad enough, but it was hit or miss if that dual Cat 5 HDMI extender would really work once it was installed.
Every manufacturer used different technologies and chips to extend the signal. Often, these solutions were lossy, resulting in errors in transmission that could, at best, degrade the image, at worst; render nothing more than a black screen and an error message.
It was not uncommon to hear of three, four, or even five service calls … diagnosing and troubleshooting HDMI extender problems and swapping out different brand extenders, trying to find one that works.
Manufacturers were frustrated as well, so much so that Samsung Electronics, Sony Pictures Entertainment, LG Electronics and Valens Semiconductor formed the HDBaseT Alliance to promote the technology originally created by Valens.
The result of this was the HDBaseT 1.0 standard, which was finalized in June of 2010. Not only was reliable HDMI transmission in the specification, but they managed to squeeze in 100Mbps Ethernet, along with IR and RS-232 for control, as well as providing audio back from the TV to the AVR with ARC or, in some cases, Toslink. All over ONE cable.

Three years later, we have products on the market from multiple manufacturers in multiple product categories – extenders, TVs, projectors, receivers, switchers—that are all certified to work properly.
Learn and understand how Rev. 2.0 may affect you and your business. Attendees will receive several illustrations composed of schematics, waveforms and block diagrams that can be used as reference. Great information with a bit of humor.
Register
The specification also allows for up to 100 watts of power to be transmitted. For now, this simply means that the extenders need only be powered on the "transmit" side. The display side box simply pulls its power over the cat 5/6 cable from the transmitter.
In the future, though, displays up to 40 inches could be powered directly from the transmitter, with the "receive" side built into the set itself. Imagine being able to relocate a customer's wall-mounted TV anywhere in the home without having to have a line-voltage electrician relocate a power outlet! That same Cat 5/6 cable that is carrying the audio and video would be powering the set.
Now, while the HDBaseT group has shown this functionality at various trade shows, we have yet to see TVs on the market with this feature. Here is hoping that this is a temporary situation.
HDBaseT has taken a great concept, the extension of HDMI over a Cat 5/6 cable, and standardized it for the industry. They have created a certification program that ensures interoperability and performance. They have taken all of the guesswork out of HDMI extenders for the integrators, and made sure we have reliable equipment that we can specify. The end result is happier customers, and fewer service calls.
With the addition of the 2.0 specification, they have now standardized residential video distribution as well. With more manufacturers getting on board with HDBaseT, I would recommend that every integrator familiarize themselves with this technology. And if you aren't using HDBaseT products currently, you might ask yourself this question: "How much has not using HDBaseT products cost my company over the past year in service calls?"
If the answer to that is any money at all, you may want to consider a change.
---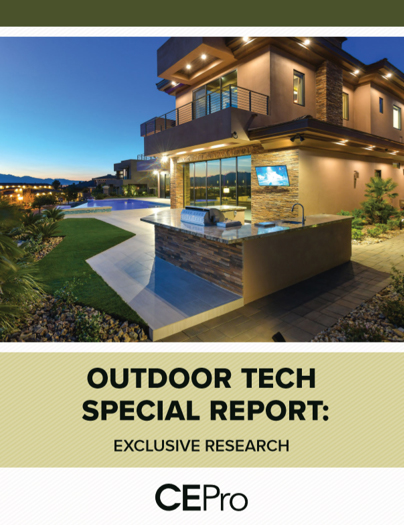 Find Out Why 63% of Integrators Expect Outdoor Business to Grow - CE Pro Download
The outdoor technology market is growing – both the demand from customers and the array of products available. According to our recent CE Pro survey, integrators are taking advantage of this opportunity to grow their businesses. Get your copy of the survey today.
---