Vivint Solar Launches $330M IPO
The NYSE IPO for Vivint Solar, a spinoff of CE Pro 100 residential home automation/security integrator Vivint Inc., has shares rising as much as 7% in early trading.
Jason Knott
·
October 1, 2014
The financial future for entry-level home automation integrator Vivint got even brighter today when the company's spinoff Vivint Solar debuted to rousing success on the New York Stock Exchange.
The company, the No. 2 firm on last year's CE Pro 100, has seen shares for its new $330 million spinoff Vivint Solar Inc. (NYSE: VSLR) rise as much as 7 percent in early trading. Shares started at $16 and are well over $17 in early trading. UPDATE: By the end of the day, almost all the stock uptick had melted away. Vivint Solar ended the day at $16.06/share, up just 6 cents.
Both Vivint and Vivint Solar are owned by Blackstone Group LP (BX). According to Bloomberg News, the IPO is aimed at repaying debt owed to Blackstone, which reportedly holds 78 percent of the shares.
Vivint sold to Blackstone for $2 billion back in 2012, along with 2GIG Technologies, which was later sold to Nortek and is now part of the company's Linear Security Group. Vivint Solar is the second largest installer of solar panels in the U.S.
---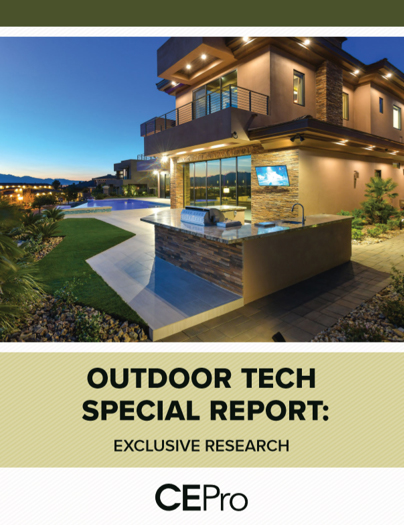 Find Out Why 63% of Integrators Expect Outdoor Business to Grow - CE Pro Download
The outdoor technology market is growing – both the demand from customers and the array of products available. According to our recent CE Pro survey, integrators are taking advantage of this opportunity to grow their businesses. Get your copy of the survey today.
---
About the Author
---
Jason Knott is Chief Content Officer for Emerald Expositions Connected Brands. Jason has covered low-voltage electronics as an editor since 1990, serving as editor and publisher of Security Sales & Integration. He joined CE Pro in 2000 and serves as Editor-in-Chief of that brand. He served as chairman of the Security Industry Association's Education Committee from 2000-2004 and sat on the board of that association from 1998-2002. He is also a former board member of the Alarm Industry Research and Educational Foundation. He has been a member of the CEDIA Business Working Group since 2010. Jason graduated from the University of Southern California. Have a suggestion or a topic you want to read more about? Email Jason at jason.knott@emeraldexpo.com
Follow Jason on social media:

Jason also participates in these groups:
LinkedIn · Google+