Top 2018 Home Tech Mergers & Acquisitions: IoT, Security, Smart Home, A/V, CE
2018 was big for mergers, acquisitions, IPOs, spinoffs, and other transactions in home electronics, including IoT, smart home, lighting, security, audio/video, wellness and the installer channel.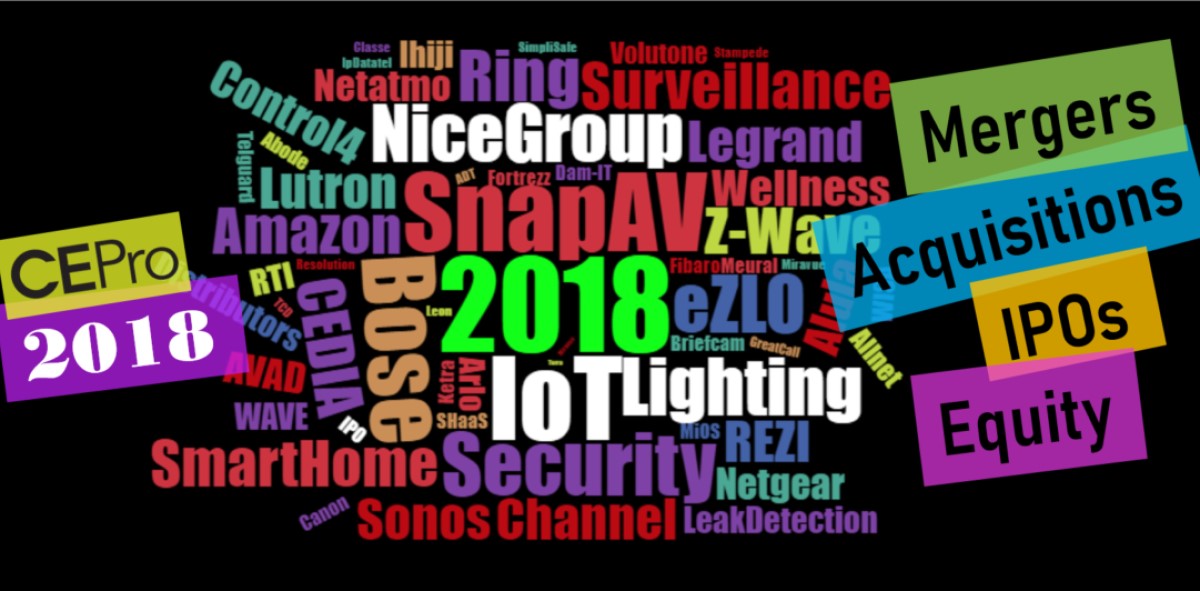 Julie Jacobson
·
December 31, 2018
IoT, the smart home, cybersecurity, and consumer electronics (CE) took center stage in human consciousness and on Wall Street in 2018. Mergers, acquisitions, IPOs and other big equity events in the category piled up.
In the home-technology installation channel, three organizations that almost never make acquisitions – Lutron, RTI and CEDIA – made acquisitions this year. Meanwhile, home-automation and A/V leaders SnapAV and Control4 continued their buying streaks.
Private-equity firms Kingswood Capital and Hellman & Friedman added to their smart-home portfolios. On the other hand, Apollo Global Management divested, taking ADT public (again) less than two years after it acquired the security and home-automation firm.
In addition to ADT, this year's crop of smart-home IPOs included Sonos, Resideo (Honeywell's residential group), Summit Wireless (WISA) and Arlo (Netgear spinoff).
Bose did such interesting things in 2018 ... we gave the audio company its own feature story.
Here are some of the most notable mergers, acquisitions and other transactions in the home-technology categories for 2018.
This page
Big CE
Surveillance Cameras & Video Analytics
Pro-Monitored Alarm and SHaaS
Smart Home & IoT Devices
Networking & Data Security
Lighting
IoT Silicon and Smart-Home Technology
Home Technology Installation ("CEDIA") Channel
Health, Wellness & Aging
Other
---
Big CE
Arguably the most important M&A event of the year was Amazon's acquisition of security and home-automation vendor Ring for nearly $1 billion, very shortly after acquiring smart camera maker Blink in December 2017.
Google probably threw up a little. It paid 3.2 times as much for Nest just four years earlier. This year, Nest finally merged completely into Google's home products group—thermostats, security system, cloud and all—throwing a wrench into some Nest integrations.
The other "Big CE" event this year was the Sonos (Nasdaq: SONO) IPO. The wireless-audio company had provided a guidance of $17-$19 per share, but ended up selling at $15 when it went public on August 2, fetching the company about $83 million and valuing the business at about $1.5 billion.
After spending a month in the $20 range, SONOS has been slowly sliding, and now trades at less than $10 (around $12 before Wall Street's December 2018 massacre).
Arlo (Nasdaq: ARLO), the surveillance division that spun out of Netgear in 2018, went public the day after Sonos at $16 per share. Since then, the stock's performance has mirrored Sonos's trajectory almost exactly.
---
Surveillance Cameras & Video Analytics
Most of the M&A activity in video surveillance this year was on the commercial/industrial side, with the biggest deal being the acquisition of Vancouver-based Avigilon (TSX: AVO) by Motorola Solutions (NYSE: MSI) for $1 billion in cash.
On the consumer side, we didn't see too much activity in the surveillance category beyond Amazon's acquisition of Ring. The other significant event was Netgear's spin-off of the Arlo smart-camera business into a standalone public company (Nasdaq: ARLO), as noted above.
A few more surveillance-related events in 2018 straddled both consumer and commercial markets. Most of the interesting deals involved video analytics—technologies that recognize and track people and items.
Notably, Nortek Security & Control acquired Intellivision, a leader in artificial intelligence (AI), smart cameras and video analytics software. The acquisition has already borne fruit. At CEDIA Expo 2018, Nortek announced several Intellivision-powered products including a video doorbell with "advanced motion analytics" that can distinguish between people and other moving objects.
Also this year, Canon continued its video-surveillance buying spree with the acquisition of Briefcam, a popular provider of technology for rapid video review, search and analysis.
Finally, security giant Bosch led a $28 million funding round for AI start-up AnyVision, a provider of object-recognition software that pixelates faces when transferring data to the cloud.
---
Pro-Monitored Alarm and SHaaS
DIY-centric
2018 was a shake-up year in the alarm business, as big home-security firms jostled for position in a new era of DIY systems, no-contract monitoring, and the entry of big consumer brands like Amazon (Ring) and Google (Nest).
Both of these giants launched UL-listed, professionally monitored alarm systems in 2018. Notably, Ring shattered price barriers with its $10 fee for professional alarm monitoring, cellular back-up and cloud storage for an unlimited number of security cameras.
In other DIY news for 2018, the big daddy of no-frills (and oft-derided) monitored alarm systems, SimpliSafe, sold a controlling stake to the large private-equity firm Hellman & Friedman in a deal that reportedly valued the DIY company at $1 billion. H&F also owns Verisure/Securitas Direct and SnapAV (as of June 2017), the giant electronics manufacturer and distributor serving the home-technology installation channel.
Also, Nice Group S.p.A. acquired a majority stake in Abode, as discussed below in the "smart-home" section.
Pro-centric
Honeywell spun out its residential security business into a new public company called Resideo (NYSE: REZI), now one of the only pure-play, publicly held residential security and home automation firms in the U.S., along with Alarm.com (Nasdaq: ALRM).
Both Alarm.com and Resideo (Total Connect) have substantial SHaaS (smart home as a service) platforms. A third SHaaS provider, Telular/Telguard, also saw M&A action this year. It was acquired by an unlikely suitor, Ametek, a giant manufacturer of electronic instruments in search of a cloud platform.
One of Resideo's chief rivals in pro-installed security and home-automation is Interlogix, part of Climate, Controls & Security (CCS) arm of United Technologies Corp. (NYSE: UTX). UTC announced this year it would spin out its CCS fire and alarm businesses into a new group under the Carrier brand. UTC continues to explore the divestiture of these businesses.
REVIEW: Mergers & Acquisitions of 2017
And there is more. DSC, a former Tyco company, was acquired by Johnson Controls in 2016. At the time, Tyco owned a large stake of another competitor Qolsys, and word on the street is that Johnson will acquire Qolsys outright. This year, Qolsys and DSC achieved closer integration between their systems by sharing wireless sensor technology.
The ones to watch in the pro-security and home-automation space are the former Resolution Products and IpDatatel – both up-and-comers in alarm/IoT products and platforms, respectively.
Johnson did acquire at least one smart-home company in 2018—the smart-thermostat start-up Lux (below)
2Gig, a security and home-automation brand under Nortek (acquired by Melrose Industries in 2016), largely remains untouched, although Nortek formally merged its security and custom home-technology ("Core Brands") businesses into a single division called Nortek Security and Control (NSC). The merger has borne fruit with tight product integration between 2Gig and Elan Home Systems, Nortek's higher-end home-control line.
Of the other biggies, Napco (Nasdaq: NSSC) is still Napco, and the fiercely private Elk Products and DMP are still private.
The ones to watch in the pro-security and home-automation space are the former Resolution Products and IpDatatel – both up-and-comers in alarm/IoT products and platforms, respectively. The two companies merged in 2018 to create Alula, a provider of end-to-end security and smart home solutions for professional installers – from security panels, home-automation hubs, sensors and cellular communicators, all the way to the SHaaS.
Alarm.com sued unsuccessfully to quash the deal.
Meanwhile, in security services, ADT (NYSE: ADT) went public (again) less than two years after it was taken private by Apollo Global Management. Apollo paid almost $7 billion for the security and smart-home firm and merged it into erstwhile competitor Protection 1. The IPO priced at $14 per share— way less than the $17-$19 expected range—and raised roughly $1.6 billion, valuing the company at nearly $10.6 billion, excluding about $10 billion in debt.
ADT competitor MONI (formerly Monitronics), the alarm central station and dealer network firm owned by Ascent Capital Group (Nasdaq: ASCMA), acquired the rights to the Brinks brand in 2018 and now goes by Brinks Home Security.
---
Smart Home & IoT: Home Automation Hubs and Smart Devices
Amazon acquired Ring for about $1 billion this year, just a few months after the e-commerce giant acquired smart-camera maker Blink. The Ring acquisition gives Amazon a highly popular brand of video doorbells and related surveillance products, a professional monitored DIY security system (Ring Alarm), and perhaps most importantly a massive network of highly engaged communities via the Ring Neighborhood app.
Foxconn spent nearly as much ($866 million) to acquire the IoTrio Belkin, Linksys and Wemo this year, giving the OEM/ODM giant its first consumer-facing brand – much like Flex (formerly Flextronics) did in 2015 when it rather unwittingly acquired Wink, which was later sold to rapper Will.i.am.
What Foxconn also nabbed in the Belkin deal was the Belkin joint venture, Phyn, developer of water management and leak detection technology. While leak detection has emerged as a hot IoT category in the last couple of years, primarily due to loss-mitigation efforts by insurance companies, the M&A activity in the category has barely begun. A good six or seven start-ups should be well positioned for equity events in the coming year.
European controls company Nice Group S.p.A. upped its home-automation game and enhanced its U.S. presence with the acquisitions of Fibaro and Abode.
Also this year, European controls company Nice Group S.p.A. upped its home-automation game and enhanced its U.S. presence with the acquisitions of Fibaro and Abode. Fibaro is a well established European developer of advanced home-automation systems and sensors. Abode is a U.S.-based up-and-comer that develops monitored security systems with home-automation capabilities, and also provides its own SHaaS platform for remote monitoring and control. Both Fibaro and Abode have been working to push their DIY-friendly systems into the professional installation channel.
Both Fibaro and Abode compete with MiOS, which was acquired by eZLO Innovation this year. MiOS makes the DIY-centric Vera home-automation system, powered by the company's own SHaaS back-end.
eZLO, now helmed by former Savant COO Mark Samuel, is a four-year-old manufacturer of smart-home devices and platforms – mostly Z-Wave, mostly OEM, and mostly slow to launch. This year, the company introduced eZLO Atom, a Z-Wave-enabled smart-home-on-a-stick dubbed "the smallest hub in the world."
In addition to MiOS, eZLO acquired sister companies Fortrezz and C&S Electronics in late 2018. Fortrezz is a fairly well-established maker of Z-Wave devices, and C&S is the proprietor of the DAM-it Water Control leak detection system, the preferred water-control solution for many Control4 dealers.
eZLO claims its new home-automation portfolio will position the company as a preferred vendor for insurance companies.
In smart thermostats, Johnson Controls acquired start-up Lux this year, and Legrand acquired Netatmo, which makes indoor-air quality and other smart devices, in addition to smart thermostats.
Many of the other smart-thermostat makers were acquired in recent years (Nest by Google, RCS Technology by UEI) – and several others enjoyed large funding rounds this year.
Ecobee, the company that arguably invented smart thermostats with geo-fencing, snagged its biggest funding round to date in 2018— $61 million—led by Energy Impact Partners with participation from Amazon's Alexa Fund. Germany's thermostat leader Tado, already backed by Siemens, fetched another EUR 43 million (USD 49 million) from Amazon and Total Energy Ventures this year.
---
Networking and Data Security
While ADT was going public this year, the company was investing heavily in its data security business. Last year the company acquired Datashield for its new ADT Cybersecurity unit serving commercial customers.
This year, ADT purchased Secure Designs, an Internet security firm with solutions for "every consumer" ranging from $5 to $30 per month under the brand Digital Security by ADT. Options include different levels of identity theft monitoring and protection, a personal secure virtual network (VPN) for "easy and secure app-based Wi-Fi privacy" outside of the home, and home network security via a secure Wi-Fi router that can be installed by a "trained ADT technician."
Ruckus, which makes robust networking gear primarily for the enterprise but with a strong following in the home-technology channel, went to CommScope this year as part of a $7.4 billion acquisition of Ruckus parent Arris.
One of the more interesting deals in the home-tech channel was the acquisition of data-security firm Sienna Group by ConnectWise, which makes productivity software for a variety of service providers including home-technology installers.
ConnectWise will enable these service providers to more easily sell and support cybersecurity services.
Finally, Cypress Semiconductor this year acquired Cirrent, developer of software and cloud-based services for Wi-Fi provisioning and network security. Many of the top router providers and ISPs use Cirrent's technology to help their customers connect.
Swapping out a router or changing a password? All Wi-Fi devices already provisioned for the original router automatically connect with the new credentials.
Service providers such as Comcast Cable employ Cirrent's ZipKey hotspots to enable existing customers to connect automatically. The ZipKey network now covers more than 120 million homes.
---
Lighting
M&A activity has been rampant in the lighting category over the past few years – less so in the controls business than the fixtures business, and mostly in commercial/industrial sectors, rather than the consumer market.
The big residential-lighting event of 2018 was Lutron's acquisition of Ketra.
Lutron's deal was notable because it accelerated the lighting giant's position in the consumer "Circadian" lighting market, where Ketra plays. It was also notable because Lutron doesn't, as a matter of course, purchase other companies. The last big deal was the 2000 acquisition of Vimco, which propelled Lutron into the motorized shading business … in a big way. The same could happen in the wellness-lighting market with Ketra.
Also in 2018, Ring rather quietly acquired Mr. Beams, a leader in sensor-enabled LED lighting for the consumer market.
On the commercial scene, Siemens acquired innovative smart-lighting firm Enlighted, Masco acquired Kichler Lighting and Legrand acquired Kenall.
NEXT PAGE: IoT Silicon | Home Tech Channel | Health & Wellness | Bose | More
---


About the Author
---
Julie Jacobson is founding editor of CE Pro, the leading media brand for the home-technology channel. She has covered the smart-home industry since 1994, long before there was much of an Internet, let alone an Internet of things. Currently she studies, speaks, writes and rabble-rouses in the areas of home automation, security, networked A/V, wellness-related technology, biophilic design, and the business of home technology. Julie majored in Economics at the University of Michigan, spent a year abroad at Cambridge University, and earned an MBA from the University of Texas at Austin. She is a recipient of the annual CTA TechHome Leadership Award, and a CEDIA Fellows honoree. A washed-up Ultimate Frisbee player, Julie currently resides in San Antonio, Texas and sometimes St. Paul, Minn. Follow on Twitter: @juliejacobson Email Julie at julie.jacobson@emeraldexpo.com
Follow Julie on social media:
Twitter · LinkedIn · Google+
Julie also participates in these groups:
LinkedIn · Google+