Top 2018 Home Tech Mergers & Acquisitions: IoT, Security, Smart Home, A/V, CE
2018 was big for mergers, acquisitions, IPOs, spinoffs, and other transactions in home electronics, including IoT, smart home, lighting, security, audio/video, wellness and the installer channel.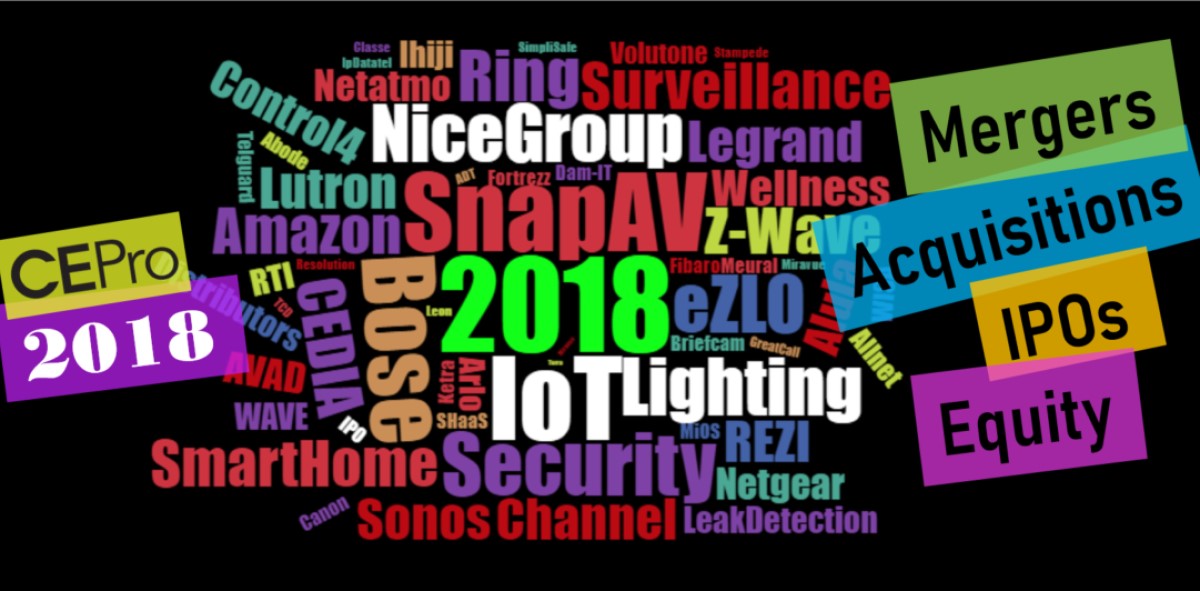 Julie Jacobson
·
December 31, 2018
IoT Silicon and Smart-Home Technology
While Qualcomm, Broadcom and NXP flirted and courted and failed to consummate, a few interesting IoT technology deals did go down this year.
Silicon Labs (Nasdaq: SLAB) acquired the Z-Wave business unit of Sigma Designs in 2018 for $240 million in cash. It was a coup for the chip-maker, which was already a leading provider of IoT solutions around ZigBee, Bluetooth, Wi-Fi, Thread and sub-GHz wireless.
ARM rounded out its Mbed IoT device management platform this year with the acquisition of Stream Technologies, provider of "unified connectivity management of devices anywhere on any network," including cellular, LoRA and satellite.
ARM says the integration of Stream into Mbed will enable an "end-to-end IoT platform for managing, connecting, provisioning and updating devices."
Google, too, upped its IoT game this year with the acquisition of Xively for a reported $50 million. Xively, formerly part of LogMeIn, is an IoT-enabling platform that powers smart-home solutions like Lutron's Caseta Wi-Fi bridge. Google is incorporating Xively into the Google Cloud IoT platform.
Also this year, relative start-up Chirp Microsystems, with 15 employees in Berkeley, Calif., was acquired by Japanese electronics giant TDK. Chirp creates miniature, ultra-low-power, ultrasonic sensor technology that "outperforms infrared-based alternatives by every metric in real-world applications," according to the California firm … and reviewers, too.
The sensors are being tested in drones, robots, virtual reality systems, and smart home devices.
As mentioned above, Cypress Semiconductor this year acquired Cirrent, the Wi-Fi provisioning and security platform. So too did Summit Wireless (Nasdaq: WISA), the technology company (formerly Summit Semiconductor) behind the WISA wireless surround-sound platform adopted by such companies as Microsoft (Xbox), Klipsch, Bang & Olufsen and LG.
IoT SILICON & TECHNOLOGY: 2018 M&A Stories
---
Home Tech Installation ('CEDIA') Channel
Some of the usual suspects in the residential channel, like Legrand and Nortek, were pretty quiet this year on the home-tech front. And at least three historically non-acquisitive organizations—Lutron, RTI, and CEDIA—went shopping in 2018.
SnapAV, which itself was acquired in 2017 by private-equity firm Hellman & Friedman, continued its buying spree—but in a brand new way.
Here are some of the notable equity events of the year on the home systems integration channel:
Distribution
The custom home-technology channel saw a few very significant M&A events in 2018, including a major shakeup in the distribution landscape.
SnapAV surprised the industry with the acquisition of two strong regional distributors— Allnet in the Midwest and Volutone in Southern California.
SnapAV surprised the industry with the acquisition of two strong regional distributors— Allnet in the Midwest and Volutone in Southern California.
SnapAV is a leading manufacturer and distributor in the home-tech channel, with arguably the best e-commerce, logistics and remote support engines in the industry. The acquisitions gave SnapAV its first brick-and-mortar branch locations—11 for now—and portend a buy-up of more regional distributors in the future to gain national coverage.
Meanwhile, two other top distributors merged this year— AVAD and WAVE Electronics—creating a national powerhouse with 32 branch locations in the U.S. and Canada. AVAD had been acquired by the private-equity firm Kingswood Capital in 2016, and the recent merger occurred when Kingswood acquired WAVE this year.
On the commercial-integration side, Stampede, a leading distributor in the pro A/V market, was acquired by the technology division of Dublin-based DCC Technology, a £14.3 billion "supply chain partner for global technology brands."
Control
In the home-tech channel, M&A activity was fairly light in 2018.
Control4 began the year with the acquisition of Ihiji, the original remote network monitoring company in the home-tech channel. As it did with Pakedge, Control4 immediately killed the monthly fees that Ihiji used to charge dealers for each client account.
Multiple Ihiji-like companies have come and gone in the pro channel. The only other pure-play competitor that remains in the channel is Domotz. SnapAV's four-year-old OvrC, however, is a fierce competitor, and networking companies have added remote monitoring and management tools to their routers and other networking gear.
Beyond the Control4 deal, Lutron purchased human-centered lighting provider Ketra (as mentioned above in "Lighting"), and RTI acquired Miravue, a start-up provider of A/V-over-IP systems. Notably, RTI became the "exclusive U.S. partner" of UK-based Pulse-Eight, which makes video-distribution and A/V control systems.
CEDIA
This year, home-technology trade association CEDIA made its first and second acquisitions ever, just one year after it sold its flagship CEDIA Expo to Emerald Expositions.
With the loss of its namesake trade show, CEDIA invested in regional events with the acquisition of Technology & Business Summits, a series of eight events around the U.S., hosted by independent reps and their vendors.
CEDIA also acquired The Cinema Designer (TCD), and renamed the company and the product The CEDIA Designer. A lightweight version of the theater-design software is now available free of charge to CEDIA members, and discounts are available for the full-blown version.
Audio/Video
The big news in A/V this year was the IPO of Sonos (Nasdaq: SONO), which is not faring well on Wall Street.
In the home-tech channel, in addition to RTI's acquisition of Miravue, we saw UK-based Pulse-Eight acquire U.S.-based Zektor. Pulse-Eight specializes in multiroom video and Zektor on distributed audio.
This year, Leon Speakers boosted its commercial and outdoor audio (and lighting) line with the acquisition of Terra Speakers.
Sound United, which already owns Denon, Marantz, Polk, Definitive Technology and Boston Acoustics, acquired the former B&W brand Classé Audio, a manufacturer of high-performance amplifiers, pre-amplifier processors and integrated amplifiers.
Bose made some interesting detours in 2018. Literally. It (quietly) acquired the audio-tour startup Detour, an app designed to help people discover a city through narrated walking tours. In addition to its AR initiatives, Bose is getting busy in wellness, detailed in this feature story.
In IPO land, we noted above that Sonos (SONO) went public in 2018, as did Summit Wireless (WISA).
There was also the aforementioned CEDIA's acquisition of TCD, and a formal merger of Nortek's Core Brands and security companies into one happy Nortek Security & Control (NSC) business.
HOME TECH INSTALLATION CHANNEL: 2018 M&As
---
Health, Wellness and Aging
With all the hype in health, wellness and senior living these days, the M&A activity in the categories seemed pretty light this year.
Heck, companies are even giving BACK their health and wellness properties. Nokia, for example, sold Withings back to its original owner two years after it acquired the maker of Wi-Fi scales and other connected wellness devices. Nokia had used the $200 million acquisition to launch Nokia Digital Health. Er, never mind.
There were a couple of very interesting health-and-wellness acquisitions this year from rather surprising sources: Best Buy and Bose.
Best Buy paid $800 million to acquire GreatCall, provider of personal emergency response systems (PERS) with two-way talk. GreatCall, which had 900,000 paying subscribers when it was acquired in August, had itself been acquired one year earlier by Chicago private equity firm GTCR for an undisclosed price.
READ THE FEATURE: Bose Ventures Made Some Really Interesting Moves in 2018: AR & Wellness
In addition to PERS, GreatCall provides healthcare/medication reminder apps and 24/7 access to a nurse or doctor and other services via a senior-centric wireless plan.
The acquisition bolsters Best Buy's Assured Living service for seniors.
Bose has entered the wellness category. Through Bose Ventures, the company acquired Hush, a start-up that makes "smart" noise-masking earbuds designed to help users sleep, and Sync Project, which is pushing music as medicine. Sync co-founder and CTO Yadid Ayzenberg is now director of wellness software at Bose.
---
Other
We would be remiss in omitting the acquisition of CE Pro and other (former) EH Media brands by Emerald Expositions (NYSE: EEX), the trade-show and media company that acquired CEDIA Expo in 2017.
Also in 2018, Netgear acquired the Wi-Fi digital-frame and content company Meural, and plans to add a Netgear router into the frames. Forbes interviewed Netgear CEO Patrick Lo on the acquisition:
"We branched into Arlo [which Netgear is in the process of totally spinning out] which is about home security and safety. Now we're into Mural and Orbi Voice [a WiFi router integrating Amazon Alexa] which is about home lifestyle," Lo told me. "Orbi Voice gives you streaming of sound while Meural gives you the streaming of art, graphics, and pictures."
Finally, in 2018,
Monster Products
filed a $300 million ICO
(cryptocurrency offering) to sell "Monster Money" but later kiboshed the offering.
---
Did we miss your merger, acquisition or other big deal this year? Email the author, Julie Jacobson
---
We're Looking for Your BEST Projects
Don't miss your chance to enter to win a 2019 BEST Projects Award. We'll be announcing winners at a special Gala event at CEDIA EXPO. We can't wait to see what you've been up to this year! Enter your projects now.
---
About the Author
---
Julie Jacobson is founding editor of CE Pro, the leading media brand for the home-technology channel. She has covered the smart-home industry since 1994, long before there was much of an Internet, let alone an Internet of things. Currently she studies, speaks, writes and rabble-rouses in the areas of home automation, security, networked A/V, wellness-related technology, biophilic design, and the business of home technology. Julie majored in Economics at the University of Michigan, spent a year abroad at Cambridge University, and earned an MBA from the University of Texas at Austin. She is a recipient of the annual CTA TechHome Leadership Award, and a CEDIA Fellows honoree. A washed-up Ultimate Frisbee player, Julie currently resides in San Antonio, Texas and sometimes St. Paul, Minn. Follow on Twitter: @juliejacobson Email Julie at julie.jacobson@emeraldexpo.com
Follow Julie on social media:
Twitter · LinkedIn · Google+
Julie also participates in these groups:
LinkedIn · Google+