Time to Legitimize the Art of Listening
There are training methods available for dealers clients that provide a scientific approach to the evaluation process of music and audio equipment.
Robert Archer
·
November 3, 2011
After attending the Rocky Mountain Audio Fest (RMAF), I was once again reminded why the public thinks audiophiles are insane: many of them are.
There were more outrageous claims at the RMAF than a year's worth of Rex Ryan press conferences, with everything from pixie-dust cables and speakers with unobtainium tweeters to magic wooden blocks that improve sound by lifting speaker cables off the floor.
But there are ways to legitimize the art of listening, transforming the hobby from the pursuit of overzealous fanaticism to real techniques that professionals in the music, recording and electronics engineering fields use on a daily basis. And the cost of some educational materials is nothing more than a minimal investment.
During the RMAF, Harman conducted Science of Sound presentations using its How to Listen software, introducing the topic of critical and professional listening techniques. Sean Olive, director of acoustic research for Harman International, explained the reasons and methodologies Harman uses to build products, and why Harman advocates the use of unbiased professional techniques during the evaluation of audio components.
Olive ran participants through an interactive mock test that highlighted the potential of the curriculum. At the conclusion of the test, he pointed out where people could download the educational software for free and how attendees could purchase his Harman colleague Floyd Toole's book Sound Reproduction at a 30 percent discount.
Adding to Harman's educational materials, here are two apps to develop good listening skills. Both are available from the iTunes App Store with free versions.
Quiztones
Quiztones is designed specifically for budding recording engineers who want to hone their listening skills, featuring tests for frequency recognition and EQ recognition.
The tests are formatted as multiple choice answers to build memory, and in the EQ mode, the tests run from easy to hard with test tones that use drums, the acoustic guitar and the piano to provide real-world skill sets that are much more useful than esoteric, audiophile opinions.
Karajan Music & Ear Trainer
The Karajan Music & Ear Trainer app, which is also available in a step-up paid version, trains users how to recognize intervals (the distance between musical notes), chords, scales, pitch and tempo in beats per minute (bpm).
This is a good app for beginner and intermediate musicians, recording engineers and anyone else who wants to ear train in a manner that's directly applicable to real music listening.
Audiophiles Need Lesson in Small Room Acoustics
Since I'm killing the eccentric nature of the audiophile crowd, I might as well throw this out there: It's time for audiophiles to take acoustic training from the Home Acoustics Alliance (HAA) and/or THX to learn about small room acoustics.
If that's too time-consuming, audiophiles should contract the services of acousticians like Tony Grimani of PMI, Richard Bird of Rives Audio, Norman Varney of A/V Room Service or Dennis Erskine of Erskine-Group to design an environment that's conducive to subjective listening tests at trade shows.
Unfortunately, many of the systems I heard were stuck in the mud of low-frequency room modes. It was really noticeable with speakers that could extend low enough to excite those frequencies. Some of the exhibitors were prepared to deal with these room modes and brought treatments to try to tame the acoustical issues, which were identical in just about all of the rooms due to the cookie-cutter nature of room shapes and the setup preferences that were employed.
Those who have taken HAA classes know that founder Gerry Lemay preaches how much greater the affects of room acoustics are on the performance of an audio system than the purchase of new cabling, CD players or amplifiers. If someone needs validation of Lemay's theory of room acoustics over gear, all they need to is attend the RMAF show for proof that science trumps product purchases.
---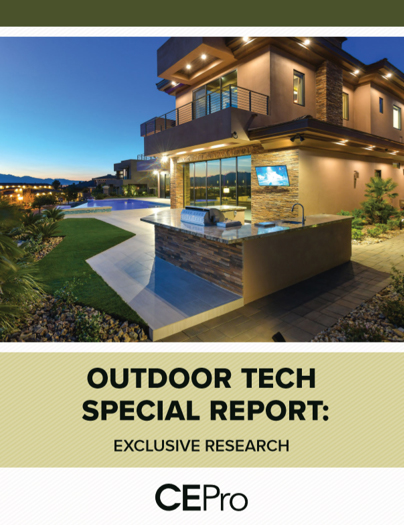 Find Out Why 63% of Integrators Expect Outdoor Business to Grow - CE Pro Download
The outdoor technology market is growing – both the demand from customers and the array of products available. According to our recent CE Pro survey, integrators are taking advantage of this opportunity to grow their businesses. Get your copy of the survey today.
---
About the Author
---
Bob is an audio enthusiast who has written about consumer electronics for various publications within Massachusetts before joining the staff of CE Pro in 2000. Bob is THX Level I certified, and he's also taken classes from the Imaging Science Foundation (ISF) and Home Acoustics Alliance (HAA). Bob also serves as the technology editor for CE Pro's sister publication Commercial Integrator. In addition, he's studied guitar and music theory at Sarrin Music Studios in Wakefield, Mass., and he also studies Kyokushin karate at 5 Dragons in Haverhill, Mass. Have a suggestion or a topic you want to read more about? Email Robert at robert.archer@emeraldexpo.com
Follow Robert on social media:
Twitter
Robert also participates in these groups:
LinkedIn · Google+
News
How LG Aims to Broaden Integrators' World
RTI Touchpanel Remotes Mount in Walls, Reside on Tables
CEDIA Global HQ Opens: Take a Video Tour
Budget-Friendly Pro-Ject T1 Turntable Includes Bluetooth Streaming
People & Places: NSC Promotes Lynch; ProSource Member News; CEDIA Group, DLN Partner
View more News
Take Our Latest Quiz
How Well Do You Understand Ethernet Cables and Connectors?
Bose