The Strange Alt History of Home Automation According to Coldwell Banker
Self-professed "pioneer in smart homes," real estate giant Coldwell Banker traces the beginnings of the home-automation movement to the 1997 launch of GM's OnStar, followed by the 2010 debut of Nest. Plus: CE Pro's own History of Home Automation in pictures.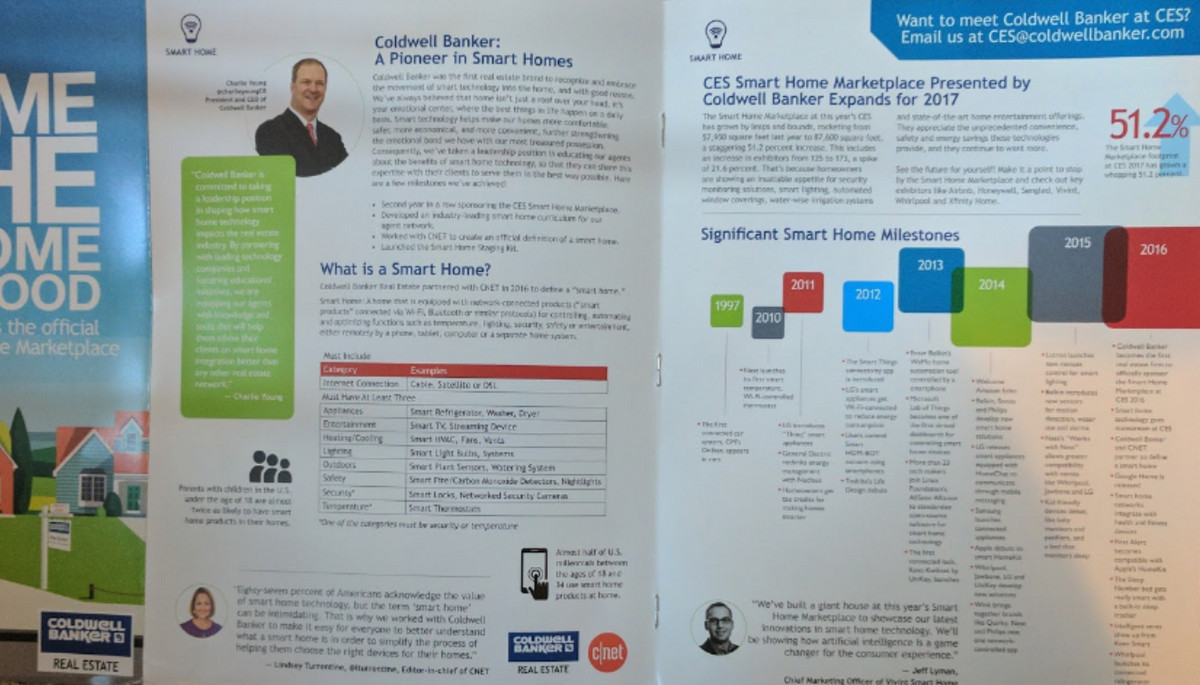 Julie Jacobson
·
January 25, 2017
Coldwell Banker is asserting itself as "the first real estate brand to recognize and embrace the movement of smart technology into the home."
No argument there. Coldwell does appear to be the first realty group to promote the smart home to its agents, as well as home buyers and sellers alike.
Unfortunately, the company representing itself as a "pioneer in smart homes" has a little credibility problem.
It started in 2016 with Coldwell's "official definition" of a smart home (developed with CNET): a property that includes a broadband connection and at least three smart devices, one of which must be related to security or temperature.
A "smart home," therefore, could be a property that has a baby cam, a Roku and a smart plant sensor, none of them connected to each other.
After speaking with Coldwell spokesperson David Siroty at the time, I understood the rationale behind this extremely simplistic "definition."
Integration has not been a "thing" in the mass market, and Coldwell wanted to relieve consumers of the notion that one smart thermostat made a smart home.
"To begin the dialog, it's important for us to start somewhere," Siroty told me.
GALLERY: 14 home-automation ads from 1989-1994
Perhaps that made sense at the time, but now it's time to move on to a more suitable definition.
At the very least, a "smart home" should include some level of integration, such that the baby cam (in our example) communicates with the Roku and smart plant sensor. Better yet, forget things like smart TVs (they're all connected these days) and plant sensors; the smart home should include these three subsystems at the very least: security, energy management and lighting. Remote access or push notifications should be part of the definition as well.
We see signs that Coldwell is making progress in definining the smart home, working now with CEDIA, the trade organization for home-technology professionals.
With CEDIA, the group already has developed a smart-home training and certification program for its real-estate agents. It also launched a Smart Home Staging Kit to help home sellers add value to their property before putting it on the market.
Does it matter? Isn't it enough that Coldwell Banker is educating its agents and the broader community about smart-home solutions?
Yeah, it kind of does matter.
Then Comes the Alt History
Just when I thought Coldwell was moving in the right direction, the company comes out with a cringe-worthy brochure at CES 2017, featuring a timeline of "Significant Smart Home Milestones." But most of the so-called milestones mentioned in the glossy handout are neither significant nor even memorable.
In Coldwell's alternative history of the smart home, the industry's first milestone dates back to 1997, when "the first connected car system, GM's OnStar, appears in cars."
OnStar would go on to have no relevance to the smart-home movement.
Somehow, the previous decade of catalyzing activity from Unity Systems, Home Automation Inc., JDS, AMX, Crestron, and even X10 and the phenomenal flop that was Mastervoice were overlooked, as were the pioneering efforts of utilities piloting demand-side management and time-of-use pricing programs.
According to Coldwell, the next milestone after the big OnStar debut occurred a whopping 13 years later with the introduction of Nest.
[CONTINUES]
Somewhere in those 13 preceding years, Z-Wave and ZigBee mesh-networking technologies were introduced, Icontrol and Alarm.com launched the first SHaaS (smart home as a service) platforms, Control4 was born, ADT introduced the affordable Pulse security and home automation service, big cable companies and telcos rolled out smart home systems to the masses, the iPhone and iPad made home-technology accessible, Microsoft invested big-time in Media Center as a connected-home hub, and a few other important events occurred between OnStar and Nest.
I won't pick apart the Coldwell timeline year-by-year, but tax credits for smarter homes most certainly did not begin in 2011, as Coldwell suggests; health and fitness devices were connected to home networks way before 2016; LG's introduction of the Thinq hub (2011), smart appliances (2012), HOM-BOT robo vacuum (2012), more smart appliances (2014), and Nest integration (2015) were of no consequence to the smart-home movement.
---
Smart Home History:

14 Home Automation Ads from 1989-1994
---
And what on earth is "Toshiba's Life Design" doing in a list of smart-home milestones?
To be the sure, the real estate giant has attacked the home-automation market like no other Realtor before it, starting in 2016 when it sponsored the Smart Home marketplace at CES.
But its credibility fizzled at the first salvo – the definition of a smart home – and it fumbles again with its telling of smart-home history.
Does it matter? Isn't it enough that Coldwell Banker is educating its agents and the broader community about smart-home solutions?
Yeah, it kind of does matter. It's hard for members of the technology press and other key influencers in the home-tech community to consider Coldwell a "Pioneer in Smart Homes" when its most prominent messaging is so misguided. A little more guidance could help Coldwell gain some serious credibility in the industry.
Even so, keep up the good fight, Coldwell! We're looking forward to great things.
More at coldwellbanker.com/smarthome
---
7 Clever Ways to Hide Home Technology - CE Pro Download
Most technology products are not that visually appealing. Black boxes and tangled wires do not add to the character of a high-end smart home project. Luckily, our integrator readers have a number of clever solutions so these components don't have to be visible in your next project.
---



A TRUER HISTORY: 14 HOME AUTOMATION ADS, 1989-1994

" />
About the Author
---
Julie Jacobson, recipient of the 2014 CEA TechHome Leadership Award, is co-founder of EH Publishing, producer of CE Pro, Electronic House, Commercial Integrator, Security Sales and other leading technology publications. She currently spends most of her time writing for CE Pro in the areas of home automation, security, networked A/V and the business of home systems integration. Julie majored in Economics at the University of Michigan, spent a year abroad at Cambridge University, earned an MBA from the University of Texas at Austin, and has never taken a journalism class in her life. She's a washed-up Ultimate Frisbee player currently residing in Carlsbad, Calif. Email Julie at jjacobson@ehpub.com
Follow Julie on social media:
Twitter · LinkedIn · Google+
Julie also participates in these groups:
LinkedIn · Google+
Control & Automation
Office Depot Launches Smart Home Installation Service
Ring Video Doorbell Integrates with Crestron Home Automation in Award-Winning Install
CES 2019: Smartest New Smoke, Fire and CO Detectors
Product Briefs: BluOS adds Alexa Voice Control; Leviton Tool; Z-Wave Gecko; RTI QMotion Driver
Gigantic Elan Project: 700 Lighting Loads, 150 Shades, 25 Cameras
View more on Control & Automation
Take Our Latest Quiz
How Well Do You Understand Ethernet Cables and Connectors?