Tech Opportunities in Senior Living: Tech Spaces, Man Caves, Game Rooms
'Environments for Aging' highlights several trends in senior living that home-tech integrators could exploit, like entertainment spaces for visiting families and 'man caves' for game day.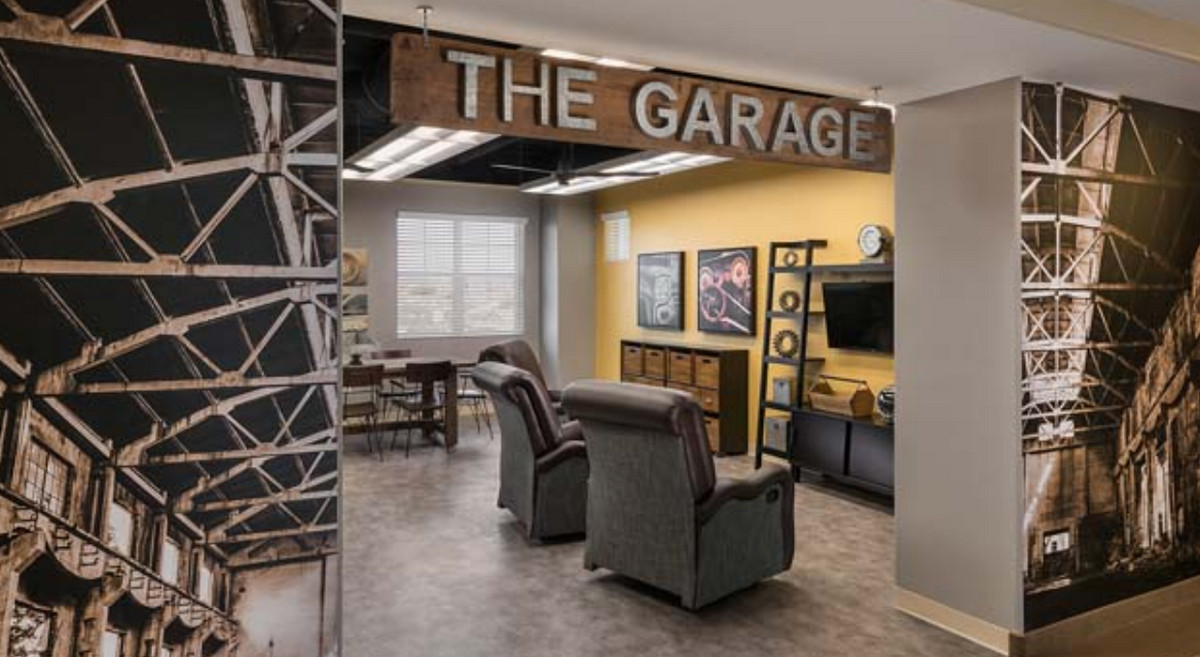 Julie Jacobson
·
October 18, 2018
Ever since CE Pro and related brands were acquired by Emerald Expositions in August, I've been a little obsessed with all the cool sandboxes where Emerald plays – like high-end furniture, senior living and hospitality – all of which relate to our home-tech industry.
I promise you, this is not a sales pitch for Emerald … I'm just a little wide-eyed being in this new candy store.
As I've followed senior living for many years, I stumbled across an older article in "Environments for Aging," an Emerald title that complements the organization's conference of the same name, as well as the Healthcare Design Expo.
In "Building a Sense of Community Within Your Senior Living Community," I found some interesting trends that could provide huge opportunities for home-tech pros.
We know that senior living facilities offer opportunities such as security, entertainment, lighting (especially tunable white lighting for wellness), indoor air quality, audio/video and more. But beyond the more practical aspects of technology, these properties crave solutions that foster community and engagement among residents and guests.
"Imagine a group of residents discussing a time to meet to watch a game or work on projects together."
— Senior-living designer Cynthia Warner
The author of the piece, Cynthia Warner of Warner Design Associates, asks, "How do we create designs that foster a sense of community?"
She highlights some of these themes:
Game Rooms
The Summit at Sunland Springs, an assisted living community in Mesa, Ariz., has a gamily game room with toys, activities and a Wii gaming console for a family-friendly place that brings all generations together.
"This creates a sense of community among residents who not only get to spend time with their own families but get to know each other's families," the Warner writes, "like how parents and grandparents bond over watching their kids and grandchildren playing at a park."
'The Garage'
The property also features something like a man cave, but more politically correct. "The Garage" has recliners and a TV for watching the big game, as well as workstations for tinkering on projects.
"Imagine a group of residents discussing a time to meet to watch a game or work on projects together," Warner writes. "Providing this type of space helps create the same opportunities for making connections that residents have become used to prior to moving into a senior living community."
Tech Rooms
As Warner notes, a sense of community doesn't necessarily have to involve active social engagement. Just being surrounded by others can help mitigate the loneliness that can be so detrimental to older adults.
She says senior living communities are creating "tech rooms" for residents to do their everyday computer activities – around other people, rather than alone in a room.
"Here, residents can feel the community around them and remove a sense of isolation, even if not engaging in conversation," Warner explains. "Think of it similarly as to how we might spend time reading or working at a coffee shop instead of at home."
---
2019 State of the Industry Special Report - CE Pro Download
The custom electronics industry saw a healthy 8 percent growth rate in 2018, down slightly from the blazing 11 percent growth in 2017 but still admiringly strong. Our 2019 State of the Industry indicates that readers expect to see even more growth in 2019. Get your copy today.
---
About the Author
---
Julie Jacobson, recipient of the 2014 CEA TechHome Leadership Award, is co-founder of EH Publishing, producer of CE Pro, Electronic House, Commercial Integrator, Security Sales and other leading technology publications. She currently spends most of her time writing for CE Pro in the areas of home automation, security, networked A/V and the business of home systems integration. Julie majored in Economics at the University of Michigan, spent a year abroad at Cambridge University, earned an MBA from the University of Texas at Austin, and has never taken a journalism class in her life. She's a washed-up Ultimate Frisbee player currently residing in Carlsbad, Calif. Email Julie at jjacobson@ehpub.com
Follow Julie on social media:
Twitter · LinkedIn · Google+
Julie also participates in these groups:
LinkedIn · Google+
Home Theater
Product Briefs: Fibaro, SmartThingsRutherford Audio, Goldnote; ProSource adds Dish
Dish Enhances Custom Integration Program with RMR Bonuses
Hands On: BenQ HT9060 4K LED Projector is Ideal for Multipurpose Rooms
Dynamic Mounting Launches 12 TV Mounts for Over-the-Fireplace Installs
Josh.ai Integrates With LG Displays for Voice-Controlled Entertainment
View more on Home Theater
Take Our Latest Quiz
How Well Do You Understand Ethernet Cables and Connectors?
Bose