Survey: Kaleidescape Dealers 'Not Really' Worried About Legal Liability
Early results on Kaleidescape injunction in the DVD CCA case suggest dealers aren't concerned about their own legal liability; 41% say it's time to stop selling movie servers anyway because the future is streaming.
Julie Jacobson
·
March 13, 2012
Most integrators (69%) are "not really" worried about their legal liability when it comes to movie servers, according to preliminary results of a brief survey issued this morning by CE Pro.
The survey is meant to gauge dealer reaction to the recent injunction order issued against Kaleidescape in its legal battle with the DVD CCA. The permanent injunction prohibits the sale and certain support of Kaleidescape movie servers that enable DVD copying, i.e., that employ the Content Scramble System (CSS) licensed by the DVD CCA.
The DVD CCA sued Kaleidescape in 2004 for breaching the CSS licensing agreement with the DVD CCA.
Blu-ray and CD archiving are unaffected.
SURVEY: Please participate in our 3-minute survey on Kaleidescape and movie servers (dealers only, please)
Minutes after posting the survey, CE Pro is receiving a flood of responses by integrators, including those who sell Kaleidescape and other movie servers, and those who largely ignore the category.
Related: Walmart, Vudu Ripping DVDs to the Cloud
The sample size at this moment is still too small to be statistically meaningful, but here's how the responses are trending:
Among Kaleidescape dealers, 35% checked the box, "I will continue to sell Kaleidescape as long as the injunction is stayed, which Kaleidescape believes it will be."
In fact, 53% of all respondents say they won't discuss the case with existing clients until they see how it pans out. Kaleidescape has appealed the order and believes the injunction will be stayed until the appeal is decided, which could take up to two years.
Only 5% of dealers so far say they will communicate with all clients right away.
Among all integrators who have responded so far, 41% agree with the statement, "It's time to stop selling movie servers anyway; the future is streaming."
So far, 39% of respondents say they currently sell Kaleidescape products; 18% say they used to sell the brand but they don't anymore; 41% say they have never sold the brand.
In an open-ended question, one anonymous dealer responded, "This is a witch hunt and obviously someone has a very large stick up their ***. This is really no different than the music issue. Where would Apple be today if the music industry hammered apple the way the MPAA [Motion Picture Association of America] is attacking ONE manufacture that they thought would be a push-over."
Click here to participate in our 3-minute survey on Kaleidescape and movie servers (dealers only, please)
---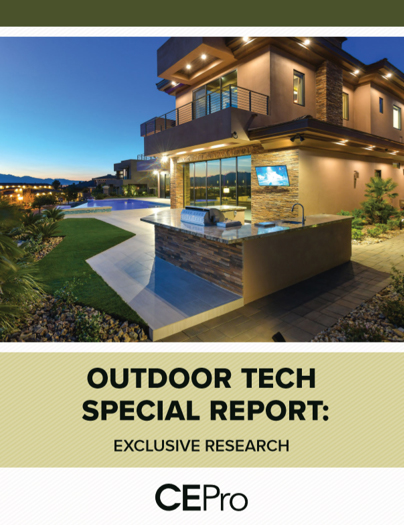 Find Out Why 63% of Integrators Expect Outdoor Business to Grow - CE Pro Download
The outdoor technology market is growing – both the demand from customers and the array of products available. According to our recent CE Pro survey, integrators are taking advantage of this opportunity to grow their businesses. Get your copy of the survey today.
---
About the Author
---
Julie Jacobson is founding editor of CE Pro, the leading media brand for the home-technology channel. She has covered the smart-home industry since 1994, long before there was much of an Internet, let alone an Internet of things. Currently she studies, speaks, writes and rabble-rouses in the areas of home automation, security, networked A/V, wellness-related technology, biophilic design, and the business of home technology. Julie majored in Economics at the University of Michigan, spent a year abroad at Cambridge University, and earned an MBA from the University of Texas at Austin. She is a recipient of the annual CTA TechHome Leadership Award, and a CEDIA Fellows honoree. A washed-up Ultimate Frisbee player, Julie currently resides in San Antonio, Texas and sometimes St. Paul, Minn. Follow on Twitter: @juliejacobson Email Julie at julie.jacobson@emeraldexpo.com
Follow Julie on social media:
Twitter · LinkedIn · Google+
Julie also participates in these groups:
LinkedIn · Google+