Survey Finds Majority of Consumers are Comfortable With IoT Products
TraQline's recent survey of 2,045 U.S. households says over half of consumers report feeling comfortable with IoT technology.
CE Pro Editors ·
February 19, 2019
A recent survey from TraQline says a majority (56 percent) of consumers report feeling comfortable with IoT technology.
TraQline's inaugural survey found that 69 percent of households reported owning a smart product. Further, 35 percent of consumers reported having bought a smart product within the past six months.
The survey covers not only penetration and purchase of smart home products, but the usage and attitudes of consumers — including who are using the products and how often, according to a press release.
"Of the 2,045 households surveyed, nearly 70 percent owned a smart home product. For those smart products owned, over 60% of the time consumers are extremely interested or very interested in buying another," states Brennan Callahan, director of national accounts for TraQline.
"This shows the value consumers place on the convenience of smart home products."
Other takeaways from the survey include:
The top three factors that influence a consumer's smart product purchase are price (68 percent), ease of use (50 percent), and security concerns (37 percent).
39 percent of consumers surveyed indicate that they plan to purchase a smart thermostat within the next six months.
44 percent of consumers intend to purchase a smart home security camera.
40 percent of smart products are used two or more times a day.
The survey is said to provide additional usage and attitudes for 27 different categories, measuring attributes such as: why people purchase, who in a household uses smart functions, type of devices controlled by Alexa and Google, importance of smart home features, features desired, and more.
Read Next: The Very First Z-Wave 700 Series Home-Automation Product
Syndicated by market research firm The Stevenson Co., TraQline launched its smart home survey in November 2018 to capture consumer purchases and usage/attitudes of connected products.
When combined with 300,000 TraQline U.S. respondents, the bi-annual survey is billed as the largest of its kind.
This article originally appeared on our sister publication Security Sales & Integration's website.
---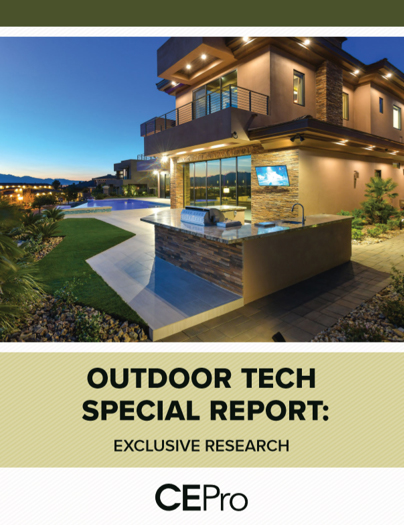 Find Out Why 63% of Integrators Expect Outdoor Business to Grow - CE Pro Download
The outdoor technology market is growing – both the demand from customers and the array of products available. According to our recent CE Pro survey, integrators are taking advantage of this opportunity to grow their businesses. Get your copy of the survey today.
---
Control & Automation
Product Briefs: AudioResearch, Kwikset; Play-Fi, AirPlay2; Lenbrook Joins D-Tools i3
Control4, SnapAV CEO Interviews: Analyzing the Home Automation Merger
10 #SoCustom Solutions to Inspire Your BEST Project Awards Entries
Amazon Alexa Guard Sound-Detection Turns Echo into Smart Security System
Intuitive Interface Is Key to Lighting, Energy Storage/Management Systems
View more on Control & Automation
Take Our Latest Quiz
How Well Do You Understand Ethernet Cables and Connectors?
Bose