SureCall Force8 Cell Phone Booster Improves 5G Connectivity
Introduced at CES 2019, the SureCall Force8 5G Cell Phone Booster strengthens the signals of the T-Mobile 600 MHz band and the AT&T 2.3 GHz mid-band signals.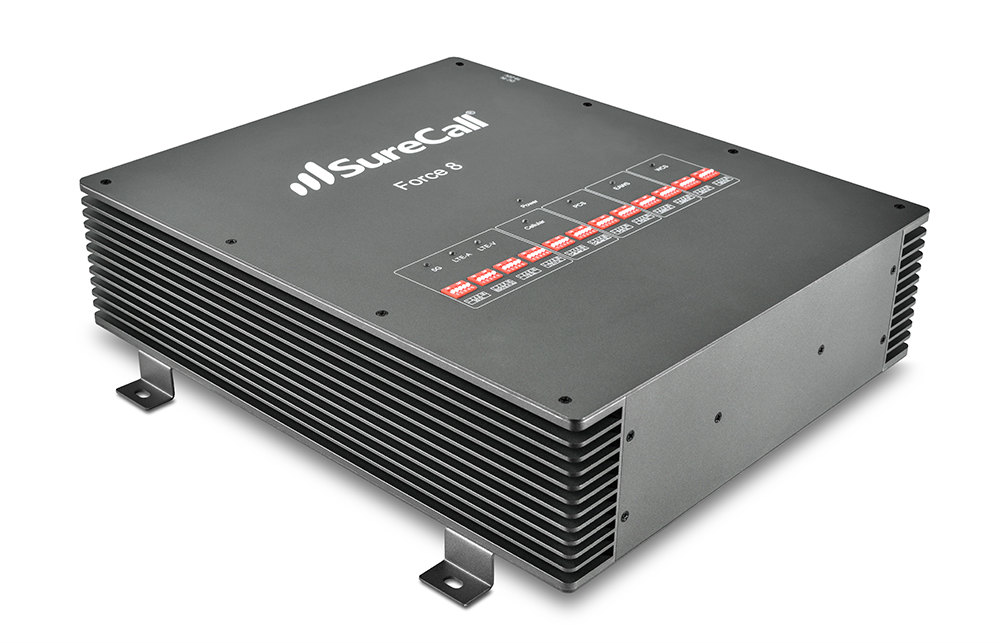 Robert Archer
·
January 9, 2019
Moving quickly to address the connectivity concerns of smart device owners, SureCall has introduced its Force8 5G Cell Phone Booster during CES 2019.
Exhibiting in the Las Vegas Convention Center (LVCC) South Hall 4 booth number 35759, SureCall says the Force8 is one of the first 5G cell-phone boosters to hit the market.
The Force8 5G is designed to provide smart device owners with increased connectivity in locations including commercial buildings and rural environments across the U.S.
"Reports predict that 90 percent of buildings will not have cell service for the 5G network due to the inability of the high-frequency RF signals to penetrate structures and material. Because of this, there is a huge need to bring affordable 5G connectivity into commercial buildings," notes Hongtao Zhan, founder and CEO, SureCall.
"SureCall is committed to solving this by architecting solutions that will create a 5G future with reliable coverage. Force8 represents a significant first step toward supporting a sucessful deployment of the 5G network."
T-Mobile and AT&T 5G Signals Receive a Boost
The Fremont, Calif.-based manufacturer explains it developed the Force8 cell-phone signal booster to strengthen and improve non-millimeter wave 5G signals for the T-Mobile 600 MHz band and AT&T 2.3 GHz mid-band signals.
The Force8 also boosts cellular service for all U.S. carriers' 3G and 4G LTE signals, including the AWS-3 and Sprint 800 MHz bands, which are a portion of the radio frequency (RF) spectrum that will be active even after 5G is completely implemented nationally.
Related: What to Expect When 8K and 5G Take Over
Pricing for the Force8 cell-phone booster starts at $6,999, depending on the application and scope of the installation.
SureCall Force8 Cell Phone Booster Features
The Force8 improves the signal of the T-Mobile 600 MHz and AT&T 2.3 MHz mid-band signals
SureCall says the Force8 works with all carriers' 3G and 4G LTE signals
The Force8 works in a range of locations, including suburban and urban environments
Helps the signal quality of 5G signals in commercial buildings
Pricing starts at $6,999

---
2019 State of the Industry Special Report - CE Pro Download
The custom electronics industry saw a healthy 8 percent growth rate in 2018, down slightly from the blazing 11 percent growth in 2017 but still admiringly strong. Our 2019 State of the Industry indicates that readers expect to see even more growth in 2019. Get your copy today.
---
About the Author
---
Bob is an audio enthusiast who has written about consumer electronics for various publications within Massachusetts before joining the staff of CE Pro in 2000. Bob is THX Level I certified, and he's also taken classes from the Imaging Science Foundation (ISF) and Home Acoustics Alliance (HAA). Bob also serves as the technology editor for CE Pro's sister publication Commercial Integrator. In addition, he's studied guitar and music theory at Sarrin Music Studios in Wakefield, Mass., and he also studies Kyokushin karate at 5 Dragons in Haverhill, Mass. Have a suggestion or a topic you want to read more about? Email Robert at rarcher@ehpub.com
Follow Robert on social media:
Twitter
Robert also participates in these groups:
LinkedIn · Google+
Networking & Cables
Product Briefs: Fibaro, SmartThingsRutherford Audio, Goldnote; ProSource adds Dish
Are Your Ethernet Connections Exposed to Harsh Elements?
Key Digital KD-DA2 HDBaseT Amplifiers Deliver 18Gbps for 4K Video
4 Adhesives Every Technician Should Have in Their Truck
Here's How to Use Yamaha MusicCast to Build the Backbone of A/V System Interoperability
View more on Networking & Cables
Take Our Latest Quiz
How Well Do You Understand Ethernet Cables and Connectors?
Bose