Sure-Fire Ways to Boost Your Outdoor Technology Installations
Outdoor technology is not just for Florida and California any more. More homeowners are asking integrators to extend their indoor tech amenities outside.
Webcast Details:
Moderator
Jason Knott, Editor-in-Chief, CEPro
Date/Time
April 12, 2017 - 2:00PM
Runlength
1 Hour
Panelist
Jason Voorhees, Don Dixon, and Ron Lennox
Archive Link
https://cepro.ehmedia.co/webina...
Record Date/Time: April 12, 2017 at 2:00PM
Webcast Length: 1 Hour
View archive!
According to new data from CE Pro, 54 percent of custom installation companies are installing outdoor systems.
In this fast-paced one-hour webinar, attendees will get benchmark data from the first-ever CE Pro Outdoor Technology Study. Attendees will know:
Typical pricing and number of installations for outdoor projects

Most commonly installed outdoor technologies

Top brands used for outdoor audio, video, lighting, surveillance and networking

Comparison of 70V audio vs. traditional outdoor audio

Sales points to use with clients on why they should use products dedicated for outdoor use vs. indoor products (and what to do contractually if they refuse)

Successful ways to extend indoor projects outside by adding zones

Biggest challenges to look out for doing outdoor jobs (and how to avoid them)
​All registrants will receive a free download of the CE Pro Outdoor Technology Study, including breakdowns by size of company and geographic region.
---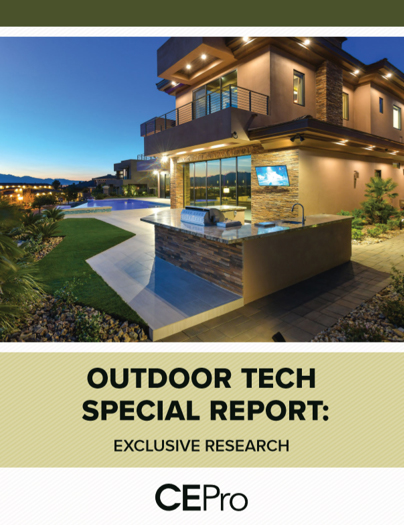 Find Out Why 63% of Integrators Expect Outdoor Business to Grow - CE Pro Download
The outdoor technology market is growing – both the demand from customers and the array of products available. According to our recent CE Pro survey, integrators are taking advantage of this opportunity to grow their businesses. Get your copy of the survey today.
---