Stream HBO Over Internet with FiOS, Windows 7
Win 7 support for Copy Freely, coupled with Verizon FiOS's generous content protection scheme, enables Windows Media Center to stream premium content over the home network or the Internet
Julie Jacobson
·
September 24, 2009
If you have Verizon FiOS and Windows 7, you can stream HBO, Starz and Showtime throughout the home network and even over the Internet (after installing the 1.19 firmware update for ATI Digital Cable Tuners).
That comes courtesy of Microsoft's new support of Copy Freely (CF) a designation assigned by content providers.
Before WMC's support of Copy Freely, you could only stream CableCard content to Media Center Extenders, not to other PCs. With Media Center, everything looked like it was copy protected, so you couldn't even stream local news from the Media Center in the living room to the Media Center in the bedroom.
Now, any TV show or channel with the CF tag can be streamed, whether live or recorded, to other PCs.
As our Windows Media Center (WMC) guru Derek Flickinger reported yesterday, FiOS seems to be very generous with its content tagging. He has yet to find any channels within the FiOS lineup that are protected.
Even HBO, Showtime and Starz are designated Copy Freely by FiOS (until someone reads this article). That's according to Flickinger's analysis via the MCIA DCT Diagnostics Tool (below).
HBO over the Internet
Flickinger has yet to record a premium station for streaming, but Paul Heitlinger of S1Digital has successfully streamed FiOS HBO – not just over the home network, but over the Internet with Win 7.
To do that, you need to properly configure Windows Media Player at both the home and remote PCs to allow Internet access. Your Windows Live account associates the machines with each other.
"Then everything that is on one PC can be viewed on another, anywhere in the world," Heitlinger says. "It's like Slingbox built into Windows 7. You can also stream music, photos and videos."
You won't get HD at the receiving end because the signal is transcoded to a lower bit rate and quality.
Even so, says Heitlinger, "The picture quality was definitely watchable. If I were traveling, it would be a perfect solution for watching recorded TV in my hotel room (or at work when I need to goof off)."
Yesterday, we reported on rumors that some of the cable systems might be copy-protecting virtually all programming.
In Silicon Valley, Gordon Van Zuiden of Cybermanor says everything looks good with Comcast.
"Everything besides premium channels is Copy Freely, including movies on the regular channels," he says. "You don't get the movie channels, but I'm not worried – eventually those will go away."

Paul Heitlinger is the boss, so he can watch TV while at work at S1Digital. Here he's streaming premium content from FiOS over the Internet from his Win 7 PC at home.

6:16 pm - Update from Derek:
I spent a little time recording a bunch of shows. I focused on the HD channels and mostly on channels that are known problems (HBO) or are not part of a regular service package. So far everything is great. They all have copied and played locally. They also stream across the network from the machine that recorded them or from a Windows Home Server share. They look and sound great. Life is good.

Now I am sure someone will get it into their head to start turning on the built-in protection scheme or limit this somehow by using some sort of broadcast flag mechanism, but until FiOS starts honoring the source material's CCI bits, this is great. Of course, with FiOS, the picture quality is great, too. Time to go buy another large drive or two for the server. Now that S1Digital is going to be offering their solution for live TV for any client I want to use, it is time to get rid of the whole Extender architecture.

Digital Content is one of 6 pillars of EHX Spring 2010, Orlando, Fla.
---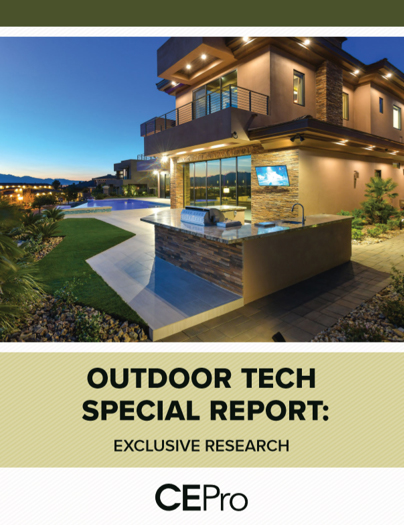 Find Out Why 63% of Integrators Expect Outdoor Business to Grow - CE Pro Download
The outdoor technology market is growing – both the demand from customers and the array of products available. According to our recent CE Pro survey, integrators are taking advantage of this opportunity to grow their businesses. Get your copy of the survey today.
---
About the Author
---
Julie Jacobson is founding editor of CE Pro, the leading media brand for the home-technology channel. She has covered the smart-home industry since 1994, long before there was much of an Internet, let alone an Internet of things. Currently she studies, speaks, writes and rabble-rouses in the areas of home automation, security, networked A/V, wellness-related technology, biophilic design, and the business of home technology. Julie majored in Economics at the University of Michigan, spent a year abroad at Cambridge University, and earned an MBA from the University of Texas at Austin. She is a recipient of the annual CTA TechHome Leadership Award, and a CEDIA Fellows honoree. A washed-up Ultimate Frisbee player, Julie currently resides in San Antonio, Texas and sometimes St. Paul, Minn. Follow on Twitter: @juliejacobson Email Julie at julie.jacobson@emeraldexpo.com
Follow Julie on social media:
Twitter · LinkedIn · Google+
Julie also participates in these groups:
LinkedIn · Google+
News
What Integrators Can Learn From Best Buy
McIntosh Unveils $5,000 Digital-Ready, Future-Proof Preamplifier
Hands On: CasaTunes Deftly Integrates Sonos
Marantz, Denon Each Roll Out Pair of New A/V Receivers
ProSource: 'Strange' Market, 5G Glee, RMR Ambivalence, Marc Fisher Wins
View more News
Take Our Latest Quiz
How Well Do You Understand Ethernet Cables and Connectors?
Bose