Sony to Ship Native 4K Ultra HD Content with New 4K TV
Sony to ship new XBR-84X900 display with "world's first 4K Ultra HD delivery solution" and full-length feature productions, exclusive to Sony 4K customers.
Julie Jacobson
·
November 20, 2012
There's really only two things about 4K Ultra HD that consumers object to: price and lack of content.
The price is the price, but Sony is doing its part to get content to consumers who plunked down $25,000 for the new XBR-84X900.
Sony spokesperson Ray Hartjen blogged today:
In the next couple of weeks, the XBR-84X900 television will ship to customers who placed pre-orders since the product introduction in September. As an extra bonus, included free with the purchase will be the world's first 4K Ultra HD delivery solution, complete with pre-loaded, native 4K entertainment. Not some goofy 4K content shot as a demo. I'm talking full length feature Hollywood productions, and available exclusively to purchasers of Sony's 84" 4K Ultra HD TV.
It's not clear if the "delivery solution" (presumably a small PC, which Sony has supplied to retailers for demo purposes) and native content will be available to those who buy the sets at retail.
Sony pooh-poohs the notion that lack of 4K content is a deal breaker. Hartjen notes that 4K Ultra HD broadcasts are sparse, but Fox Sports employs a Sony 4K F65 Cinealta camera at one NFL game each week.
The ultra-high-resolution footage allows broadcasters and commentators to blow up the action for extremely tight shots:
When the network enlarges the video to get an up close look at say a receiver tiptoeing a sideline, the video naturally loses resolution, common to enlarging any photo or video. But, with 4 times the resolution of Full HD, 4K has more than enough resolution to spare, and losing half still provides the best picture possible.
Hartjen says Sony would never "leave our 4K Ultra HD TV customers hanging."
He notes the company makes 4K professional cameras for production studios and that Sony Pictures Entertainment (SPE) "turns out 4K production every day."
In a recent interview with CE Pro, Sony spokesperson Rob Manfredo explains that Sony is hard at work remastering classic films.
"From that perspective," he says, "we're committed to releasing more content to the home."
Furthermore, some new TV shows are already being shot in 4K "to kind of future-proof those products for syndication," Manfredo says, singling out "The New Normal" and "Made in Jersey."
Meanwhile, Sony is training filmmakers and others allied with the movie-production business, how to shoot and process films in 4K, just as the company did with 3D.
RELATED:
CE Pro Names Top 5 Home Tech Opportunities for 2013
CE Pro 100: TVs May Be Next Big Thing in Home Tech
Filmmaker Randall Dark: How Ultra HD 4K Can Change Lives
LG's 84-inch Ultra HD 4K TV is Stunning, Not Stupid Expensive
Street Price set at $16,999 for LG's 84-in 4K Ultra HD TV
Ultra HD: What Will the Porn Industry Think?
CEA Renames 4K as 'Ultra HD'
---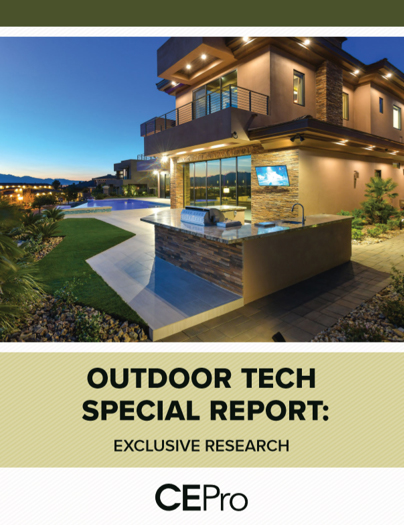 Find Out Why 63% of Integrators Expect Outdoor Business to Grow - CE Pro Download
The outdoor technology market is growing – both the demand from customers and the array of products available. According to our recent CE Pro survey, integrators are taking advantage of this opportunity to grow their businesses. Get your copy of the survey today.
---
About the Author
---
Julie Jacobson is founding editor of CE Pro, the leading media brand for the home-technology channel. She has covered the smart-home industry since 1994, long before there was much of an Internet, let alone an Internet of things. Currently she studies, speaks, writes and rabble-rouses in the areas of home automation, security, networked A/V, wellness-related technology, biophilic design, and the business of home technology. Julie majored in Economics at the University of Michigan, spent a year abroad at Cambridge University, and earned an MBA from the University of Texas at Austin. She is a recipient of the annual CTA TechHome Leadership Award, and a CEDIA Fellows honoree. A washed-up Ultimate Frisbee player, Julie currently resides in San Antonio, Texas and sometimes St. Paul, Minn. Follow on Twitter: @juliejacobson Email Julie at julie.jacobson@emeraldexpo.com
Follow Julie on social media:
Twitter · LinkedIn · Google+
Julie also participates in these groups:
LinkedIn · Google+