Sony, Samsung, LG Remain Top TVs in Smart-Home Channel - CE Pro 100 Brand Analysis
Sony continues to be the most preferred brand among smart-home professionals, according to the annual CE Pro 100 brand survey of the largest home-technology integrators.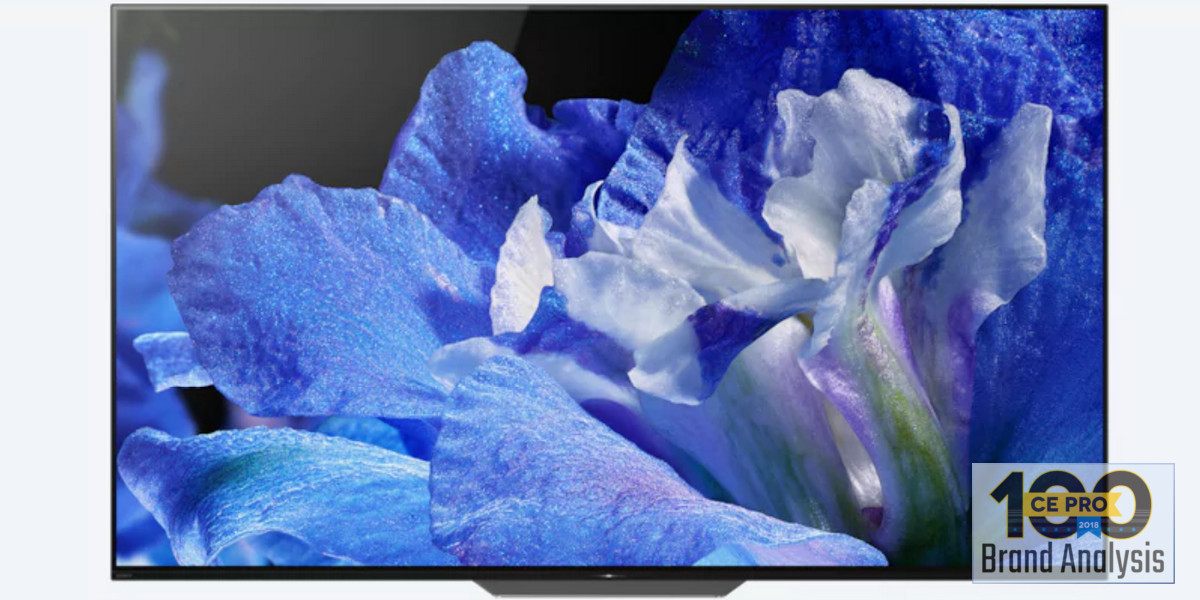 CE Pro Editors ·
June 4, 2018
Sony continues to be the most popular TV brand among the largest smart-home integrators in America. The brand is specified by 92% of the CE Pro 100, the annual list of highest-revenue home-technology installers.
No surprises there. Virtually all the major home-technology buying groups named Sony a vendor of the year for their commitment to the custom installation channel. Last year, Sony overtook Samsung for the first time as the top display brand among CE Pro 100 dealers. Samsung responded by re-upping its commitment to the channel, launching a loyalty program for integrators, native Control4 integration and other incentives for specialty dealers.
The company wanted to "send the message that we are the right company to partner with for the long term," said senior Samsung VP Phil Cohn on the eve of CEDIA Expo 2017, where Samsung shined for the first time in a long time.
Check out this years top custom electronic brands across 58 product categories.
Samsung takes the second spot in the 2018 brand survey, followed by LG Electronics. The three big CE brands are followed by Seura, a niche manufacturer of specialty displays, including mirror TVs and outdoor displays. No. 5 Planar edged upa couple of percentage points since last year, demonstrating the propensity of the CE Pro 100 to install very large display systems typically found in commercial venues.
Samsung brought in five more dealers in the CE Pro 100 for the year, from their 83% share last year.
All five of the top TV brands kept their same positions as last year. Back then, we called out LG for being a "Bullet Brand" with strong growth over the previous year (2016). LG soared even higher from 2017 (58%) to 2018 (64%) as more Top 100 dealers picked up the line. The loser for 2018 was Sharp, which tied last year with Planar. Both were specified by 15% of the CEPro 100 last year. Sharp lost nine dealers this past year.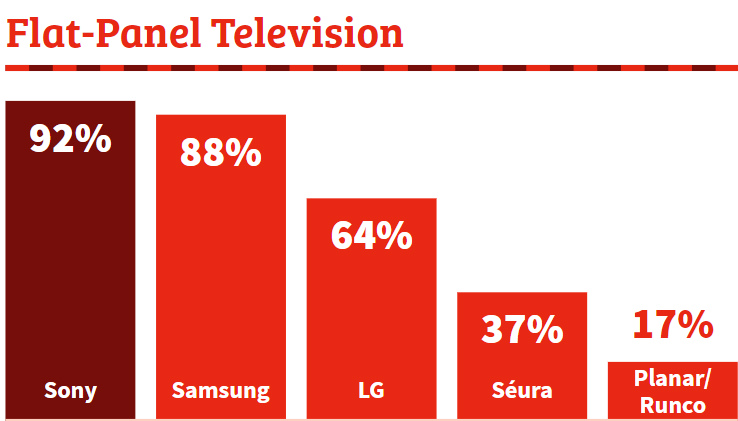 Top 5:
Sony: 92
Samsung: 88
LG: 64
Seura: 37
Planar: 17
Other Brands:
Sharp: 9

Bang & Olufsen: 4

Vizio: 3

Aquavision: 1
Previous Year: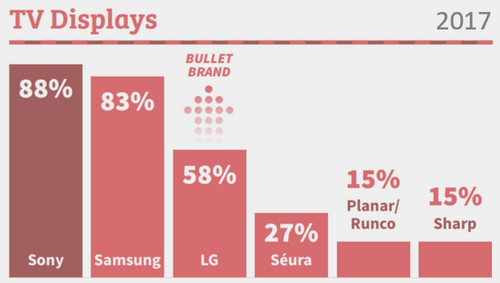 ---
CE Pro 100 Lists & Analysis
CE Pro's annual Brand Analysis study surveys the top 100 highest-revenue residential integration firms, otherwise known as the CE Pro 100, to determine their preferred brands in the categories of audio, video, home automation, networking, lighting control, security and more.
Key Links
Home Theater
Product Briefs: Centralite Alexa Certified; Simpfony adds AirPlay; Legrand and Lumileds Partner
Review: Bowers & Wilkins 600 Series Offers Impressive Immersion at Affordable Price Point
For High-Performance Audio, Don't Skimp on Power Cords, Conditioners
Tech Opportunities in Senior Living: Tech Spaces, Man Caves, Game Rooms
Sony Crystal LED MicroLED Technologies Represent the Evolution of Flat-Panels
View more on Home Theater
Take Our Latest Quizzes
How Well Do You Understand Ethernet Cables and Connectors?
Quiz: Is Your Company Performance Above or Below Average?
How Much Do You Know About Cell Phone Signal Boosters?
How Efficient Is Your Service Department? Take the Quiz
5G and the Need for Cellphone Signal Boosters—Do You Know Enough?