Sonos Tops Subwoofer, Soundbar Categories - CE Pro 100 Brand Analysis
More of the CE Pro 100 smart-home installation firms offer Sonos soundbars and subwoofers than any other audio brand, according to the 2018 CE Pro 100 Brand Analysis ... but be careful drawing conclusions.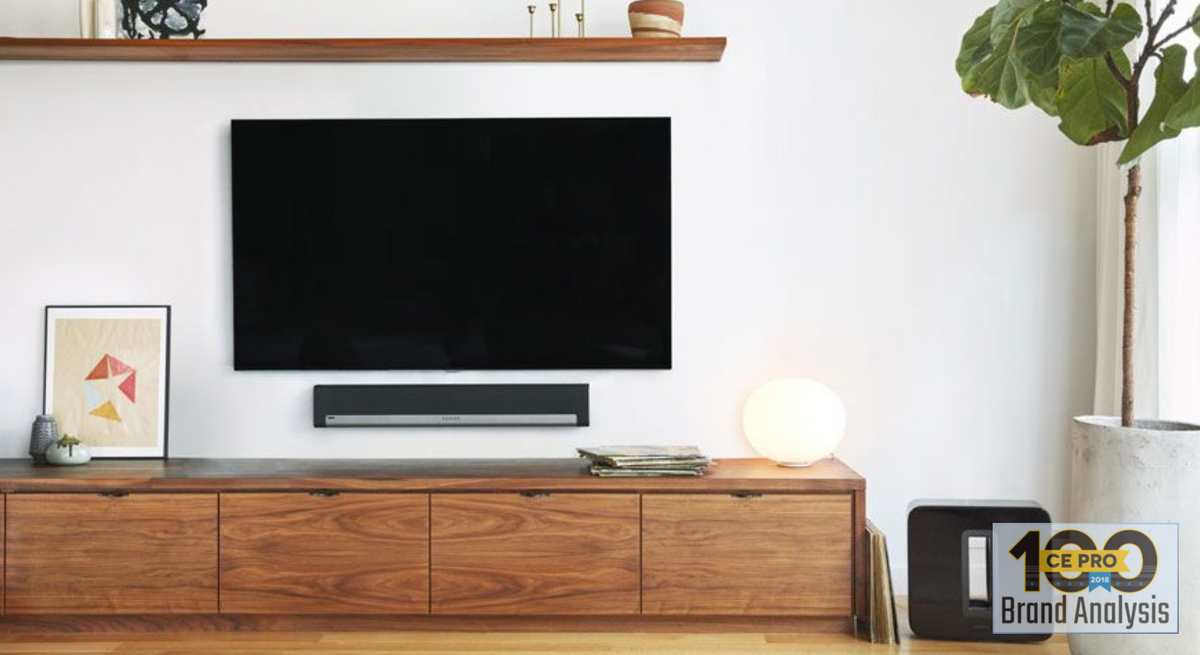 CE Pro Editors ·
June 11, 2018
Just glancing at the CE Pro 100 Brand Analysis for 2018, it might look like Sonos owns the smart-home installation channel when it comes to soundbars and subwoofers, but be careful about drawing conclusions about Sonos in the channel. It may be the preferred mass-market brand among professional integrators, but home-tech pros spread their loyalty around a variety of brands when it comes to their forte -- specialty audio.
For example, while 53% of CE Pro 100 dealers offer soundbars from Sonos, nine custom-oriented brands are offered by more than 20% of these same dealers. So Sonos isn't necessarily the most popular brand among CE Pro 100 companies, but it does blow away other mass-market brands when it comes to the pro-install channel.
Here's the breakdown.
---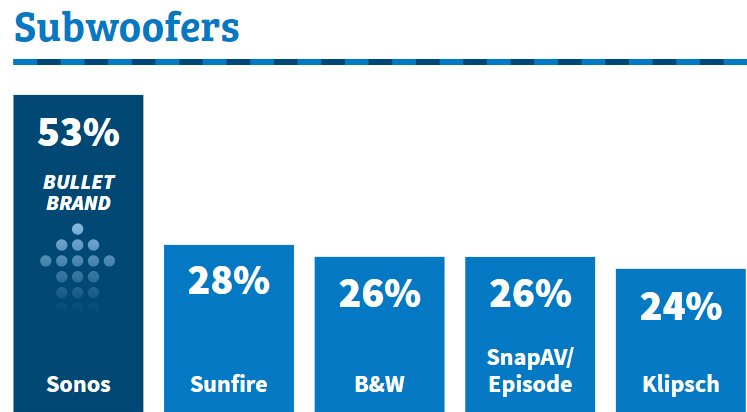 Top 5:
Sonos: 53
Sunfire: 28
B&W: 26
SnapAV/Episode: 26
Klipsch: 24
Other Brands:
Origin Acoustics: 23
Paradigm: 22
Leon: 20
James Loudspeaker: 20
JL Audio: 20
Triad: 17
MartinLogan: 12
Bose: 12
Definitive Technology: 12
Revel: 10
Monitor Audio: 8
Meridian: 8
Velodyne: 7
Artison: 6
SVS: 5
Polk Audio: 4
Sonance: 4
Totem Acoustic: 3
CAT: 2
JBL: 1
Dynaudio: 1
REL: 1
Meyer Audio: 1
Stealth: 1
Epicure: 1
Source Tech: 1
Pioneer: 1
Previous Year
Check out this years top custom electronic brands across 58 product categories.
Leaders Sonos and Leon Speakers picked up a few more CE Pro 100 dealers in the soundbar category for 2018. James Loudspeakers breaks the Top 5 for the first time, picking up 10 more dealers since the 2017 Brand Analysis.
Top 5:
Sonos: 72
Leon: 50
James Loudspeaker: 23
Sonance: 21
SnapAV/Episode: 20
Other Brands:
Bose: 20
Paradigm: 18
Triad: 17
Sony: 15
Klipsch: 14
B&W: 11
Yamaha: 11
Samsung: 10
Definitive Technology: 9
Artison: 8
Denon: 6
GoldenEar: 6
Martin Logan: 6
Revel: 5
Integra: 5
Polk Audio: 5
KEF: 4
Monitor Audio: 3
Harman Kardon: 2
LG: 2
Cambridge Audio: 1
D + M: 1
Vizio: 1
CAT: 1
Previous Year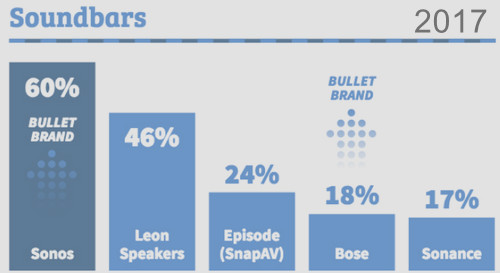 CE Pro 100 Lists & Analysis
CE Pro's annual Brand Analysis study surveys the top 100 highest-revenue residential integration firms, otherwise known as the CE Pro 100, to determine their preferred brands in the categories of audio, video, home automation, networking, lighting control, security and more.
Key Links
---
We're Looking for Your BEST Projects
Don't miss your chance to enter to win a 2019 BEST Projects Award. We'll be announcing winners at a special Gala event at CEDIA EXPO. We can't wait to see what you've been up to this year! Enter your projects now.
---