Sonance launches the next generation of Visual Performance Series
Total redevelopment now includes over 50 new models delivering groundbreaking sonic performance
CE Pro Editors ·
July 1, 2013
Sonance, the company that invented the in-wall and in-ceiling loudspeaker has announced the introduction of its next generation of Visual Performance Series - a total redevelopment that includes over 50 new models delivering groundbreaking sonic performance with Sonance's award-winning micro-trim grille aesthetic.
When Visual Performance Series was released in 2007, it set a new industry standard for the aesthetic of in-wall and in-ceiling speakers. Sonance is confident that the next generation of Visual Performance Series will establish a new industry standard for sonic performance for the category.
State-of-the-art materials have been utilized across the four performance levels in the range including:
Level 8: Carbon Fiber + Rohacell Drivers, Ceramic Dome Tweeters
Level 6: Kevlar + Nomex Drivers, Powder Coated Aluminum Tweeters
Level 4: Textured Polypropylene Drivers, Powder Coated Aluminum Tweeters Level 2: Textured Polypropylene Drivers, Cloth Dome Tweeters
Todd Ryan, Sonance's Chief Speaker Engineer, utilized the latest computer modeling and test software including FineMotor, FineCone, MOTiv, Clio FW10 and Klippel Distortion Analyzer to achieve extremely precise magnetic field symmetry in the motor and ideal suspension linearity. The result is a consistent frequency response and sonic signature across all listening levels and minimized distortion at higher volumes.
A smooth power response to +/-60 ̊ has been achieved, delivering superb on and off axis performance. This allows speakers to be positioned for the best aesthetic (aligned with down lights for example) while still providing uncompromised sound quality and coverage.
Forward-placed high excursion woofers (with almost 3X the travel of previous models) have been used to minimize early reflections and deliver extended bass response.
13 ̊ pivoting woofers ensure bass and midrange frequencies can be directed as required, while the independently pivoting tweeters provide an additional 13 ̊ of rotation, allowing for the fine-tuning of treble.
The next generation of Visual Performance Series has maintained its award-winning aesthetic and ease of installation with one-piece paintable micro-trim grilles. An easily removable scrim cloth further simplifies the painting process.
The new range also features three new Square Adaptors that converts round speakers into square, allowing them to be installed into a round hole for easier alignment. The magnetic frame on the adaptor ensures the speaker remains concealed once installed and grille fit remains tight against the ceiling along the edges and into the corners.
"This year marks our 30th anniversary of inventing the in-wall and in-ceiling speaker category and I can't think of a better way to celebrate than re-inventing it," said Ari Supran, CEO of Dana Innovations, parent company of Sonance, iPort and TRUFIG. "We are thrilled with the result and believe we have redefined the category by establishing a new benchmark for acoustic performance. I would encourage everyone to simply listen to the range and judge for themselves," he said.
Sonance's Next Generation of Visual Performance Series is available in Round, Square, Rectangle, 4" and 6" (2-way), 8" (3-way), Single Stereo, LCR, Surround, Thinline, Extreme, Woofers and Subwoofers.
Pre-sale: Now
Shipping: August 1 2013
Media contact: Simon Wehr simonw@danainnovations.com
High res images and technical data go to http://www.sonance.com/vp
About Sonance
Headquartered in San Clemente, California, Sonance was founded by Scott Struthers and Geoff Spencer who introduced the world's first in-wall loudspeaker system to the consumer-electronics market in 1982. With distribution in over 70 countries, Sonance remains at the forefront of technology by offering innovative design solutions that harmoniously blend sound with designs favored by leading custom integrators, architects, interior-design professionals, and design-conscious clients throughout the world.
---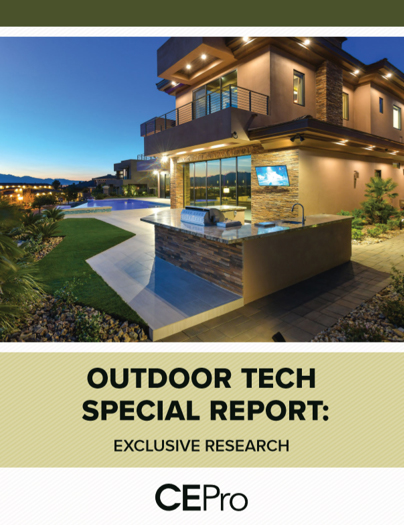 Find Out Why 63% of Integrators Expect Outdoor Business to Grow - CE Pro Download
The outdoor technology market is growing – both the demand from customers and the array of products available. According to our recent CE Pro survey, integrators are taking advantage of this opportunity to grow their businesses. Get your copy of the survey today.
---