Soldier Returning from Afghanistan to Surprise Home Theater
Air Force Superintendent Timothy Greer hires installer to convert unfinished room to home theater while he serves.
Lisa Montgomery
·
February 16, 2011
Timothy Greer, Sr. has served the Air Force for more than 20 years. Although officially retired, he has worked for four years in support of PM RUS (Program Manager Robotic and Unmanned Sensors) and Lockheed Martin. As an aerostat field engineer manager for the Department of Defense's Intelligence, Surveillance and Reconnaissance (ISR) team, the lighter-than-air "balloons" Greer helps operate and maintain are equipped with surveillance cameras that watch over the battlegrounds in Afghanistan. Each time a balloon goes up, soldiers and Marines are able to come home, he says.
Greer is in Afghanistan now, but when he returns he'll have a brand-new - well almost brand new - home theater waiting for him. During his last 30 days of R&R, Greer made it his mission to hire a custom installer to convert an unfinished room of his house into a home theater.
"I talked with several people, visited showrooms, but no one really made a good impression," Greer recalls. "Then I went to the grocery store." It was here, in the parking lot of Tom Thumb, that Greer received "a call from above." As he was about to leave the lot, he noticed a truck with the words "Theater Advice" painted on the side. "It was a sign," says Greer. "I had to stay and meet whoever was driving that truck."
Photos: Soldier Returning from Afghanistan to Surprise Home Theater
It's a good thing he did. David Huse, owner and CEO of Theater Advice, Frisco, Texas, turned out to be the ideal person for the job. "We handle every aspect of a project, down to the design of the curtain rods," he says.
This nuts-to-bolts approach was critical in Greer's case, as he would be deployed soon for another stint in Afghanistan. He instinctively trusted Huse, and felt comfortable leaving all of the decisions to him rather than to several individual designers. It helped that Huse provided Greer with a 3D rendering of the finished project. With it, Greer was able to gain a real sense of what his theater would look like, including the Air Force blue and gold color scheme, 130-inch screen and elegant columns he had requested.
About this Theater
22x20 with an 8 foot ceiling
$150,000 for equipment, materials, design, labor
Equipment
Stewart filmscreen 130" Ultramat 150
JVC DILA HD550 projector
Onkyo TXNR808 receiver
Panasonic Blu ray player
Velodyne DD10 subwoofer
Dali Mentor LCR front, center speakers
Dali IKON Phantom rear speakers
Dali Kompass in-ceiling speakers for sides
URC MX980 color remote control
Lutron 4-zone Grafik eye lighting control
13 x 9' custom-built fiber optic ceiling
With rendering in hand, Greer left for Afghanistan, and Huse and his team went to work. The existing angled ceiling was re-framed to better accommodate a fiber optic star field and simplify the installation of a JVC DILA projector. To free up ceiling space, Huse installed the projector into a specially designed, air conditioned housing in the attic. The lens of the projector was positioned to shoot through a six-inch hole that Huse drilled through a support beam. Images travel to a 130-inch Stewart Filmscreen screen affixed permanently to the front wall of the room.
Since the theater shares a common wall with a game room, isolating the sound was critical. An acoustician engineered a plan for the isolation materials, which included a combination of absorption, diffusion and reflective treatments, so that no sound would be able to escape or enter the room. Theater Advice complemented the acoustical design with Dali speakers.
"They are enclosed in solid steel so that no sound is able to permeate into another room," Huse explains. The front left and right speakers were mounted directly to the wall, the two side speakers were built into the walls and concealed with acoustical fabric, the rear two speakers were installed into the ceiling and the center-channel speaker and Velodyne subwoofer were tucked underneath the stage, along with an Onkyo receiver and Panasonic Blu-ray player. The entire setup is controlled by a URC MX980 Remote, custom programmed by Theater Advice to require just one touch of a button to start the show.
Within four months, Theater Advice finished the theater, just in time for Greer's return home. "I stayed in that theater for all of those 30 days," says Greer. "My wife couldn't get me to leave." The first movie Greer watched: "which is coming to Blu-ray in September, is top on his list of must-sees when he makes it home for another visit. "It's got everything I love in movies: a lot of action and great sound effects."
---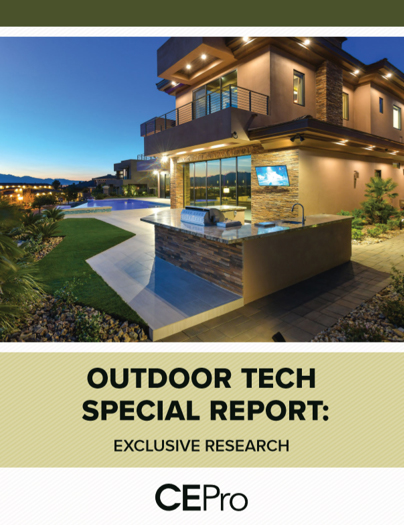 Find Out Why 63% of Integrators Expect Outdoor Business to Grow - CE Pro Download
The outdoor technology market is growing – both the demand from customers and the array of products available. According to our recent CE Pro survey, integrators are taking advantage of this opportunity to grow their businesses. Get your copy of the survey today.
---
About the Author
---
Lisa Montgomery has been a member of the CE Pro and Electronic House editorial teams for nearly 20 years; most of that time as the Editor of Electronic House. With a knack for explaining complex high-tech topics in terms that average consumers can understand, her style of writing resonates with people who are interested in adding electronic systems to their homes, but are unsure of the steps involved and the solutions available. From basic lighting control systems to full-blown automation systems, Lisa understands the home electronics market well, and is able to point consumers in the right direction on their quest for a smarter, more convenient, efficient and enjoyable home. Over the years, she has developed close relationships with key manufacturers and seasoned custom electronics professionals, giving her a keen sense of what home technologies are hot now and what is on the horizon. She shares this wisdom regularly through feature stories, product roundups, case studies technology spotlights and comprehensive guides and books. Have a suggestion or a topic you want to read more about? Email Lisa at lisa.montgomery@emeraldexpo.com
Follow Lisa on social media:

Lisa also participates in these groups:
LinkedIn · Google+