Control Color Temperature Remotely with Seymour-Screen Excellence Backlighting Kit
The Seymour-Screen Excellence Backlighting kit can help integrators mitigate less-than-ideal room environments to make them more conducive to quality video.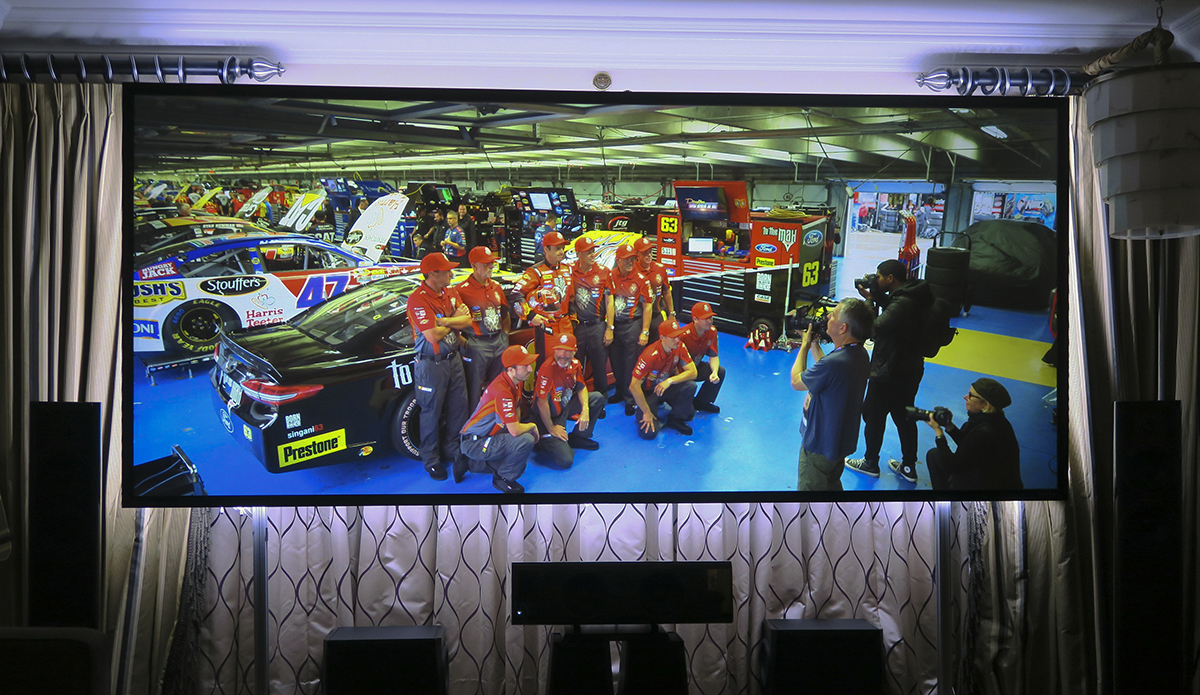 Robert Archer
·
June 29, 2018
The new Seymour-Screen Excellence Backlighting Kit is designed to improve contrast and reduce eye strain to help integrators overcome the obstacles of various room environments.
The Seymour-Screen Excellence (SSE) tunable backlighting kit aims to complement projection installation scenarios such those using ambient light rejecting (ALR) screens with high-brightness projectors in darkened rooms.
"Lighting kits have become popular among filmscreen and HDTV users, however much of the ones available on the market actually contaminate the video experience because they simply project primary or secondary colors on the wall," says Chris Seymour, managing director, Seymour-Screen Excellence.
"For video purists like us, this looks so ridiculous. We jokingly refer to them as 'dancing UFO lights.' Understanding that the vast majority of homeowners aren't painting their room walls a D65 color, we set out to design a solution that could compensate for their wall color and make high dynamic range (HDR) and high-brightness viewing less fatiguing. Now when the homeowners get their projected image calibrated, their calibrator can find the bias light setting for a true 6,500K."
How the Seymour-Screen Excellence Backlighting Kit Works
The LED light strip affixes to the rear of the fixed-frame projection screen. Using the kit's IR remote control, integrators can bring the color temperature up or down to best suit the wall color using a color meter to measure the temperature.
Related: Hands-On—Seymour Screen Excellence Ambient Visionaire Silver 1.3
"If the walls are yellow or orange, the kit would be dialed toward a blue—or cool tint to increase the ambient bias lighting up to 6,500K. Conversely, if the walls are on the bluish side, the kit would be dialed toward the warm end to decrease the ambient light bias lighting down to 6,500K," notes Seymour.
The kit offers adjustments ranging from 3,000K to 20,000K to provide integrators with setup flexibility.
About the Author
---
Bob is an audio enthusiast who has written about consumer electronics for various publications within Massachusetts before joining the staff of CE Pro in 2000. Bob is THX Level I certified, and he's also taken classes from the Imaging Science Foundation (ISF) and Home Acoustics Alliance (HAA). Bob also serves as the technology editor for CE Pro's sister publication Commercial Integrator. In addition, he's studied guitar and music theory at Sarrin Music Studios in Wakefield, Mass., and he also studies Kyokushin karate at 5 Dragons in Haverhill, Mass. Have a suggestion or a topic you want to read more about? Email Robert at rarcher@ehpub.com
Follow Robert on social media:
Twitter
Robert also participates in these groups:
LinkedIn · Google+
Home Theater
For High-Performance Audio, Don't Skimp on Power Cords, Conditioners
Product Briefs: Simpfony adds AirPlay; Legrand and Lumileds Partner; Magnavox Roku TVs
Tech Opportunities in Senior Living: Tech Spaces, Man Caves, Game Rooms
Sony Crystal LED MicroLED Technologies Represent the Evolution of Flat-Panels
Vizio to Pay $17M in 'Spying' Class-Action Lawsuit Decision
View more on Home Theater
Take Our Latest Quizzes
How Well Do You Understand Ethernet Cables and Connectors?
Quiz: Is Your Company Performance Above or Below Average?
How Much Do You Know About Cell Phone Signal Boosters?
How Efficient Is Your Service Department? Take the Quiz
5G and the Need for Cellphone Signal Boosters—Do You Know Enough?