Séura Introduces Shade Series Outdoor TVs at CEDIA Expo 2018
Séura announced a new product line during CEDIA Expo 2018 called the Shade Series Outdoor TVs, which features a full suite of sizes and a starting price point of $2,399.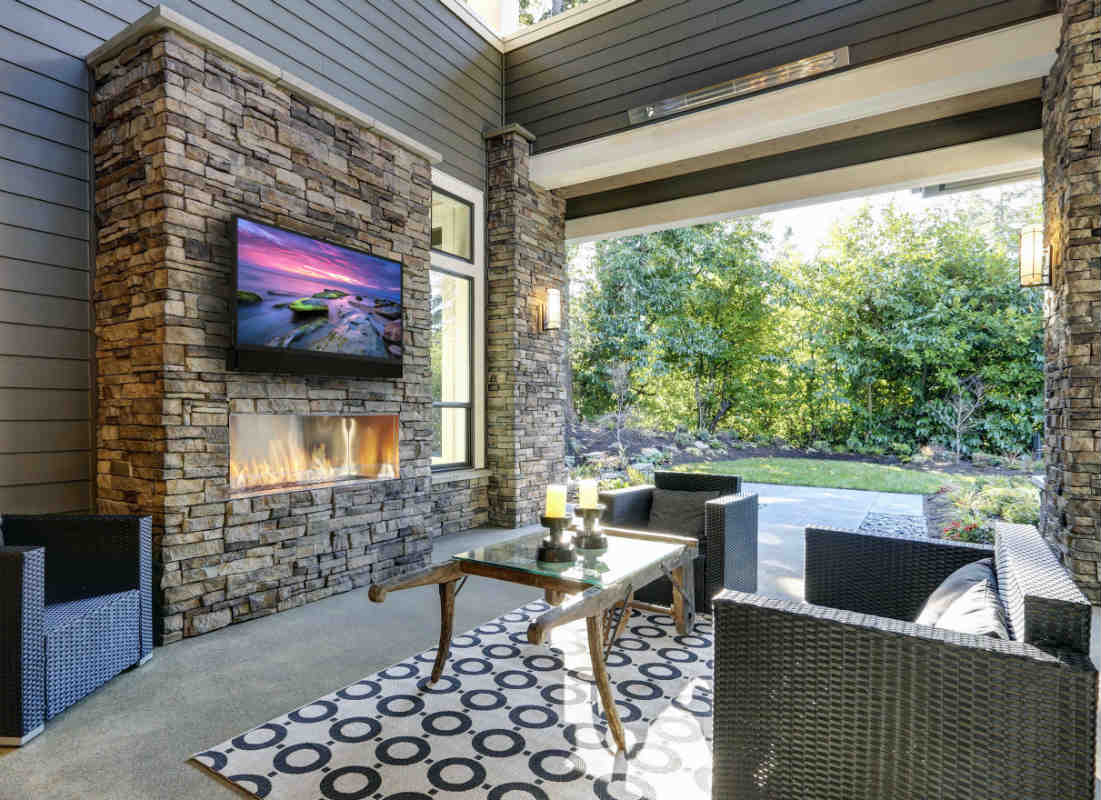 More about Séura
Séura is an award-winning manufacturer of Television Mirrors, Waterproof Televisions, Outdoor Weatherproof Televisions, and Lighted Mirrors. Séura exceeds...

Séura Company Info
CE Pro Editors ·
September 6, 2018
Séura, a manufacturer of designer technology, recently announced a new product line during CEDIA Expo 2018: The Séura Shade Series Outdoor TVs. Séura says the new Shade Series combines its characteristically elegant design with best-in-class picture quality, brightness, and audio performance.
"Séura has been the technology and design leader in premium outdoor TVs for years. Our goal with this new line of TVs is to provide a better and more affordable entertainment solution for shaded outdoor living spaces," says Gretchen Gilbertson, Séura co-founder and CEO.
"We've heard from our dealers that current shaded outdoor TV solutions aren't always bright enough and lack good quality sound. We are solving these problems with this new line."
Séura Shade Series Offers Full Suite of Sizes
Séura will be offering a full suite of sizes for the Shade Series with 55-inch, 65-inch, and 75-inch models, with a starting price point of $2,399.
The full line will be 4K UHD and offers HDR and 10-zone-dimming.
Related: Séura Smart Mirror Reflects Growing Bathroom Renovation Opportunity
"Indoor TVs are a cheap alternative for outdoor spaces but are typically not certified for outdoor use and are poorly suited to withstanding outdoor conditions like heat, moisture, and humidity extremes. Using an indoor TV outside usually voids the warranty and delivers washed-out picture quality," says Gilbertson.
"Current outdoor TVs made for shaded areas are sometimes not bright enough and lack good quality sound for larger outdoor spaces," she continues.
"We designed Séura Shade Series TVs to withstand the toughest outdoor conditions while delivering optimal brightness, picture quality, sound, and warranty protection at amazingly affordable prices. We are excited to hear dealers' feedback this week at CEDIA."
Séura says its Shade Series Outdoor TVs are 25 percent brighter than the competition with 2.5 times the audio output and twice the warranty.
Additionally, the front facing 50-watt RMS 2-channel speaker system that comes standard on the Shade Series fills outdoor spaces with quality sound.
---
2019 State of the Industry Special Report - CE Pro Download
The custom electronics industry saw a healthy 8 percent growth rate in 2018, down slightly from the blazing 11 percent growth in 2017 but still admiringly strong. Our 2019 State of the Industry indicates that readers expect to see even more growth in 2019. Get your copy today.
---
Audio/Video
Product Briefs: HTA Calculator; Onkyo, Pioneer Firmware; KanexPro, DTV GameControl; Luxul Firmware
Interview: Vanco President Discusses A/V-over-IP Adoption, HDMI 2.1, More
Lenbrook BluOs 3.4 Update Offers New Refinements
Self-Contained Outdoor Home Theaters Ease Installation Woes
Why Outdoor A/V Projects Are Easier Than Indoor Projects
View more on Audio/Video
Take Our Latest Quiz
How Well Do You Understand Ethernet Cables and Connectors?
Bose