SI and Salamander: Beautiful Furniture, Specialty Screens Make Short-Throw Projectors Sexy
Long used in unattractive commercial installations, ultra-short-throw projectors paired with gorgeous Salamander credenzas and specialty SI screens make two-piece projection systems a beautiful option for the home.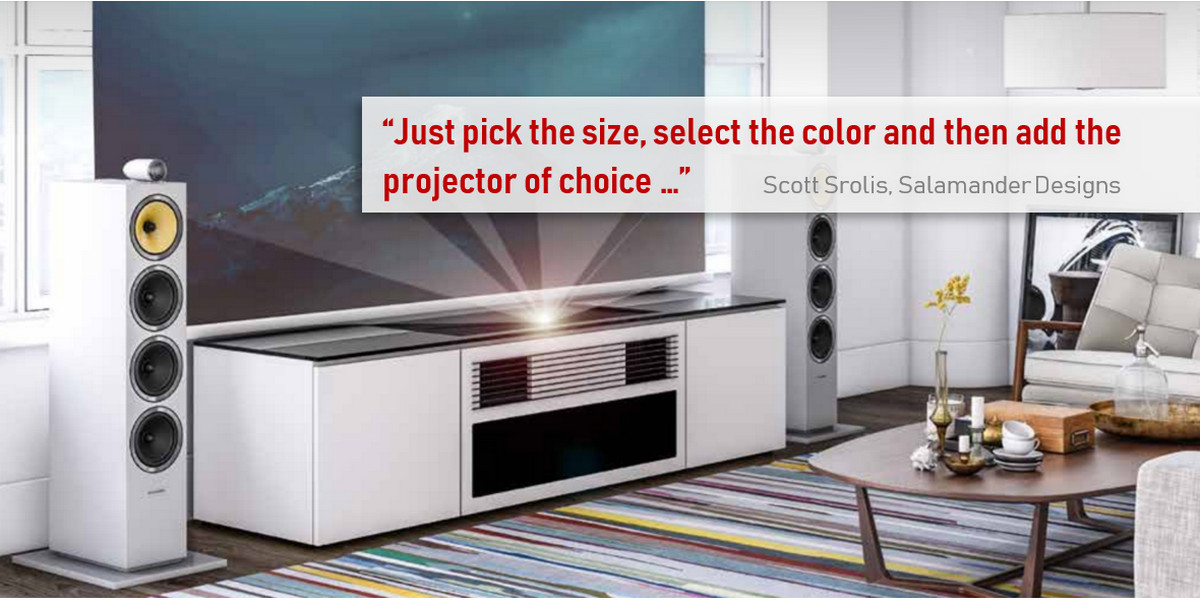 Photos & Slideshow
More about Salamander Designs
Salamander Designs is a leading manufacturer of premium quality, highly customizable furniture for residential and commercial audio/video integration. Salamander crafts...

Salamander Designs Company Info
Julie Jacobson
·
December 7, 2018
Two leading audio/video manufacturers in the home-technology channel are pushing hard into the short-throw and ultra-short-throw (UST) video projector market. And they don't even make projectors.
The companies, Screen Innovations and Salamander Designs, are packaging special UST screens and credenzas, respectively, to make video projection systems easy – easy on the eyes and easy to install.
Short-throw video projectors, especially the UST variety, are gaining momentum in the home. These projectors have been used in commercial venues for years, but the mounting options made no sense for elegant residential environments.
Often installed in boardrooms and classrooms, UST projectors are mounted just above the screen, or plopped on a credenza just below. Neither is an attractive proposition for the home.
Salamander's Good-Looking Short-Throw Projector Consoles
Salamander, which provides elegant furniture including seating and media cabinets, has carved out a niche – literally – in UST-friendly consoles built for specific projector models.
Currently, Salamander's Ultra-Short Throw Credenza line supports projectors from Dell, Epson, Hisense, Sony and Vivitek. The furniture maker currently is teaming with Sony to provide a free UST cabinet ($4,000 value) with the purchase of a Sony VZ1000ES UST 4K HDR home theater projector.
All supported projectors sit in a cavity at the top of the cabinets, recessed out of view. The cabinets provide space and wiring accommodations for components, plus proper ventilation and active cooling options for the gear. A center opening with a removable grille is designed to hide a loudspeaker.
"This is a unique proposition for the integrator and customer alike. No need to fish wires, so it's much faster to install," says Scott Srolis, VP sales and marketing for Salamander.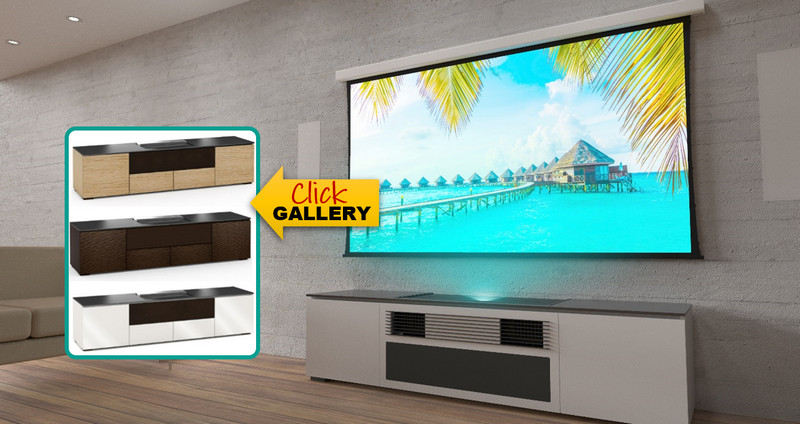 SI's UST-Friendly Solo Pro Screens
Salamander's UST credenzas pair well with Screen Innovations' new Solo Pro screens, the first motorized products to incorporate the company's special short-throw projector material.
The products can be powered via rechargeable lithium batteries or low-voltage 24-volt wiring, eliminating the need for electrical runs. SI offers a range of screen sizes up to 100 inches, and a choice of 12 colors for the housing brackets.
For its part, Salamander offers a choice of colors, finishes and configurations for its UST credenzas.
"Jointly we have made it easy to present, purchase and [provide] a speedier set up from start to finish," Srolis says. "Just pick the size, select the color and then add the projector of choice for a gorgeous seamless solution."
SI director of marketing Skyler Meek adds, "We have the coolest combo to hit the custom installation market in a long time."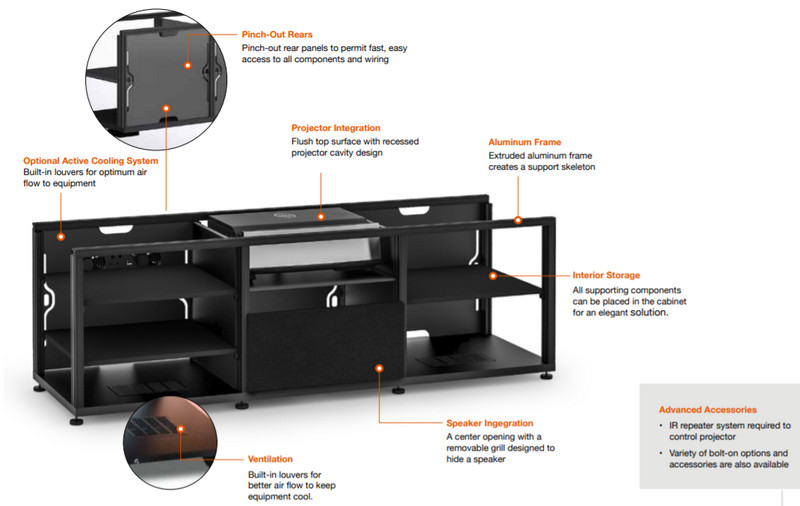 ---
Secure Your Free Pass to CEDIA EXPO 2019
Register before Sept. 2 to gain free access to the opening keynote, product training & education series as well as the show floor including Innovation Alley and much more. Don't miss your chance. Sign up today.
---
About the Author
---
Julie Jacobson is founding editor of CE Pro, the leading media brand for the home-technology channel. She has covered the smart-home industry since 1994, long before there was much of an Internet, let alone an Internet of things. Currently she studies, speaks, writes and rabble-rouses in the areas of home automation, security, networked A/V, wellness-related technology, biophilic design, and the business of home technology. Julie majored in Economics at the University of Michigan, spent a year abroad at Cambridge University, and earned an MBA from the University of Texas at Austin. She is a recipient of the annual CTA TechHome Leadership Award, and a CEDIA Fellows honoree. A washed-up Ultimate Frisbee player, Julie currently resides in San Antonio, Texas and sometimes St. Paul, Minn. Follow on Twitter: @juliejacobson Email Julie at julie.jacobson@emeraldexpo.com
Follow Julie on social media:
Twitter · LinkedIn · Google+
Julie also participates in these groups:
LinkedIn · Google+