Samsung Home Theater-In-a-Box Has Built-in Blu-ray
HT-BD2E also has 1080p upscaling, HDMI-CEC and five satellite speakers.
Steve Crowe
·
July 24, 2008
Samsung is expanding its line of home theater-in-a-box (HTiB) systems that have Blu-ray players with the 5.1-channel HT-BD2E.
The HT-BD2E, which will be BonusView capable, features a single-disc BD 1.0 Blu-ray player, HDMI-CEC, 1080p upscaling for DVDs and 24/60 fps BD playback.
It also has an Ethernet port for firmware updates, an FM tuner and decoders for all surround formats except DTS-HD Master Audio.
The system also plays CDs encoded with MP3, JPEG and WMA files. The HT-BD2E has five satellite speakers and a passive subwoofer and 800 watts RMS power.
"As the Blu-ray market broadens, more people will be interested in home theater systems with built-in Blu-ray," says Reid Sullivan, Samsung's marketing VP for digital audio, video and imaging.
The Entertainment Merchants Association supports Sullivan's claims, saying Blu-ray will outsell DVD in 2012.
Samsung recently launched a Blu-ray resource center in attempt to answer questions for Blu-ray inquisitors of all levels.
Samsung also has two 7.1-channel HTiBs with built-in Blu-ray: the HT-BD2S ($999) and the HD-BD2T ($1,499).
The HT-BD2E is expected to ship in August for $799.
---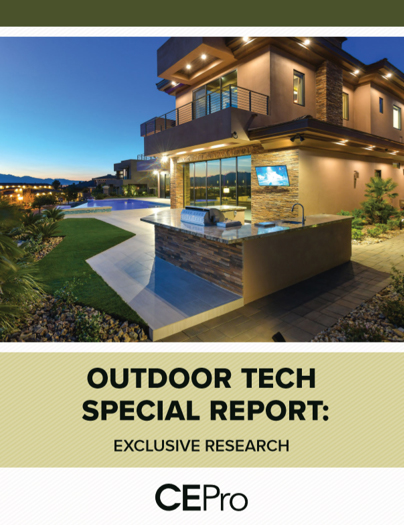 Find Out Why 63% of Integrators Expect Outdoor Business to Grow - CE Pro Download
The outdoor technology market is growing – both the demand from customers and the array of products available. According to our recent CE Pro survey, integrators are taking advantage of this opportunity to grow their businesses. Get your copy of the survey today.
---
About the Author
---
Steve Crowe has been writing about technology since 2008. He lives in Belchertown, MA with his wife and daughter. Have a suggestion or a topic you want to read more about? Email Steve at scrowe@ehpub.com
Follow Steve on social media:
Twitter · LinkedIn · Google+
Steve also participates in these groups:
LinkedIn · Google+