Salez Toolz™ PRO-Services Group expanding to meet growing demand
Salez Toolz is ramping up its PRO-Services Group by adding new staff to meet growing demand.
CE Pro Editors ·
July 25, 2014
Salez Toolz is ramping up its PRO-Services Group by adding new staff to meet growing demand. Since its recent launch, PRO-Services is fast getting noticed as a service unparalleled in software sales support services. And while Salez Toolz has always made it simple to upload and edit content, our customers tell us that they welcome the additional help of graphic design professionals to customize their data-sets, saving them valuable time and enabling them to focus on their core business.
Salez Toolz has been revolutionizing the sales process. It invites customers to co-create their project's budget, removing the typical guessing game in bidding, saving hours if not days in engineering design while eliminating errors in quotes. While you close more deals with Salez Toolz, PRO-Services is there to help your company identify your solutions and create the graphics that help your customer understand the technology and value you're presenting.
Utilizing the PRO-Services Group is easy and affordable. Simply call or email PRO-Services@SalezToolz.com and schedule for an on-line meeting to review your needs.
Salez Toolz also invites you to join them every Monday morning at 9am eastern for a short presentation on how to present and close the sale in your first meeting – Sell Technology with Technology; available for the iPad, PC, MAC and Droid (Droid to be available with our upcoming release of APEX).
REGISTER FOR OUR LIVE PRESENTATION WEBINAR: Salez Toolz Webinar
PRO-Services Group INFO: PRO-Services@SalezToolz.com
SALEZ TOOLZ PRODUCT INFO: info@SalezToolz.com
CONTACT BY PHONE: (800) 978-6650
About Salez Toolz©
Salez Toolz was created by Abacus Prime LLC. First released in 2005, it expedites the selling process from days to hours. Thousands of users now provide their customers with a budget in the first meeting, substantially increasing their sales and reach.
Contact information:
Phone: 800-978-6650
Email: info@SalezToolz.com
Website: http://www.SalezToolz.com
---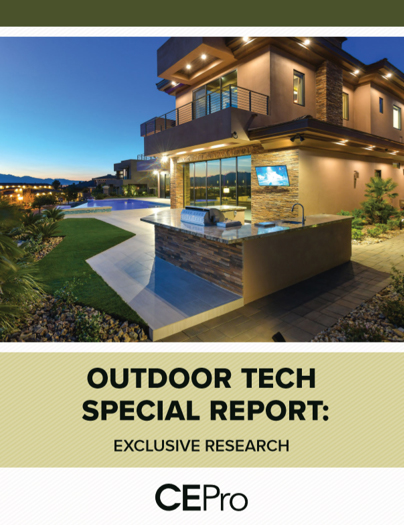 Find Out Why 63% of Integrators Expect Outdoor Business to Grow - CE Pro Download
The outdoor technology market is growing – both the demand from customers and the array of products available. According to our recent CE Pro survey, integrators are taking advantage of this opportunity to grow their businesses. Get your copy of the survey today.
---
News
How LG Aims to Broaden Integrators' World
RTI Touchpanel Remotes Mount in Walls, Reside on Tables
CEDIA Global HQ Opens: Take a Video Tour
Budget-Friendly Pro-Ject T1 Turntable Includes Bluetooth Streaming
People & Places: NSC Promotes Lynch; ProSource Member News; CEDIA Group, DLN Partner
View more News
Take Our Latest Quiz
How Well Do You Understand Ethernet Cables and Connectors?
Bose