Salamander Debuts Stylized Ultra-Short-Throw Projector Cabinet
Salamander Designs' new cabinetry solution for UST projectors creates an 'entirely new category' of furniture for integrators to sell and install.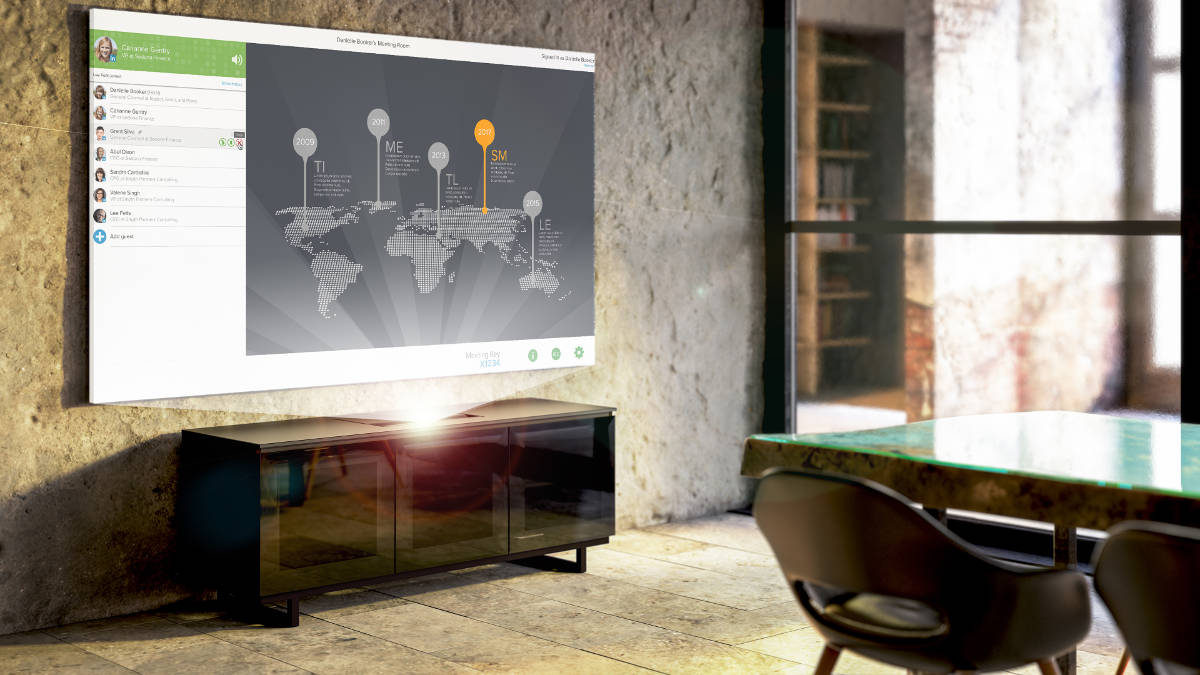 More about Salamander Designs
Salamander Designs is a leading manufacturer of premium quality, highly customizable furniture for residential and commercial audio/video integration. Salamander crafts...

Salamander Designs Company Info
Jason Knott
·
June 11, 2018
Salamander Designs has unveiled a new stylized cabinetry solution for Ultra Short Throw (UST) projector systems. There is no doubt that UST projectors are a hot commodity right now, eliminating the need to dangle a projector from the ceiling or add an expensive lift mechanism.
Originally created at the behest of Sony, and later extended to meet the unique needs of Dell and others, the new Salamander solution is seamless and stealthy, and it can be manufactured to be compatible with virtually all other brands of UST systems.
Featuring a durable and flexible aluminum support chassis, flush top surface, recessed projector cavity design and an active cooling system, plus built-in louvers to vent warm air and keep equipment cool, the cabinet provides fast, easy access to components and wiring for servicing.
Like all Salamander furniture, it's available in various colors and finishes to suit any venue and décor and can be custom configured with rapid deployment for vendors, integration partners, and designers.
Salamander Creates 'Entirely New Category'
Product development began when Sony approached Salamander Designs for a cabinet suitable for its UST residential projector series. Sony's product didn't fit in any cabinet on the market—a major hurdle to success.
A team of Sony engineers traveled from Japan to Salamander's 100-percent solar-powered factory in Connecticut and they were off to the races. After a successful launch with a high attachment rate, the project was deemed a resounding success.
Related: Video Q&A with Sal Carrabba of Salamander Designs Talking about Commercial Furniture Trends
"This is an entirely new, much-needed product category for both commercial and residential markets," says Salvatore Carrabba, president and founder of Salamander Designs. "And we are the first company to create, develop and deliver any such solution with proven success. After Sony, we were approached by Dell and later Epson for similar solutions. Dell was seeking a cabinet for their 4K laser projectors."
He continues, "We are proud to say we were able to able to deliver in quick, quality turn due to our core modular systems approach. This UST cabinet streamlines install of projectors and is an elegant solution which puts all gear in one place—no jumbling of cables—and it keeps all components and speakers in one single, seamless cabinet solution.
"We now have products that fit 120-inch screens with projectors and allow the complete solution to sit just inches off the wall."
---
2019 State of the Industry Special Report - CE Pro Download
The custom electronics industry saw a healthy 8 percent growth rate in 2018, down slightly from the blazing 11 percent growth in 2017 but still admiringly strong. Our 2019 State of the Industry indicates that readers expect to see even more growth in 2019. Get your copy today.
---
About the Author
---
Jason Knott is Chief Content Officer for Emerald Expositions Connected Brands. Jason has covered low-voltage electronics as an editor since 1990, serving as editor and publisher of Security Sales & Integration. He joined CE Pro in 2000 and serves as Editor-in-Chief of that brand. He served as chairman of the Security Industry Association's Education Committee from 2000-2004 and sat on the board of that association from 1998-2002. He is also a former board member of the Alarm Industry Research and Educational Foundation. He has been a member of the CEDIA Business Working Group since 2010. Jason graduated from the University of Southern California. Have a suggestion or a topic you want to read more about? Email Jason at jknott@ehpub.com
Follow Jason on social media:

Jason also participates in these groups:
LinkedIn · Google+
Home Theater
Dynamic Mounting Launches 12 TV Mounts for Over-the-Fireplace Installs
Product Briefs: Rutherford Audio, Goldnote; ProSource adds Dish; Sonos Joins D-Tools i3
Josh.ai Integrates With LG Displays for Voice-Controlled Entertainment
Netgear Meural Canvas Includes Artwork From National Geographic
Salamander Designs Event Shows How Cool Commercial Technology Can Be
View more on Home Theater
Take Our Latest Quiz
How Well Do You Understand Ethernet Cables and Connectors?
Bose